Why Burt Reynolds Originally Hated His Role In Boogie Nights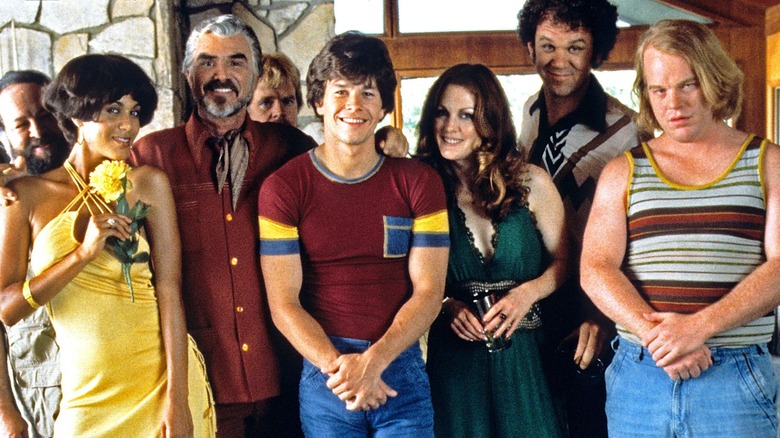 New Line Cinema
It's a special kind of heartbreak when you find out an actor from one of your favorite movies actually despised their role. So if you also count yourself an ardent admirer of Paul Thomas Anderson's "Boogie Nights" and/or Burt Reynolds, get ready for some tears. Those who've scene the film know that of its many eccentric yet endearing characters, it's the idealistic adult film director Jack Horner that shines the brightest. After all, it's Jack who holds the oddball family/film production company together with dreams of making porn flicks people will appreciate not just for sex, but for things like plot and character.
Unfortunately, Reynolds had less than a fraction of the same passion or appreciation for "Boogie Nights" as his Jack does for pornos. He's also not the first actor to express regret over their role in the film. Mark Wahlberg, who plays the boyish newcomer to the porn industry Eddie Adams/Dirk Diggler, once said the movie was at the top of his list of "poor choices." Given the film's, uh, exceptionally revealing ending, we understand Walhberg's sentiment. But Walhberg's embarrassment is in stark contrast to Reynold's intense dislike for the film. So why, exactly, did a role that earned the actor numerous awards and nominations, including an Oscar nod for Best Supporting Actor, inspire such hate?
A movie about porn made Hollywood's playboy uncomfortable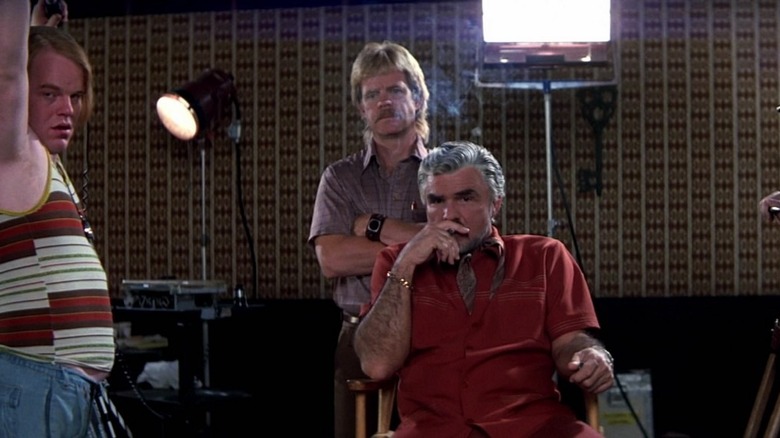 New Line Cinema
As a '70s sex-symbol in his own right, you'd think Reynolds would've found something to relate to in Anderson's hedonistic and extravagant period-drama about that very decade. Instead, it seems the actor regarded the entire experience of filming "Boogie Nights" as a discomforting one. "It just wasn't my kind of film," he told to Conan O'Brien in 2018 and described its intimate dealings with the porn industry as "very uncomfortable." 
In a Guardian Live event in 2015, Reynolds said:
"I don't like those people, I feel like they are due for a very hard time because they tried to do legitimate film and they're never going to be able to. It's sad, they were very sad people and they showed up a lot of times on set. It's a one-way street, if you go down that road as an actor, you're finished."
It probably didn't help that Wahlberg would apparently walk around set with a fake erection, channeling his inner Diggler with a very outward expression, one of the many stories told by Reynolds to the Guardian that detailed his reproach of the movie. We suppose then its a testament to his acting that Jack is such a fervent champion of porn as an artform, especially since the actor held such a condemning, if slightly condescending, attitude towards the genre. So much so that Reynolds never saw the finished movie as he was only able to stomach a rough-cut viewing. The was an experience so dire the Washington Post reported the actor fired his agent immediately afterwards, going scorched earth to eradicate any and all association with one of his most popular roles. 
But the debauchery of "Boogie Nights" wasn't the only thing that aggravated Reynolds onset.
Reynolds wasn't exactly Anderson's biggest fan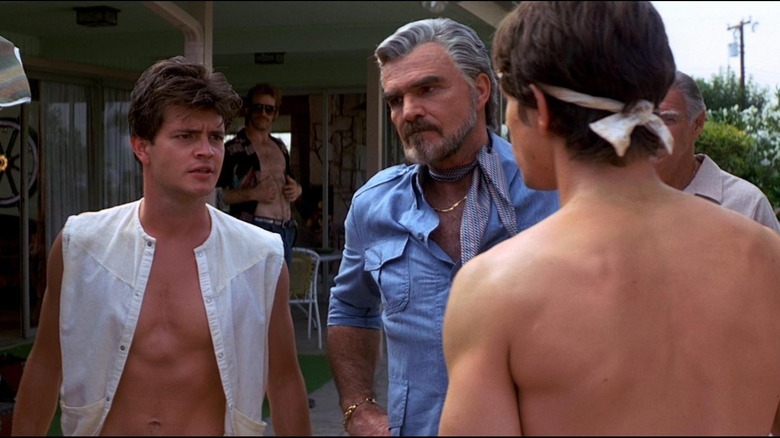 New Line Cinema
There are plenty of great director versus actor feuds. Some have sunk entire productions while others miraculously don't. Thankfully, "Boogie Nights" is one of the latter. But that doesn't mean the level of vitriol wasn't an ocean that threatened to drown everyone involved. In that same Guardian Live interview, Reynolds said he "hated" Anderson enough to turn down a role in "Magnolia." He went on to describe working with the director as one might talk about jury duty or court-ordered community service: "I'd done my picture with Paul Thomas Anderson, that was enough for me." 
But none of that quite compares to the fact that Reynolds almost gave Anderson a little more than a piece of his mind during on particularly heated quarrel. As recounted by producer John Lyons in an oral history of the film published by Grantland:
"I had to pull Burt's arm back when it was cocked. I was in the middle of it. Burt was getting ready to slug him and I was like, 'Burt, Burt, no, no, don't, don't do it.' And then I had to take Burt back to the trailer. And I spent a lot of time in Burt's trailer. A lot. I love Burt. I thought he was incredible. He was old Hollywood; there were a lot of people on that set that just didn't really have the time or the interest in it."
If you're thinking that maybe time heals all wounds and cools every grudge — think again. In a 2015 GQ interview, Reynolds didn't have any inclinations to hold back when speaking about Anderson's directorial skills. He got plenty of blows in this time around:
"Personality-wise, we didn't fit. He was young and full of himself. Every shot we did, it was like the first time [that shot had ever been done] I remember the first shot we did in Boogie Nights, where I drive the car to Grauman's Theater. After he said, 'Isn't that amazing?' And I named five pictures that had the same kind of shot. It wasn't original. But if you have to steal, steal from the best."
Looking back, it's incredible "Boogie Nights" survived to become a success, both commercially and critically. Between the Reynolds-Anderson feud and almost going direct-to-video, it's a film that had its share of behind-the-scenes hiccups. But something has to be said of Reynolds being able to put aside personal opinions and grievances and act his ass off, turning in a performance that's the heart of Anderson's kaleidoscopic, character-driven sortie through the '70s. 
Burt Reynolds passed away in 2018. He is sorely missed.