Burt Reynolds, Star Of 'Boogie Nights' And 'Smokey And The Bandit', Has Died At 82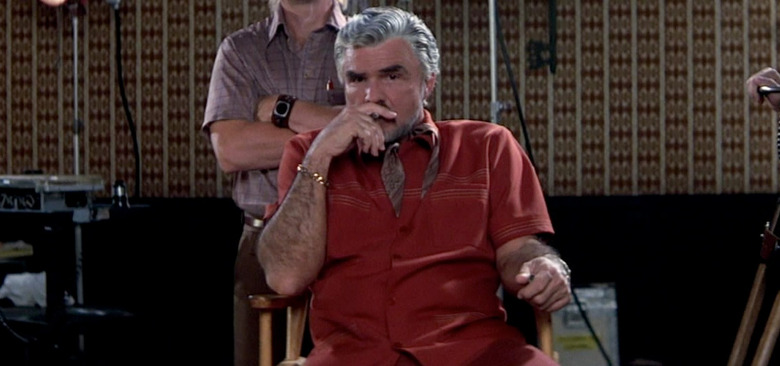 Today we lost one of Hollywood's most playful and lively actors. Burt Reynolds, whose career took him from being a fast-driving good ole boy in Smokey and the Bandit to an Oscar in Paul Thomas Anderson's adult film industry drama Boogie Nights, has passed away at age 82.
We remember the long career of Burt Reynolds below.
News of Burt Reynolds dead comes from The Hollywood Reporter, who revealed the actor died Thursday morning at Jupiter Medical in Florida. In recent years, the actor had lost much of the confident swagger that the mustachioed ladies man is best known for, and it sounds like old age finally caught up with him.
Burt Reynolds began his career on the small screen with roles on TV shows like Riverboat, The Blue Angels, Route 66, Perry Mason, The Twilight Zone, Gunsmoke, Flipper, Hawk and many more. But it's his big screen career that took off in the early 1970s that made Burt Reynolds a star.
Deliverance was a breakthrough performance for Reynolds, where he played one of four men who head to the wilderness for the weekend and end up in the middle of nowhere. He rode that wave to starring in films like The Longest Yard and Lucky Lady, even becoming famous enough to play himself in Mel Brooks' spoof Silent Movie.
But Burt Reynolds shined the brightest in the late 1970s after starring in the high-speed action adventure Smokey and the Bandit in 1977. After that, from 1978 through 1982, Burt Reynolds was Hollywood's top-grossing star every single year. In that first year, he had four movies playing in theaters at the same time. That kind of star power has been rarely seen since then, and may never be seen again.
Other notable big screen roles from the 1970s and 1980s include The Cannonball Run, Sharky's Machine (which he also directed), and of course, sequels to Smokey and the Bandit. Of course, he also partook in some romantic comedy as well with turns in Starting Over, The Best Little Whorehouse in Texas with Dolly Parton, Best Friends with Goldie Hawn and The Man Who Loved Women with Julie Andrews. However, it's the roles that Burt Reynolds turned down during the height of his fame that might be more noteworthy.
Reynolds turned down the roles of Han Solo in Star Wars, astronaut Garrett Breedlove in Terms of Endearment and John McClane in Die Hard. Even earlier in his career, he passed up the opportunity to play Batman in the 1960s television series and later turned down the role Richard Gere played in Pretty Woman. Reynolds being in any one of those roles would have drastically changed the trajectory of his career, not to mention the careers of Adam West, Harrison Ford, Jack Nicholson, Bruce Willis and Richard Gere.
In the 1990s and 2000s, Burt Reynolds mostly hit a drought, but he found great success playing a porn director and mogul in Boogie Nights, a performance that won him a Golden Globe win and an Oscar nomination, losing the latter award to Robin Williams for his turn in Good Will Hunting.
Other notable appearances included some self-referential fun with a role as the coach in Adam Sandler's remake of The Longest Yard, as well as the perfectly Burt Reynolds role of Boss Hogg in the big screen adaptation of Dukes of Hazzard starring Johnny Knoxville and Seann William Scott. For better or worse, those roles were tailor-made for Burt Reynolds.
More recently, Reynolds returned to television with appearances on My Name Is Earl, Burn Notice, American Dad and Archer. He stayed active on the big screen with roles in films like The Last Movie Star and less celebrated fare like Apple of My Eye.
Reynolds' final performance would have been in Quentin Tarantino's forthcoming Once Upon a Time in Hollywood. But according to reporter Borys Kit, he didn't get a chance to shoot the role before passing. Otherwise, Reynolds has a role in a film called Defining Moments that is due out later this year, and he was also slated to star in a western that was in pre-production called The French Cowboy.
Burt Reynolds was a truly unique talent in Hollywood. He might not have been known well for his dramatic chops, but the man sure knew how to have fun on the big screen, and that's all he ever wanted. In his memoir, he wrote:
"I always wanted to experience everything and go down swinging. Well, so far, so good. I know I'm old, but I feel young. And there's one thing they can never take away: Nobody had more fun than I did."
Our thoughts go out to his family and friends during this difficult time. Rest in peace.