Mark Wahlberg Asked God To Forgive Him For 'Boogie Nights' (But Not 'Transformers')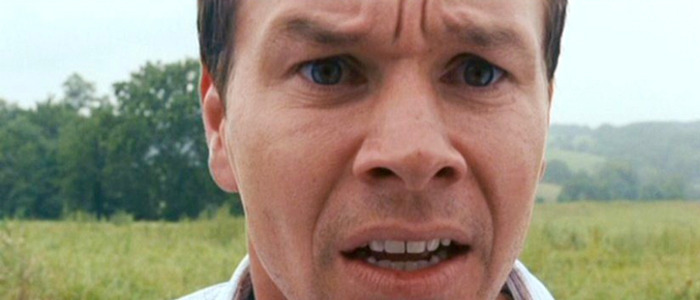 Mark Wahlberg, actor and the patron saint of Boston, has had a wild career, careening from some truly great movies to outright junk. But surprisingly, the role he's most ashamed of is one of his most acclaimed. In a recent interview, Wahlberg confessed that he asked God to forgive him for his work in Paul Thomas Anderson's porn opus Boogie Nights.
Mark Wahlberg, who frequently appears as a working class hero saving the day, feels he needs some salvation of his own. The actor, who can next be seen acting alongside Mel Gibson without even the slightest hesitation in Daddy's Home 2, told an audience at the UIC Pavilion in Chicago (via Indiewire) that he's "made some poor choices" over his career, and he hopes the Lord Almighty could forgive him:
"I just always hope that God is a movie fan and also forgiving, because I've made some poor choices in my past. Boogie Nights is up there at the top of the list."
God could not be reached for comment.
There's a chance that Wahlberg was just kidding around with the crowd, or perhaps he's embarrassed to have starred in a film filled with overt sexual content. The actor told ABC News earlier in 2017 that his role in Boogie Nights would not be the kind of part he'd seek out now. "I have four kids, I've got two daughters, I'm married and I try not to let that affect what I do as an artist," Wahlberg said. "But being a dad, it'd be tougher to make that decision now."
In Boogie Nights, Wahlberg played struggling porn star Dirk Diggler. While the recording artist turned actor had appeared in films before Boogie Nights, it was his work in the 1997 Paul Thomas Anderson film that helped transform him into a movie star. It's a particularly odd film for Wahlberg to apologize for, especially considering he appeared in flicks like Max Payne, where he played a man in a leather jacket, multiple Transformers films, where he played someone who yells a lot, and The Happening, where he played a confused science teacher.  Wahlberg also showed remorse for violent actions from his past, per the Chicago Tribune:
"I've never been shy about sharing my past and the bad decisions I've made and being affiliated with gangs, being incarcerated, so absolutely I think they can identify with me on a personal level, and that's why I've continued to try to do as much as I can to help young people."
Wahlberg is referring to several incidents: when he was 15, he was involved two separate incidents of throwing rocks and shouting racial slurs at African-American children; when he was 16, Wahlberg assaulted two Vietnamese men over the course of one day, knocking one man unconscious with a large wooden stick and sucker punching the other man in the eye. "I feel remorse when I've made mistakes," Wahlberg added. "If I could go back and change a lot of things that I did, I would. I look for ways to give back."
Before 2017 is over, Wahlberg can be seen in both Daddy's Home 2 and All the Money in the World. We'll have to wait and see which one of those he feels the need to ask forgiveness for.