Fear The Walking Dead Season 7 Part 2 Trailer: The Apocalyptic Wasteland Returns ... With One Big Surprise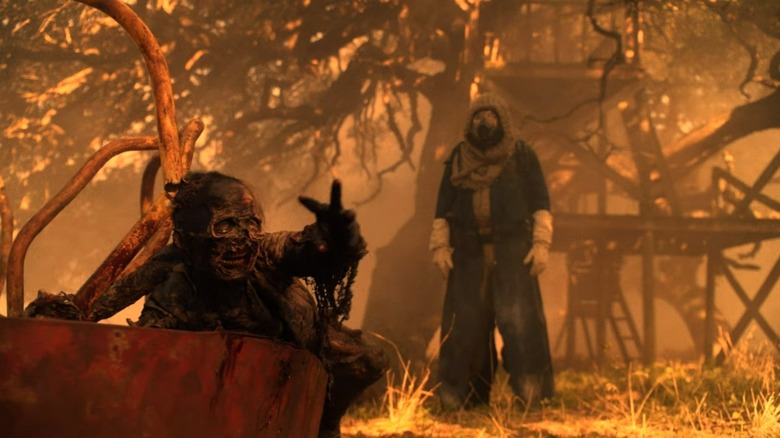 AMC
It's hard to believe that the second half of season 7 of "Fear the Walking Dead" is upon us, marking yet a new milestone for the successful spin-off series of the original "The Walking Dead." With the parent show continuing to thrive, ambling forward with no signs of stopping (well, almost no signs of stopping). It took until its eleventh season to finally begin to wind down, although even then we still received word recently of yet another spin-off in the works, this time revolving around fan-favorite Maggie Greene (Lauren Cohan) and the rather less-beloved Negan (Jeffrey Dean Morgan).
Through it all, the original spin-off series has continued to truck along at its own pace, as it's about to reach seven total seasons and will be gearing up for even more zombie goodness (and gore) to come. This newest trailer for part two of season 7 has it all: nuclear fallout, yellow-tinted shots of the remaining hellscape, headshots aplenty, and — you guessed it — zombies galore. If you thought things were bleak before, the newest batch of episodes set to release a little over a month from now certainly appears ready to test every viewer's capacity for misery porn to the breaking point. But hey, everyone knew exactly what they were getting into with a show titled "Fear the Walking Dead," right? It remains to be seen just how long audiences will stay interested in the post-apocalyptic zombie genre, but the ever-increasing roster of AMC shows aren't banking on their own ratings apocalypse taking place anytime soon. May we all have such confidence in life!
Check out the newest trailer below.
Fear the Walking Dead trailer
Well, how's that for a surprise?
To be fair, viewers in the know already had an inkling that original cast member Kim Dickens, who played lead character Madison Clark from the very first season to season 4, would be making her grant return at some point during the latter half of season 7 and setting up another season as well, which has already been greenlit. But the final seconds of this footage are sure to get fans excited and amped up for more, as they have now give us our first real look at Dickens' reprising her role as the long-lost Madison, presumed to have been dead all this time and still wearing that telltale leather jacket. Now, all attention turns towards a potential reunion between her and Alicia Clark (Alycia Debnam-Carey), who gets the lion's share of screen time throughout this trailer along with Lennie James as Morgan Jones and Colman Domingo as the menacing Victor Strand.
If the previous trailer teased "the beginning of the end," then this newest one makes good on that threat with some of the darkest and most gnarly visuals seen yet. Much like the last four seasons, season 7 is scheduled to run for 16 total episodes, which were split into two evenly-divided sections. After first debuting in October of 2021, the next half of the season is set to pick up on those explosive events and arrive on April 17, 2022, with the first two episodes made available on the AMC+ streaming service.
In the second half of Season 7, months have passed after the nuclear blast and the only one thriving is Victor Strand. Having built a fiefdom, he callously selects who will have a chance at life. The other members of the group have suffered immensely, but out of that, has come a fierce determination to live — even if it means taking Strand's Tower by force and continuing the search for Padre, a mythical place no one is sure really exists. Alicia, now the reluctant leader to Teddy's former followers, is plagued by a mysterious illness and the repercussions of her past actions. Morgan, trying to maintain hope that he will be reunited with his family, knows Alicia is key to their survival. With Alicia declaring war, Strand's paranoia and personal vendettas grow, and with that, new threats emerge from all sides.