New Moon Knight TV Spot Has Two Oscar Isaacs For The Price Of One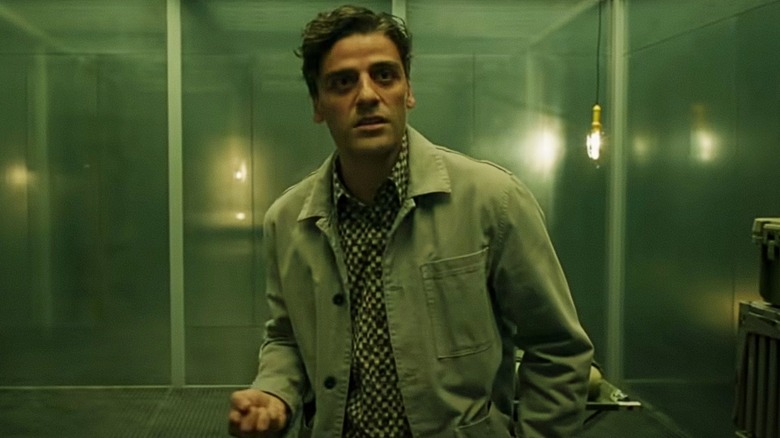 Marvel Studios
Every day (night?) that passes brings us that much closer to Marvel's "Moon Knight," which is set to premiere on Disney+ at the very end of the month. That means we only have a few more weeks left until the phrase, "Neither Oscar Isaac or Ethan Hawke (or F. Murray Abraham!) are in the Marvel Cinematic Universe," becomes completely and utterly outdated. What a time to be alive! 
But even more than the novelty of seeing a handful of brand-name stars enter the superhero world with one of the unlikeliest characters to ever make his live-action debut, Moon Knight himself remains the biggest draw for comic fans most familiar with the ins and outs of one of the franchise's darkest and most disturbed heroes.
Marvel Studios has worked overtime to make sure that even the most casual of viewers are well-acquainted with what the deal is with Moon Knight, who suffers from dissociative identity disorder. A featurette released last week had the cast and crew laying out some of what audiences should expect to see explored in the series. Now, the "Moon Knight" marketing continues to ramp up with a brand new TV spot that teases us with the identity (or, well, one of them, at least) of the man underneath the moon-themed suit, alongside a whole host of previously unseen footage. Check it out below!
'It's a little more complicated than that'
Poor Steven Grant. In the majority of the footage we've seen of "Moon Knight" to this point, the hapless and hilariously-accented man seems utterly lost at sea over the outrageous and legitimately supernatural events going on all around him. Honestly, we'd be in the exact same position if we were in his shoes, asking his own disembodied reflection (well, technically, all reflections are disembodied, but most don't end up talking back to us in reflected surfaces, so you know what I mean) whether he's some kind of secret agent. He's not, obviously, but it's adorable that he asked! 
That reflection, of course, is none other than Marc Spector, aka the guy who actually knows what's going on and fills our protagonist in on everything he knows ... in his own way, at least.
"Moon Knight" tells the story of one of Marvel's most mythology-based and street-level heroes entering the much wider world of the MCU proper. Once upon a time, a series like this would have been fated for Netflix and probably never stand a chance to be truly interconnected with the rest of the franchise. But thanks to Disney+ and much of the creative team behind the actual movies, it's likely (if not probable) that we'll eventually see Oscar Isaac suit up alongside the more familiar heroes on the big screen. But before we get too far ahead of ourselves, we still have these six episodes to look forward to. 
"Moon Knight" is coming to Disney+ on March 30, 2022. Here's the official synopsis:
The story follows Steven Grant, a mild-mannered gift-shop employee, who becomes plagued with blackouts and memories of another life. Steven discovers he has dissociative identity disorder and shares a body with mercenary Marc Spector. As Steven/Marc's enemies converge upon them, they must navigate their complex identities while thrust into a deadly mystery among the powerful gods of Egypt.