Marvel's Moon Knight Casts Oscar-Winner F. Murray Abraham As An Ancient Egyptian God (Of Course)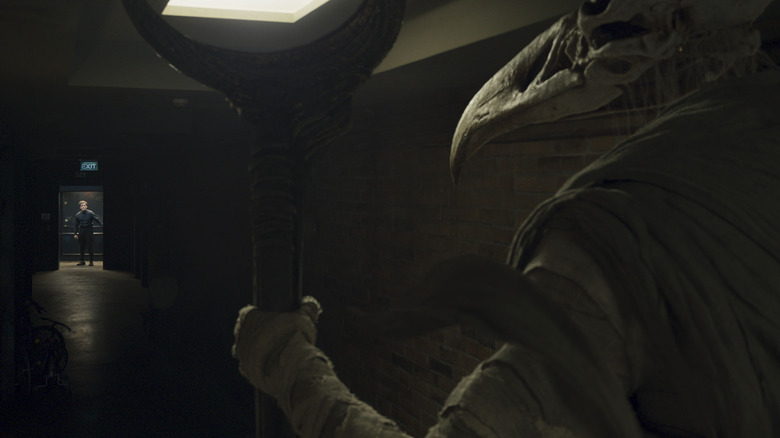 Marvel Studios
Boy, whatever else you might say about the Marvel Cinematic Universe, it's difficult to knock Kevin Feige and those in charge for their casting decisions. Every so often, we catch wind of an actor joining the franchise in such a perfectly tailor-made role that we can't imagine anyone else ever even being considered. The obvious choices would be Robert Downey, Jr. or Chris Evans, naturally, but I'm also talking about delightfully idiosyncratic examples like Clancy Brown voicing the fiery demon Surtur in "Thor: Ragnarok" or Bill Skarsgård as the Deviant Kro in "Eternals." Well, Marvel's gotten right back on top of that horse and recruited a downright legendary actor for another voice role — this time, on a Disney+ streaming series.
Those involved with "Moon Knight" keep teasing the upcoming show as a gamechanger for the franchise, with lead actor Oscar Isaac even going so far as to (politely) put down previous Marvel movies to make a point about the "character study" aspects of this new hero. All that buzz must've helped put the project on F. Murray Abraham's radar, who has joined the series in a crucial role. Though Marvel never formally announced it, the news has been (possibly inadvertently?) confirmed by the studio (via IGN) through the release of several new official stills — specifically, the image you see at the top of this article. Captioned "Oscar Isaac as Steven Grant and Khonshu (voiced by F. Murray Abraham) in Marvel Studios' 'Moon Knight,'" we can now confidently determine that the Egyptian god glimpsed in recent footage will receive a boost thanks to the distinctive, dulcet tones of F. Murray Abraham. 
Classing up the Marvel universe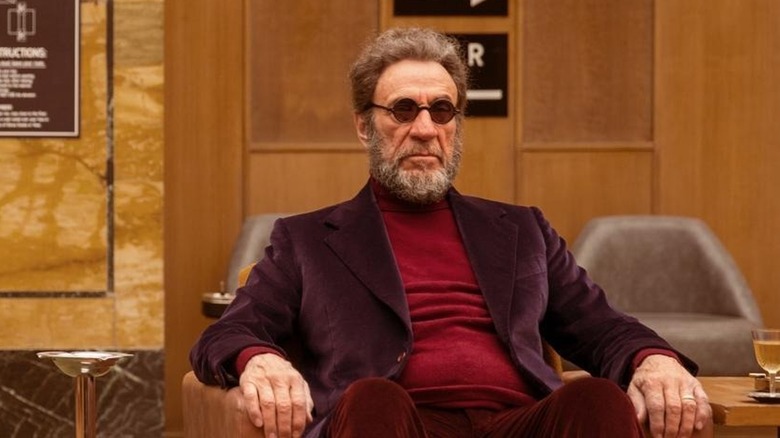 Fox Searchlight Pictures
F. Murray Abraham needs no introduction, but we'll provide one anyway for those too embarrassed to raise their hands and admit that they haven't seen nearly enough of the actor's work. (No judgment here, your secret's safe with us! But you should definitely fix that, pronto.) Perhaps best known for his Oscar-winning performance as Antonio Salieri in 1984's "Amadeus," the always-reliable American actor has appeared throughout the decades in films such as "All the President's Men," "Scarface," "Last Action Hero," "Inside Llewyn Davis," and "The Grand Budapest Hotel." Should you be tempted to think the prolific actor considers himself above genre projects, he even appeared as the villainous alien Ru'afo is "Star Trek: Insurrection," lent his voice to the kid-friendly "How to Train Your Dragon: The Hidden World," and most recently showed up in an episode of the HBO Max series "The White Lotus." And let's not forget his meme-worthy appearance in "The Simpsons" that one time.
His role as the ancient Egyptian god Khonshu feels perfectly apt for someone of F. Murray Abraham's caliber, instantly injecting a sense of aura and gravitas to a classic "Moon Knight" character who typically takes the form of a falcon in depictions of Egyptian hieroglyphics. This continues to stay on-theme with the "Raiders of the Lost Ark" inspiration behind the show, bringing a dose of the supernatural to the dark and (probably) violent series. In the comics, Khonshu essentially chooses Moon Knight to serve as his champion ... but Marvel's never been afraid to shake things up from the source material. We'll have to wait and see how this role plays into the events of the series, but we're looking forward to it even more with Abraham's involvement.
"Moon Knight" premieres on Disney+ on March 30, 2022.