Here's Where You Can Stream Or Buy Every Episode Of Firefly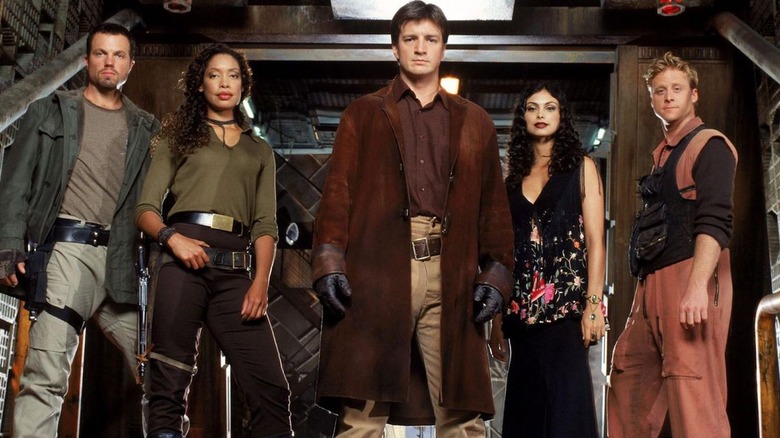 20th Century Fox
(Welcome to Where to Watch, which provides a clear and simple answer to the question, "Hey, where can I watch this thing?")
Browncoats, unite! t's time to discuss how you can watch "Firefly," the 2002 sci-fi/western mashup that followed a motley crew of smugglers aboard the spaceship Serenity as they traveled across the verse. Created by Joss Whedon, the show has quite a dedicated fanbase, especially considering only 11 of its 14 episodes made it to air before Fox dropped the axe. The network ultimately had no idea what to do with the series, airing the episodes out of order and giving "Firefly" the dreaded Friday night "death slot." Despite this, the show did surprisingly well on DVD (remember those?) in the wake of its cancellation and managed to rise from the ashes as a feature film titled "Serenity" in 2005.
"Firefly" starred Nathan Fillion as Captain Malcolm "Mal" Reynolds, Gina Torres as his right-hand woman, Zoë Washburne, and Alan Tudyk as the ship's pilot (and Zoë's husband) Hoban "Wash" Washburne. The ship's ragtag gang also included: classy Companion Inara Serra (Morena Baccarin), brash mercenary Jayne Cobb (Adam Baldwin), Serenity's faithful mechanic Kaywinnet Lee "Kaylee" Frye (Jewel Staite), the mysterious Shepherd Derrial Book (the late Ron Glass), and the ship's newest inhabitants, Simon and River Tam, played by Sean Maher and Summer Glau, respectively.
Whether you're looking to rewatch this unforgettable series or check it out for the first time, you're probably wondering what the best way to do that would be. So where can you stream or buy all the episodes of "Firefly?"
Where you can stream Firefly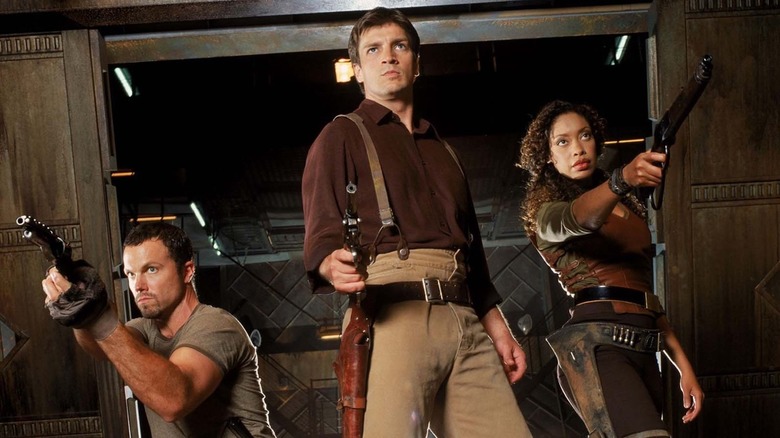 20th Century Fox
Much like Whedon's magnum opus "Buffy the Vampire Slayer" and its spinoff "Angel," "Firefly" can be streamed in its entirety on Hulu. You can watch all the episodes in the correct order, which is a luxury those who saw "Firefly" when it originally premiered on Fox did not have. The network even aired second installment "The Train Job" as the show's pilot. Like every episode of "Firefly," it's great, but obviously, leaving all the world building and character development of the pilot until the end of the series run was one of many nonsensical decisions Fox made regarding "Firefly." Hulu not only has the episodes in order, but also includes those that did not air in the show's initial run. 
"Serenity" is a vital part of the story as well, but sadly, the movie is currently only available to stream with a Starz subscription, but you can also rent or buy it digitally on iTunes, Amazon Prime Video, and mre.
Where you can buy Firefly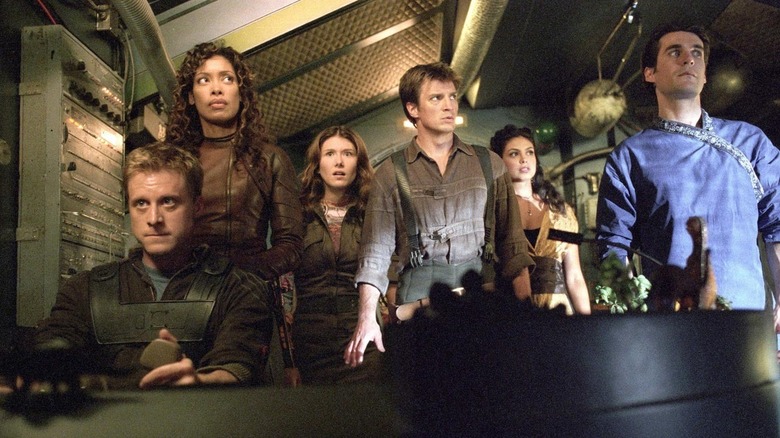 20th Century Fox
If you don't have access to Hulu, you can also buy "Firefly" digitally from the usual places. For example, it currently goes for $2.99 or less per episode, or you can pay $12.99 for the whole series on Amazon or iTunes. You can also find "Serenity" available for purchase there for $14.99. However, if you're a Browncoat through and through, and you want to own the entire series on physical media, that's also an option. There are several different iterations of the show on both Blu-ray and DVD, with Amazon charging $16.99 for either.
Fox was considering a "Firefly" reboot a few years ago, provided the show's creator was onboard. However, it doesn't seem like Whedon will be returning to TV any time soon. Honestly, as much as I love the show, I'm hoping Fox doesn't attempt to resurrect it. We've got 14 fantastic episodes and an excellent film that — while its runtime simply didn't allow for worthwhile resolutions for all characters — still managed to serve as a satisfying conclusion. Besides, the series continues to live on in comics, novels, and in the hearts of its loyal fans.