Fox Interested In 'Firefly' Reboot, But Only Under One Condition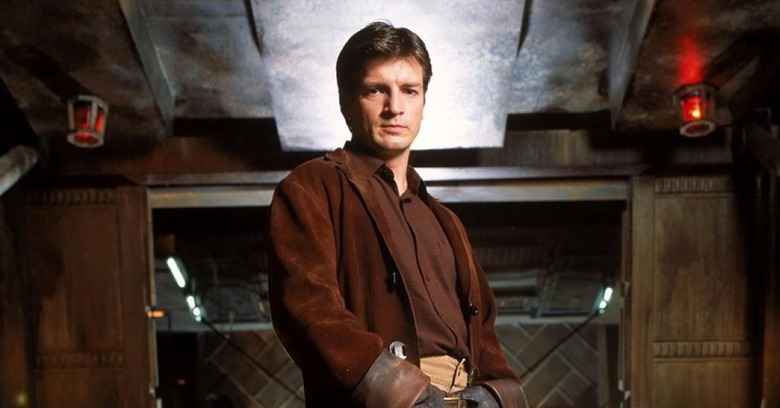 Fox brought The X-Files and Prison Break back for more episodes, which might have a few folks wondering if that means Firefly, an admittedly less popular show, could return as well. Creator Joss Whedon's sci-fi western only lasted one wonderful season on Fox, but the story continued with the 2005 film, Serenity. Could Malcolm Reynolds (Nathan Fillion) and the remaining crewmembers of the Serenity ever return to star in a second season of Firefly on Fox? Fox Broadcasting President of Entertainment, David Madden, recently commented on the matter, claiming he's open to more Firefly if Whedon is.
Below, learn why we might or might not see a Firefly reboot.
During a panel last month at the TCA 2017, Madden told Rotten Tomatoes he's open to a Firefly reboot (via TV Overmind). Of course, he's only interested if Whedon wants to do it, and Whedon is busy with movies. Madden doesn't want more episodes of Firefly without The Avengers: Age of Ultron director.
Three years ago, producer-writer Tim Minear stated he "would never foreclose the possibility" of bringing the show back. "I think a limited series of some kind would work best," he said. "Something like that could also work if, say, 20th [Century Fox, who owns the rights] could partner with Netflix or another distributor." If they ever went that route, there might be some issues with the rights.
After the release of Age of Ultron, Whedon told Collider "there are rights [issues] between Fox and Universal because one had the show and one had the movie, so it gets a little funky fresh with that." There's also the matter of whether Whedon would want to make more episodes of Firefly, which he's always held the same position on: he'd do it if it felt right and when the cast is freed up from their busy schedules. First and foremost, Whedon wants to tell another story, not just find an excuse to get together with his friends.
Years ago he said he'd take another look at the idea when Fillion isn't starring in Castle anymore, which is now the case, and when he's no longer "the Tom Hagen of the Marvel Universal," which he's not anymore. He said he "might look and see where the market is then." As for the star of the series, Fillion, he's skeptical he'd play Malcolm Reynolds again. He thinks another season of Firefly is an "impossibility," but he said the same of the movie, so he doesn't try to underestimate Whedon.