Sonic The Hedgehog 2 Trailer: Welcome To The Next Level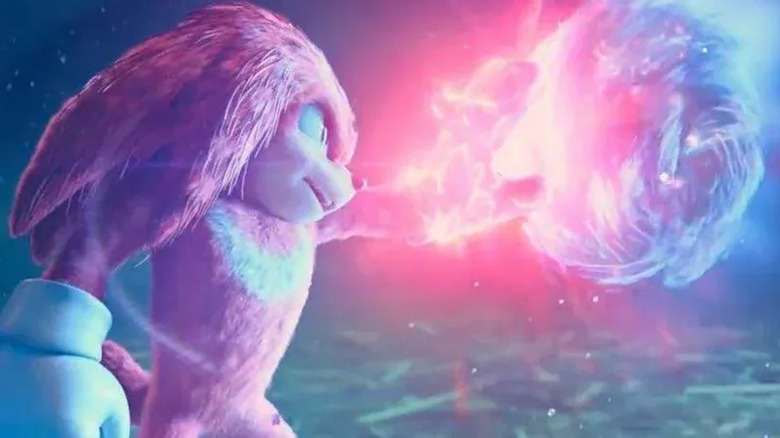 Paramount Pictures
After collecting enough rings to earn the title of highest-grossing video game movie in North America in his 2020 film, Sonic the Hedgehog is back to kick some more Dr. Robotnik RoBUTTnik. But in "Sonic the Hedgehog 2," Ben Schwartz's little ball of super energy in an extremely handsome package has more to worry about than just Jim Carrey's mustachioed Eggman. 
This time, a new player has entered the game in the form of Idris Elba as the powerful punch-packing Knuckles. Luckily, Sonic has some backup of his own when his new friend Tails (voiced by veteran voice actress and "Sonic" franchise staple Colleen O'Shaughnessey) joins the fray. It sounds like we're in for some serious tornado tag team action and we'll be right there as fists (or tails or robots or shiny gems) start flying.
After having to slow down due to the pandemic, Sonic is back to his signature pace as he speeds into theaters for his highly anticipated sequel. But ahead of the film's theatrical release next month (except in Russia), Paramount has released a new trailer.
Knuckle up
After some teasing over the weekend, we finally have a new trailer for "Sonic the Hedgehog 2." The follow-up to director Jeff Fowler's first film in the series looks to be just as charming and full of family-friendly fun as the previous one. This time written by Pat Casey, Josh Miller, and John Whittington, the story follows Sonic as he faces his familiar foe after Dr. Eggman somehow escapes the mushroom planet and returns to our world to exact revenge on his archrival. More details can be found in the official synopsis of the movie.
Months later after defeating Dr. Robotnik and banishing him to a planet full of mushrooms, Sonic is ready for more freedom, as Tom and Maddie agree to let him stay home while they go on vacation. However, Dr. Robotnik, now known as Dr. Eggman, returns from the mushroom planet with a new partner, Knuckles, in search of an emerald that can give the power to build and destroy civilizations. Now, Sonic and his newfound friend Tails embark on a journey to find the emerald before it falls into Robotnik's hands.
With Tom and Maddie on vacation, I assume that we'll be getting considerably less James Marsden and Tike Sumpter in the sequel in favor of Tails and Knuckles. But that doesn't have to be a bad thing. Obviously, the addition of the fan-favorite characters is great, but maybe that means that other members of the live-action cast will get to shine. Personally, I think it would be great to see more of "Happy Endings" star Adam Pally. And based on some of the previous trailers, it seems like Lee Majdoub's Agent Stone, Robotnik's former assistant and current barista, might be getting more spotlight this time around. Thankfully, we won't have to wildly speculate much longer as "Sonic The Hedgehog 2" starring Ben Schwartz, Jim Carrey, Idris Elba, and Colleen O'Shaughnessey races into theaters on April 8, 2022.