Zoë Kravitz Gets A Cat And Sends Up Princess And The Frog In A Hit Or Miss Saturday Night Live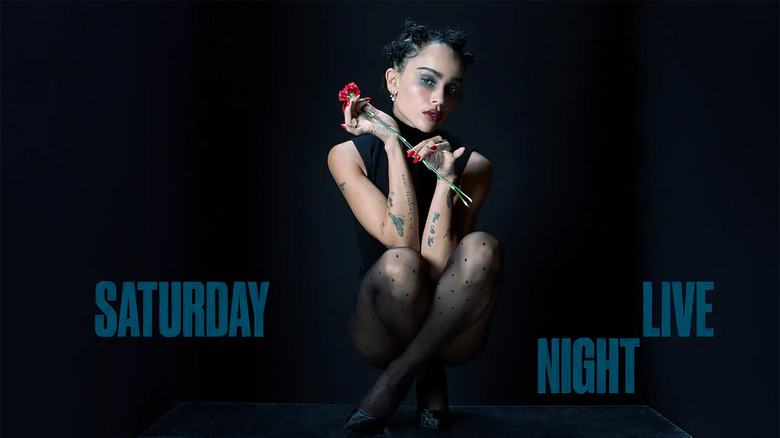 NBC
Since Robert Pattinson was too busy wincing at the sun and putting on black eye make-up so he can become vengeance, "The Batman" co-star Zoë Kravitz headed to Studio 8H at 30 Rockefeller Plaza this weekend to make her hosting debut on "Saturday Night Live." 
For the most part, Zoë Kravitz is known as a pretty serious actress, with key roles in "Mad Max: Fury Road" and the "Divergent" franchise, and the titular role in Steven Soderbergh's most recent film "Kimi," now on HBO Max. But Kravitz has been known to have some fun here and there as well, appearing in the R-rated comedy "Rough Night" with Scarlett Johansson, and making her (voice) debut as Catwoman in "The LEGO Batman Movie." However, we've never seen her cut loose as she did on "SNL," where she had no trouble bringing enthusiasm and energy to the night's sketches, even matching the ball of fire that is Bowen Yang. 
So let's dig into the best and worst sketches from the Zoë Kravitz-hosted "Saturday Night Live."
The Best
Old Home Movies – There's a reason Kenan Thompson is the longest-running cast member on "Saturday Night Live," and it's not just because he hasn't popped on the big screen as a leading man. It's because after all these years, he can still deliver sketch comedy gold like this. Here, we have Thompson delivering a secret message to his kids (Zoë Kravitz and Chris Redd) on a tape that was intended to be viewed after his death. It's full of things he doesn't want their mother (Ego Nwodim) to know about, with the exception of the plot to his crime thriller pitch, "Dallas City Bouncers," which he wants everyone to know about. From the penis pump with the googly eyes to the financial losses on JB Smoove's sports betting app, this tape just gets better and better, and Thompson knocked it out of the park.
Don't Stop Believin' (Marching Band) – There's no denying that Bowen Yang often plays variations on the same character, typically a gay man with varying levels of flamboyancy. But if it ain't broke, don't fix it, and within the different shades of gay, Yang often delivers plenty of laughs. This sketch is no exception; the sheer excitement and boundless energy that Yang exhibits as he gushes about the Ohio State University marching band's rendition of Journey's hit "Don't Stop Believin'" is off-the-charts fantastic, and the random references to Rainbow Road on "Mario Kart 8" only make it better. Zoë Kravitz perfectly matches Yang's spark, and it's a gift to us all.
Please Don't Destroy: We Got Her a Cat – Take the madcap energy of Please Don't Destroy and throw a cute cat into the equation, and I'm completely sold. Yes, getting Zoë Kravitz a cat is a bad idea, especially when it's so easily lost. With the cat concept alone, this sketch cracked me up, but it reached a whole new level when Paul Dano crept out from under the couch for some self-deprecating humor from the Please Don't Destroy boys. 
The Average
Maid of Honor – Zoë Kravitz kicked off the night with a fantastic turn in this funny but not raucously hilarious sketch. We've seen this formula before, and it almost always works. A character rattles off a list of surprising and increasingly worse facts about someone else in the room while another character has an uneasy realization that they don't really know this person at all. Kyle Mooney delivers the best unsettled reactions, Cecily Strong's enthusiasm about the worst parts of her personality are just right, and Kravitz's endless positivity keeps the sketch going strong. My only wish is that it veered into potentially more absurd territory.
Amazon Go – This might be a simple premise, and it certainly isn't timely, but the execution still made it funny. Black people aren't about to be tricked by Amazon Go's seemingly easy checkout process, which involves simply walking out of the store without stopping at a cashier to pay. But Chris Redd, Kenan Thompson, Ego Nwodim, Punkie Johnson, and Zoë Kravitz know that's a damn trap. Watching everyone skeptically glance around like they're on the worst prank show is simple, but it's also effective.
Word Crunch – Hey, it's a game show sketch! "SNL" hasn't been relying on these as much lately, so it was actually nice to see them dust one off. In this case, Andrew Dismukes has the right demeanor to be a game show host, but he's so young that it doesn't quite feel right, even if what he's saying and how he's saying it is funny. Though I like the premise of this sketch, I'm not sure "momhole" was the best option to go with for a joke that's meant to be repeated so much. But I must say that I enjoyed Kravitz rattling off all those other inappropriate words before ending with "time." Good but not great.
The Worst
Princess and the Frog – How can you waste such a great premise like the lesser celebrated Disney movies being in a Disney Minus section of Disney+ like this? This send-up of "The Princess and the Frog," just feels too basic, opting for a joke about a frog not having a penis. But for me, this premise doesn't really work, because the story doesn't find Tiana marrying the frog form of Prince Naveen. Sometimes the lack of logic in these sketches is supremely frustrating, but that's also just the cinephile in me knowing how this movie is supposed to work. Even if we allow that leap in logic, this sketch was a mess technically, and the penis joke wasn't enough to sustain an entire sketch. But hey, Kenan Thompson as Dr. Facilier is still great.
Porch Scene – We've seen Kate McKinnon and Aidy Bryant as these two awkward boys before, and I felt pretty much the same about it back then as I do now: I wasn't all that amused. McKinnon and Bryant aren't bad as these characters, but the way the sketch unfolds feels way too long, and the awkward comedy isn't good enough to justify the sketch's slow pace. In fact, the last time these characters appeared with host Carey Mulligan, I wrote, "This sketch isn't terrible, but it just goes on for far too long while staying at the same level of comedy." Yeah, sounds about right. It's just not for me, but thankfully, there are plenty of other pairings of McKinnon and Bryant that are far better.
White House TikTok Meeting (Cold Open) – Good lord, another political cold open that calls in TikTok for an assist? Is this how desperate the topical satire of "SNL" has become? Do they really need to rely on spoofing familiar TikTok personalities to make a mockery of the current political climate? Can we just avoid political cold opens like this until there's actually something worth parodying? This sketch is bad, bad, bad, and not even James Austin Johnson's solid Joe Biden or a late appearance by Kenan Thompson can make it work. 
Weekend Update
Colin Jost and Michael Che had another great round of Weekend Update jokes, though not quite as good as the past couple weeks. Jost's Starbucks jokes deserved more laughs, and I loved the reaction Che gave after Jost offered to sign him up for war. Plus, I love that Jost has pivoted to introducing Florida Governor Ron DeSantis by mislabeling the pictures they use for his headlines, just as he typically does with Mitch McConnell. Meanwhile, Che took a great jab at Colin Jost's general whiteness, and he delivered one of his traditional groaners that is intended to ruffle some feathers. I loved it.
Watch the second part of Weekend Update right here.
Film Critic Terry Fink on 2022's Oscars Predictions – Oh, it's been too long since we've gotten Terry Fink's LSD-fueled, fever dream recaps of movies. This is a great bit by Alex Moffat, and his on-air critic voice delivering the strangest twists and turns sounds as cheesy as any film critic you'd find on a local news affiliate in the 1990s. I just love this character. 
Dan Bulldozer on the Impact of Social Media – It's a real bummer when a Kyle Mooney character doesn't work at the Weekend Update desk, but this one just didn't have the goods. It's too similar to a human version of Baby Yoda, and the sadness at the character's core is already better with Bruce Chandling. Sure, the voice manipulation is funny, but there were too many technical hiccups on that front too. No thanks!
The Host
Zoë Kravitz didn't quite soar in the same way that Oscar Isaac did, but clearly she had no problem getting bubbly, weird, and awkward throughout the evening. But much like Oscar Isaac, Kravitz's turn on "SNL" did make me want to see her tackle more material that wasn't so deadly serious. She's clearly got some brighter energy that works well for comedy, but I think she's getting a lot more drama, action, and thriller offers for the big screen. That may also be because studios aren't taking many chances on big comedies lately, but it would be great to see her jump into the indie circuit. Anyway, Kravitz's career is really taking off in a big direction, so hopefully we'll see her back at "SNL" sometime in the future.
The MVP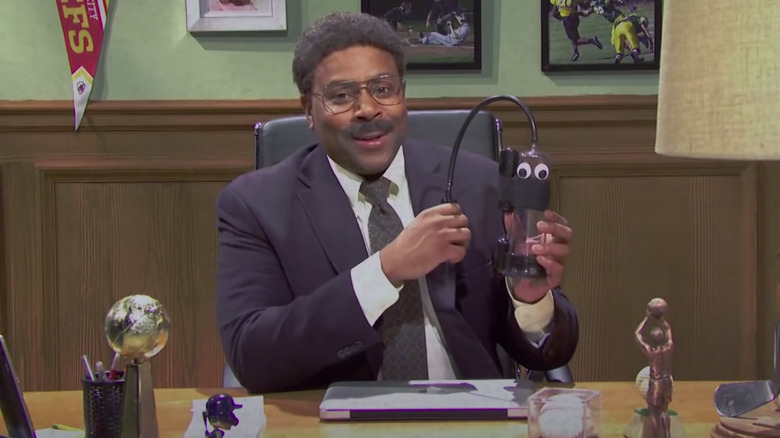 NBC
Kenan Thompson – First of all, let me say that this almost went to Bowen Yang for the "Don't Stop Believin'" sketch alone, but Thompson was funnier throughout the rest of the evening, so that's why he takes the MVP title this week. Not only was the "Old Home Movies" sketch a riot, but he was great in the "Amazon Go" sketch, and he helped improve two of the worst sketches of the night, even though it wasn't enough to save them. As the years go on, we'll look back and think about what a treasure Kenan Thompson was on "SNL," and he will undoubtedly deserve to be praised as one of the best cast members of all time. 
The Final Word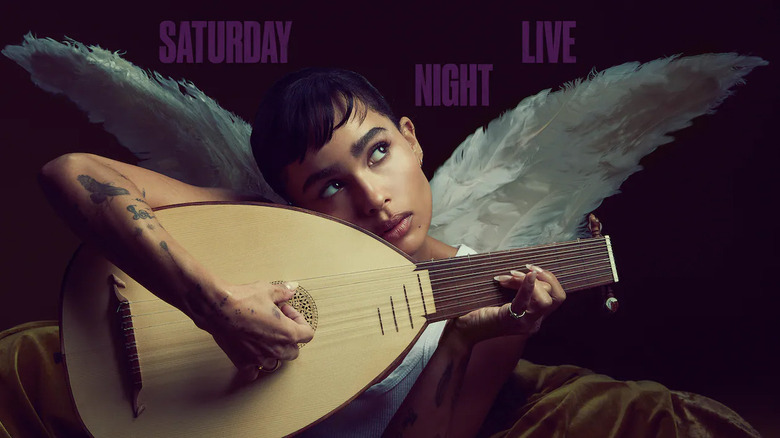 NBC
As the third in a three-episode run, this episode came out on the lower end of quality, but it wasn't a bad episode either. Though the worst of the night were pretty terrible, the highs were pretty impressive, and even the average sketches were admirable. As of now, we're not sure when we'll be back for another episode of "SNL." It's likely that the show will take a couple weeks off before returning with another round of back-to-back episodes in April, but no hosts or dates have been announced for the spring yet. Either way, we're coming up on the end of season 47, so hopefully some big name hosts are on the horizon as blockbuster summer begins to loom. Stay tuned!