Oscar Isaac Takes Down Paw Patrol And Becomes A Meatball In An Amusing Saturday Night Live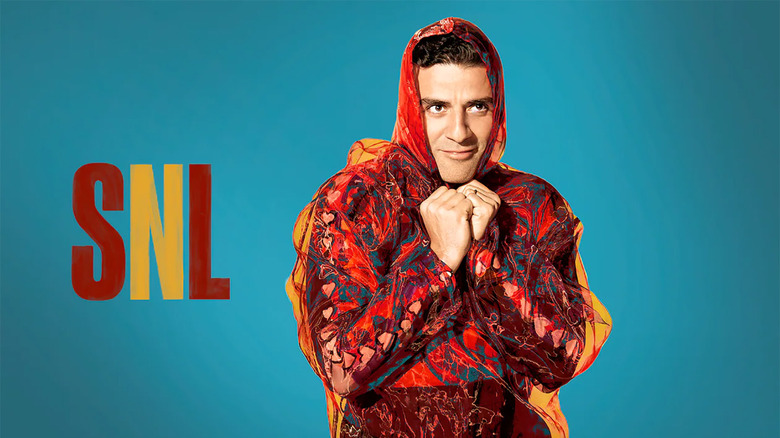 NBC
Oscar Isaac has been taking on "Star Wars" villains, giant sandworms, broken marriages, and learning for the past few years. But it's not often that we get to see him cut loose and spark some laughter, which made his hosting debut at "Saturday Night Live" so exciting. 
Ahead of the actor's debut in the Marvel Cinematic Universe with the Disney+ series "Moon Knight," Isaac stepped into Studio 8H to lead the late night sketch comedy staple, and he wasn't afraid to get weird. In fact, Isaac kicked things off by digging into his very early career by showing off clips from a genuine homemade movie that he and a childhood friend made in their backyards. But we're getting ahead of ourselves.
Let's dig into the best and worst sketches of the Oscar Isaac hosted "Saturday Night Live" below.
The Best
Paw Patrol – Even if you don't have kids, you've probably heard of "Paw Patrol." The animated series for youngsters finds a team of six dogs acting as the police force, firefighter squad, paramedic team, water and air rescue, and basically anything citizens might need in a pinch. But Oscar Isaac isn't having it, taking a stand as a city councilman to call out just how terrible it is to have just six dogs led by a 10-year old boy to deal with a city's major problems, which don't include kidnappings, sex crimes, or pregnancy emergencies. I love treating fictional shows in a realistic manner like this and finding the fallacies in their logic. It just never gets old to me.
Workplace Harassment Seminar – This was such a hard premise to wrap my head around, and I found myself being just as confused as the workers in the sketch. That didn't stop the sketch from being hilarious, of course, as Oscar Isaac and Cecily Strong kept trading clearly inappropriate remarks that absolutely shouldn't be allowed in the workplace, all while condoning them. But then the flip came, which tied the whole thing together in such an odd fashion. The recurring comments about Kenan Thompon's inappropriate behavior as Kevin were a nice bonus, but I could have done without the tacked-on sitcom advertisement, which is a common way that "SNL" likes to end sketches when they can't figure out exactly what to do.
Inventing Chloe - This sketch may be only mildly amusing if you're not aware of the Netflix series "Inventing Anna." But if you've heard the voice that Julia Garner puts on as alleged German heiress Anna Delvey, then you know exactly what Chloe Fineman is doing, and she's crushing it. By transforming into this faux heiress, she starts demanding whatever she wants, even going so far as to suggest that all this is coming down from Lorne Michaels himself. The most hilarious thing is that this isn't far removed from the actual series itself, which is, at best, laughable.
The Average
Aidy's Dream – It wouldn't be hard to believe that Aidy Bryant has played teachers, mothers, and women named Diane around 150 times throughout her tenure at "Saturday Night Live," and it's funny to imagine her using it as leverage to take on a dream sketch that she conceived all on her own. In this case, it's Aidy Bryant labeling herself as a very sexual woman and being wooed by an overly fancy Oscar Isaac. Honestly, I think this might have been a little better without the interludes, which felt like it ruined the rhythm of the dream sketch itself. But I completely cracked up when Bryant manifested her catchprase, "Hey, get your fat ass on my lap, b****." I could see this becoming a recurring sketch with various handsome men who come in to host, but it might lose its shine if that were the case, and since it's not necessarily one of the best of the night, maybe it's better as a one-off.
Fiction Workshop – When this sketch was being set up, I assumed it was going to go in a much different but still creepy direction, perhaps involving some kind of murder that this janitor had committed in the school. But it took a much more satisfying and odd turn as Oscar Isaac began to regale this fiction workshop with a story about his encounter with pop star Dua Lipa, who somehow has no idea how to make out. However, even though this direction is rather surprising, once you get the gag, it feels rather predictable in its execution. Though the reactions from Aidy Bryant, Melissa Villaseñor, and Heidi Gardner, added a little something to it, this wasn't a laugh out loud sketch. But the ending was pretty great.
Home Repair Show – Here's a sketch that I think could have benefited from having a layer of physical comedy. The description of these do-it-yourself projects gone horribly wrong just isn't as funny to me as if we actually got to see it happen in real time. While that does create a leap in logic as to why those mishaps were recorded, I can't help but think there would have been a way to have "dramatic reenactments" get the point across just as well. Kenan's persona does make the sketch work a little better than it otherwise would, and the arrival of Ego Nwodim as his wife mocking his own poor attempts and being a handyman is a fun spin, but I think this one needed a little more to truly soar.
The Worst
Meatballs - I'm starting to get the sense that the cast and writers at "Saturday Night Live" have been veering into weirder and stranger territory much more often than the usual 10-to-1 slot. This sketch in particular was just plain peculiar, to the point that it was almost unsettlingly strange. This felt like something you'd see on Adult Swim, maybe in something that Tim Heidecker and Eric Wareheim cooked up. Even more surprising is that this aired before the first musical performance of the night, and oddball stuff like this rarely makes it into the show that early. Could this be a sign of the "SNL" writers and cast breaking formula a bit and leaning into the bizarre side of comedy? 
Fox News Ukraine – As has become custom over the past few years, the timely political satire in this episode just didn't work. Though James Austin Johnson's Donald Trump is a highlight, and a few one-liners from Kate McKinnon as Laura Ingraham were worth a laugh, the only truly hilarious bit was Bowen Yang as Steven Seagal. I could watch an entire talk show hosted by this version of Steven Seagal, and I would love to see Yang bring him back in some capacity.
Weekend Update
Despite political satire being a dry well that "SNL" keeps desperately trying to pump for sketch comedy, Colin Jost and Michael Che certainly had an impressive arsenal of jokes inspired by the week's top stories, especially when it comes to the war in Ukraine and the State of the Union address. From a sharp jab at Vice President Kamala Harris to great use of remarks from Senator Lindsey Graham and Florida Governor Ron DeSantis, this edition of Weekend Update was quite good. Che and Jost also had that back-and-forth that I love so much, not to mention some great self-deprecating humor from Jost, and phenomenal racial comedy from Che. 
You can watch the second part of Weekend Update over here.
Kate McKinnon on Florida's "Don't Say Gay" Bill – The last time Kate McKinnon appeared as herself (at least somewhat) at the Weekend Update desk was when she broke character as Dr. Wenowdis when the COVID-19 pandemic was infinitely worse. But this is the first time in a long time that she had a full-on bit purely as herself, and you couldn't have asked for a better topic. With the prejudiced "Don't Say Gay" bill being kicked around Florida, McKinnon's position as a the first (but not only) openly gay "SNL" cast member made her a prime candidate to offer some hilarious commentary. In this case, having her misunderstand the bill was a fun angle to start things off, but then veering into saying "gay" and many other LGBTQ+ identifiers as often as possible was a nice kick to the face of Governor Ron DeSantis, a man best described as a melted human Shrek. 
Weary Mother in Her Darkest Hour on Rihanna's Pregnancy – The first time Ego Nwodim played this character at the Weekend Update desk was nearly a year ago, but I think that this appearance is actually superior. Not only does she sound less like Dionne Warwick, but I think Rihanna's pregnancy makes for better subject matter too. Please, let this weary mother comment on even more current events in the future. 
The Host
Oscar Isaac is one of those actors who hasn't been afforded many comedic opportunities in film or television, so seeing him get a chance to shake things up on "Saturday Night Live" was rather refreshing. Even in roles that didn't necessary require him to put on an unusual voice, Isaac really seemed game to create a fully fleshed out character, which enhanced his appearance in sketches like Paw Patrol and Home Repair Show. Plus, doing a monologue with actual home video footage from movies he made as a kid was so charming. Isaac's hosting stint on "SNL" actually made me wish we could see him in some kind of studio comedy or even a romantic comedy. But I'm betting "Moon Knight" will allow him to show a bit more of his comedic touch, especially with how downright strange the Marvel Studios series is supposed to be. Here's hoping Isaac had enough fun to come back and host again sometime down the road.
The MVP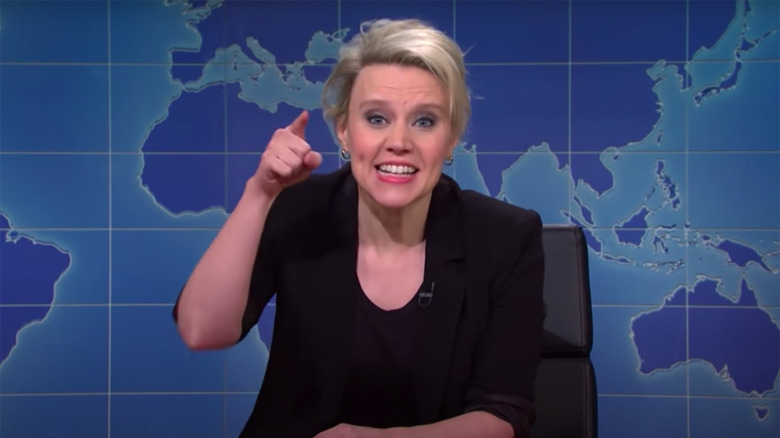 NBC
The Female Cast Members of "SNL" – Because the ensemble of "SNL" has become so big, it's been harder to choose a standout MVP in each episode. In this case, I felt like it was the female cast of the sketch series who stood out, with each one having a moment to standout throughout the episode. Aidy Bryant, Chloe Fineman, Heidi Gardner, Kate McKinnon, Ego Nwodim, Sarah Sherman, Cecily Strong, and Melissa Villaseñor all had a moment in the spotlight, even if some were smaller than others. The only female cast member who didn't really get a moment to shine was Punkie Johnson, which is a bit of a bummer. But I think Johnson has been enjoying more time in the spotlight recently, and hopefully that continues.
The Final Word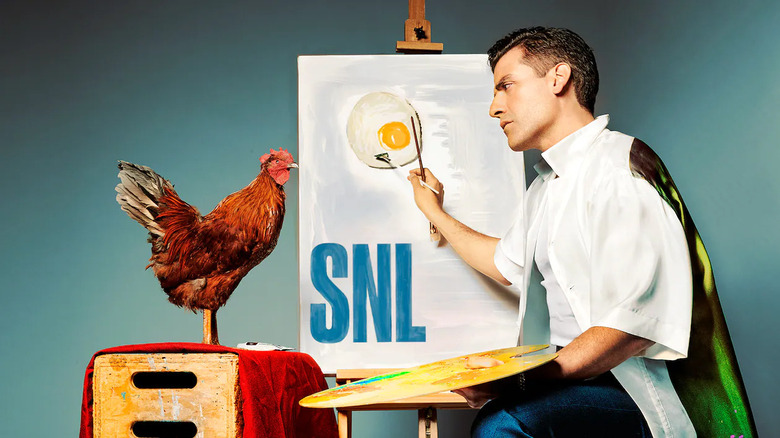 NBC
Though the momentum wasn't quite there from last week's episode with John Mulaney, having this good of an episode with a first-time host is still satisfying. The two worst sketches weren't absolutely abysmal, and the Meatballs sketch might have actually worked for some people. Perhaps the best thing about this episode is that it didn't rely on the usual tropes of "SNL" sketches like talk shows, game shows, and commercial parodies, even though the Home Repair Show technically falls under one of those banners, it didn't quite have the same formula. Could this be a result of the ensemble cast providing so much more variety, or is it the changes behind the scenes with new writers joining the staff and head writer Anna Drezen leaving a little while ago? We'll be paying attention to see how the rest of the season shakes out.