Ranking Every 2022 Academy Award Best Picture Nominee From Worst To Best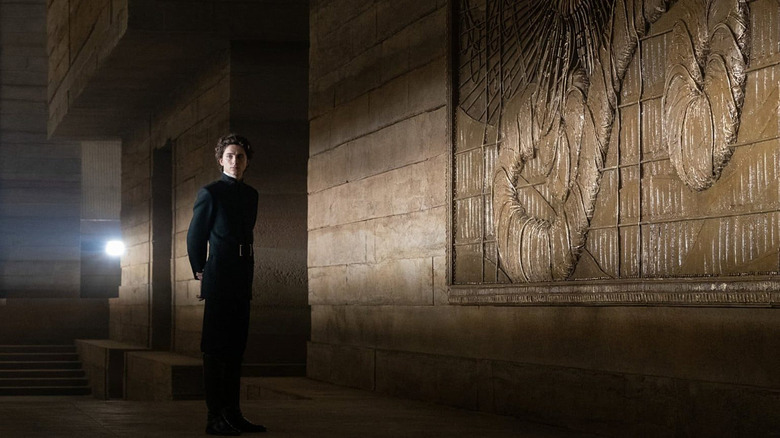 Warner Bros. Pictures
There are ten Academy Award nominees for best picture this year for the first time since the 83rd ceremony in 2012. After "The Dark Knight" was shockingly snubbed at the 2009 awards, the Oscars expanded the best picture field from five to ten nominees. Supposedly, the category was expanded in order to include more popular films in the lineup. In the first year of the change, films like "Up," "Avatar," and "District 9" all received nominations. However, there have only been eight or nine nominees for the past ten years due to another change in the nominating process. This year marks a return to the previous system, where ten nominees represent a variety of genres. Included within the best picture lineup are a noir thriller, a three-hour international drama, a musical, a science fiction epic, and many films available on streaming services.
Hopefully, this means more viewers will tune in to watch the show itself, but the Oscars and their network partner ABC have hit a few roadblocks. After the idea of a "Best Popular Film" category was first suggested in 2018, the Academy is trying again to appeal to average moviegoers with new categories. This year, Twitter users can vote for their #OscarsFanFavorite movie and #OscarsCheerMoment. It was also announced that certain categories will not be presented live. Despite these distracting changes, the films nominated this year deserve to be celebrated. Here are all 10 Academy Award nominees for best picture in 2022, ranked worst to best.
10. King Richard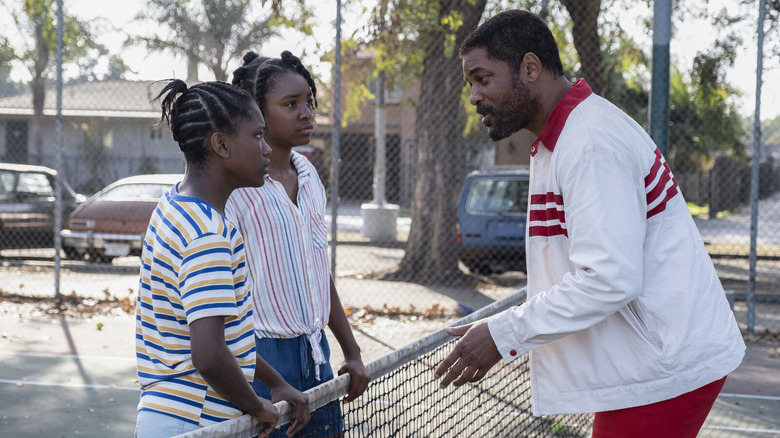 Warner Bros. Pictures
Will Smith is currently the favorite to take home the best actor trophy for his performance as Richard Williams in the biographical film "King Richard." Smith was previously nominated for "Ali" and "The Pursuit of Happyness," and has long been overdue for recognition by a major awards body. "King Richard" is a better opportunity than ever to reward Smith for one of the most complex performances of his career. He is best known for his charisma in films like "Men in Black" or "Independence Day," but in "King Richard" he is sometimes completely unlikable. Smith elevates his co-stars, and the entire ensemble is very strong. "King Richard" explores Richard Williams' intense training regimen for his two daughters Venus (Saniyya Sidney) and Serena (Demi Singleton). Before they were even born, Williams developed an extensive guide to coach the two girls to become world tennis champions. 
Williams is incredibly frank with his children, praising them for their dedication, but his high expectations make their childhood very difficult. Venus and Serena struggle to connect with their peers, who can't relate to their unusual lifestyle. Williams' wife Oracene Price (Aunjanue Ellis) supports his ambitions but feels he doesn't offer their children enough regular childhood experiences. While "King Richard" does a great job at fleshing out the familial dynamics, it is overlong at 145 minutes. Screenwriter Zach Balin included so many impressive personal details from the Williams' accounts, but a tighter runtime could have kept the story more focused.
9. Don't Look Up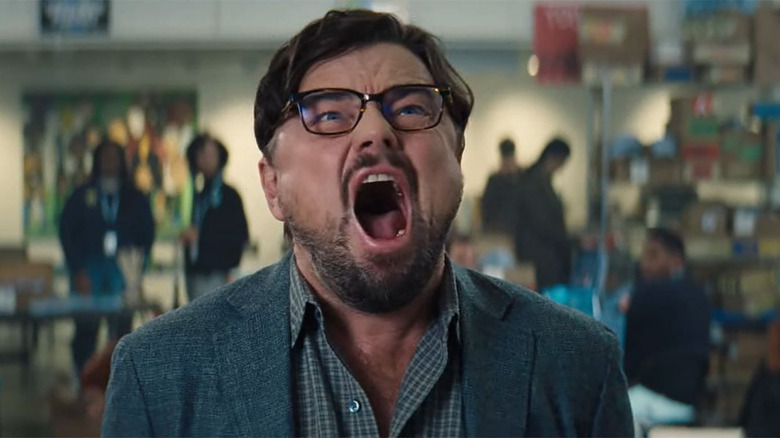 Netflix
Adam McKay's satirical dark comedy "Don't Look Up" feels like a perfect parallel to the COVID-19 pandemic, even if it wasn't intended to be. McKay developed the screenplay in 2019, and filming was delayed during the early pandemic shutdowns. Even if "Don't Look Up" isn't specifically about the events of the past two years, the themes are still relevant. It criticizes those that ignore global crises and don't follow safety precautions. McKay examines the consequences of having a federal government that refuses to listen to scientists. While the allusions to the Trump administration are rather obvious, it is still chilling to watch an incompetent leadership needlessly risk the lives of citizens.
"Don't Look Up" follows the Michigan State University astronomy professor Dr. Randall Mindy (Leonardo DiCaprio) and doctoral candidate Kate Dibiasky (Jennifer Lawrence), who discover that an impending asteroid strike could wipe out all life on Earth. Mindy and Dibiasky present their findings to the President of the United States, Janie Orlean (Meryl Streep), who decides not to follow their suggestions and instead listens to the idiosyncratic tech billionaire Peter Isherwell (Mark Rylance). Isherwell is a major donor to her campaign, and Orlean would rather prepare for reelection than face the reality of an extinction-level event. "Don't Look Up" explores very disturbing topics in a satirical way, and occasionally the humor feels awkward. The broad stereotypes of media personalities and internet culture contradict the more realistic elements of the film.
8. CODA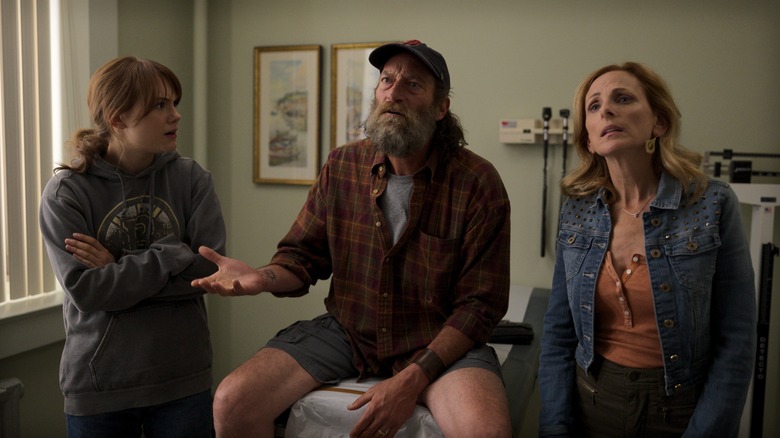 Apple TV+
While "CODA" is a very predictable crowd-pleaser, it feels distinct because of the community that it spotlights. The film gives a voice to the deaf by focusing on an intimate family relationship and exploring the real challenges they face on a daily basis. There has not been a significant film centered on deaf characters since "Children of a Lesser God" (also starring Marlee Matlin) in 1986. The main character Ruby (Emilia Jones) is a hearing child of deaf adults, or "CODA". The film drew praise from deaf communities for its sensitivity, although it also received some criticism for telling its story through the perspective of a hearing character.
Ruby struggles to balance the responsibilities she has in her family with her true passion for singing. She dreams of performing but realizes that continuing to pursue music could create tension with her parents. Ruby's father Frank (Troy Kotsur) and mother Jackie (Matlin) own a fishing business. Ruby and her older brother Leo (Daniel Durant) assist them. The family works alongside several other boating businesses in the Gloucester, Massachusetts fishing community, but they barely interact with the hearing workers. Ruby's energetic choir teacher Bernardo Villalobos (Eugenio Derbez) encourages her to audition for the Berklee College of Music, which creates a dilemma. Is she prepared to leave her family behind without the aid of a hearing person? It's a compelling ethical question that is handled well, but a greater focus on the deaf characters would have made "CODA" more well-rounded.
7. Belfast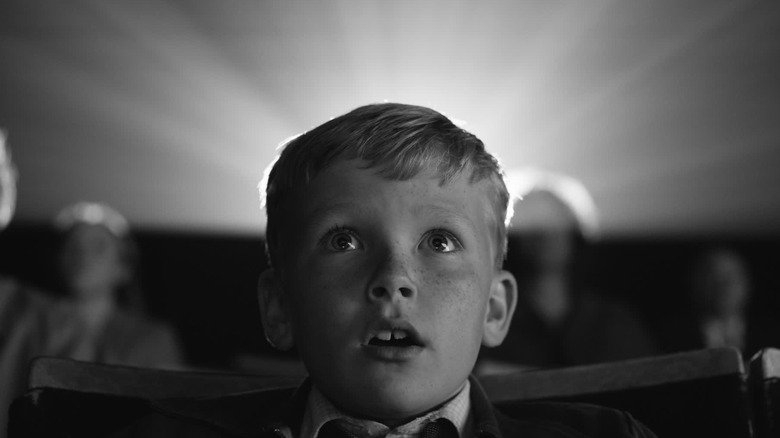 Universal Pictures
"Belfast" tells a gripping story about a family forced to flee from their lifelong home during a political crisis. The film is set during the August 1969 riots in Belfast, Ireland, when tensions between Protestant loyalists and Catholic workers exploded into violence. While it focuses on a dark period in history, "Belfast" is told from the intimate perspective of a young boy who experiences the fragmented political situation and rigors of childhood simultaneously. There's a reason "Belfast" feels so authentic, as writer/director Kenneth Branagh based the narrative on his own childhood experiences. As a result, the film is filled with specific moments inspired by Branagh's youth.
Buddy (Jude Hill) is 9-years-old and doesn't understand why his neighbors are so scared all the time. Although Buddy's top priority is leaving a good impression on his classmate Catherine (Olive Tennant), he's not oblivious to the stress his parents are under. Buddy lives with his father (Jamie Dornan), mother (Caitríona Balfe), older brother Will (Lewis McAskie), and grandparents (Ciarán Hinds and Judi Dench) in a small neighborhood of blue-collar workers. Buddy's father works in England but returns home to check in on his family, suggesting to his wife that they move overseas to escape persecution. Although it encapsulates the experiences of an entire generation, "Belfast" is entirely focused on this one family. The entire ensemble is strong; Hill has the inherent charisma of a curious young boy, and the intimate moments between Dornan and Balfe are very touching.
6. Nightmare Alley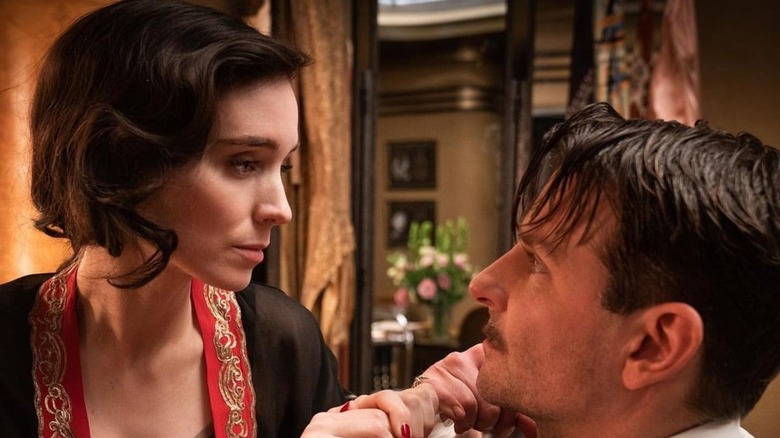 Fox Searchlight
Regardless of what genre Guillermo del Toro is working within, you can guarantee it will be a gorgeous-looking film. Whether it's a period piece fairy tale like "The Shape of Water," an intimate coming-of-age fantasy ala "Pan's Labyrinth," or a massive science-fiction epic of the "Pacific Rim" variety, del Toro crafts beautiful environments with handcrafted details. He's one of the rare filmmakers who can strike the right balance between practical effects and computer-generated imagery. Del Toro's latest film "Nightmare Alley" is one of his darkest. It explores the depraved lengths that a con man goes to in order to maintain his deception.
Set in the late 1930s, "Nightmare Alley" follows the carny Stan Carlisle (Bradley Cooper) as he seeks employment in a traveling carnival. After he's taken in by the couple Pete (David Strathairn) and Zeena Krumbein (Toni Collette), Stan learns how to perform stage shows as a spiritual medium. Using hand gestures and examining audience reactions, Pete and Zeena are able to create the illusion that they can communicate with the dead. Pete warns Stan that the job is not without its risks, as he has the ability to severely traumatize those that believe him. Overestimating his abilities could lead to devastating consequences. "Nightmare Alley" is a long film, but del Toro justifies the runtime by introducing compelling characters throughout Stan's exploits. Molly Cahill (Rooney Mara) is a naive young performer who Stan recruits as his ally, and her shattered innocence makes the story even more heartbreaking.
5. Dune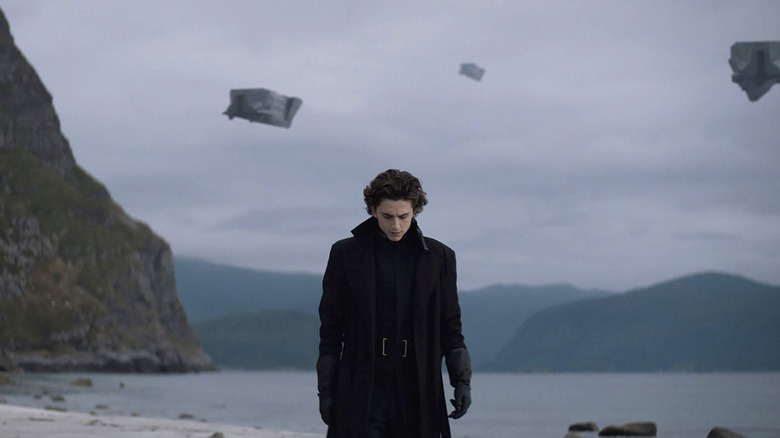 Warner Bros. Pictures
Denis Villeneuve is not the first great filmmaker to take a stab at adapting Frank Herbert's epic science fiction novel "Dune." In the 1970s, the surrealist writer/director Alejandro Jodorowsky conceived of an ambitious adaptation that never saw the light of day. The great David Lynch finally brought the epic story to the screen in 1984, but it ran over budget and became a critical and financial disaster. Although Hebert's novels set up the potential for an exciting franchise, Lynch's version failed to generate any sequels.
Villeneuve finally created an adaptation that lived up to the potential of the source material. "Dune" is an amazing visual achievement that takes time to develop its mythology. The complex political dynamics between the warring families over resources is shown through the perspective of the young Paul Atreides (Timothée Chalamet). Paul grows into his role as a leader, as he is initially naive and feels overburdened by his responsibilities. He inherits his role as the Duke of House Atreides from his father Leto (Oscar Isaac), and he also possesses telekinetic skills from his mother Lady Jessica (Rebecca Ferguson). Their familial dynamic gives the story its heart. House Atreides is assigned by the unseen Emperor to serve as the fief ruler of the desert planet Arrakis, which possesses massive quantities of the commodity known as "spice." House Atreides comes into conflict with the violent House Harkonnen, and its leader Baron Vladimir Harkonnen (Stellan Skarsgård). The epic showdown between the two Houses is breathtaking.
4. The Power of the Dog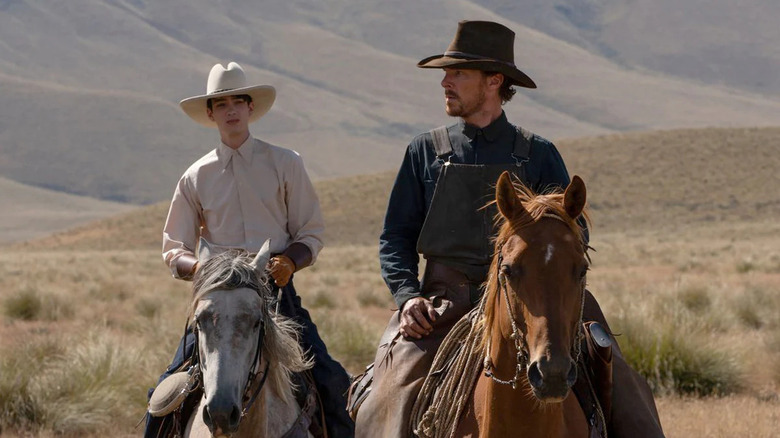 Netflix
"The Power of the Dog" is a film that demands a second viewing, with writer/director Jane Campion packing the story with hidden details that the viewer may not pick up on the first time around. The film is based on the novel by Thomas Savage, who drew inspiration from his own struggles as a gay man living in an intolerant community on a Montana ranch in the 1920s. Although Campion is very respectful of the source material, she made a key change to the novel's ending that made it more ambiguous in its implications.
"The Power of the Dog" follows the cattle drivers Phil (Benedict Cumberbatch) and George Burbank (Jesse Plemons), who own and operate a ranch similar to the one Savage grew up on. Phil is feared within the community for his cruel behavior, but George is very kind. When George professes his love for the waitress Rose (Kirsten Dunst), Phil claims that he is a fool. In order to torment the new couple, Phil goes out of his way to humiliate Rose's teenage son Peter (Kodi Smit-McPhee), who has returned home for summer break after studying at medical school. Turns out Peter knows nothing about the grueling labor of ranchers. Cumberbatch delivers the greatest performance of his career. Phil is initially unlikeable, but becomes more sympathetic when he opens up to Peter and becomes his mentor. Peter brings out his sensitive side, and their beautiful connection is the heart of the story.
3. Licorice Pizza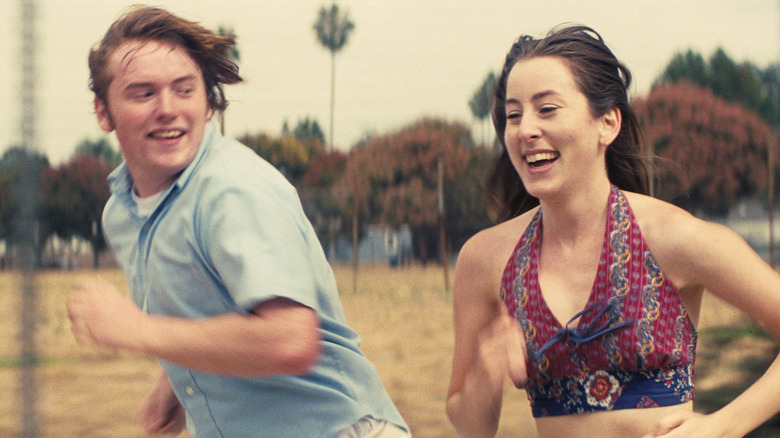 United Artists
There is an emotional authenticity in "Licorice Pizza" that is rare within coming-of-age movies. Writer/director Paul Thomas Anderson captures all the raw emotions that young lovers experience. It's a film made for cinephiles, set in San Fernando Valley of the 1970s, and containing many references to prominent Hollywood figures and events. The political and social upheaval of this pivotal decade in American cultural history is the perfect backstop for the film's untraditional romance.
"Licorice Pizza" follows the teenage actor Gary Valentine (Cooper Hoffman) as he prepares for a major press tour for his new film. During his high school picture day, Gary meets the older photographer's assistant Alana Kane (Alana Haim). While she initially refuses his advances, Alana agrees to spend more time with Gary. She finds herself charmed by his confidence and charisma, and agrees to chaperone him on the tour. Although she enjoys spending time with him, Alana doubts that she has a future with Gary, who never fails to come up with another quirky scheme. His impulsive decisions make the story feel unpredictable, with him and his friends operating many small-time businesses, with Alana along for the ride as they get into misadventures. While their exploits are often hilarious, both characters still feel relatable. Gary has grown up within the film industry and is not well-adjusted to being independent. Alana struggles to find something she's passionate about. The clash between these strong personalities keeps the viewer engaged.
2. Drive My Car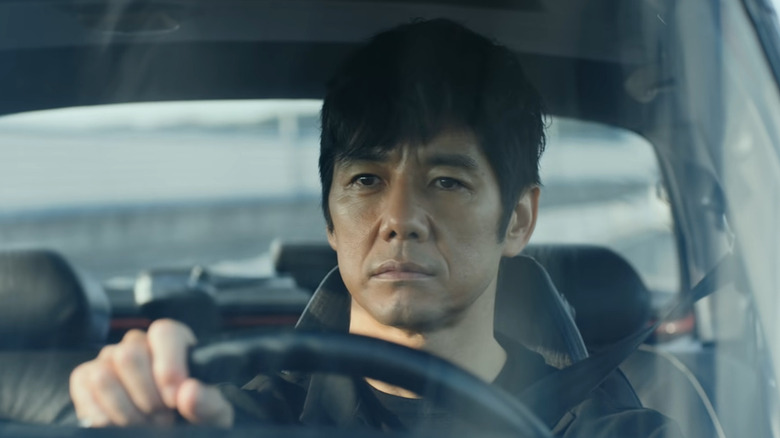 Janus Films
In the past decade, the Academy's voting body has grown more diverse and incorporated more international members. It is exciting to see filmmakers from around the world like Alfonso Cuarón, Thomas Vinterberg, and Pawel Pawlikowski receive recognition at the Oscars, and the brilliant Japanese writer/director Ryusuke Hamaguchi was long overdue his first nomination. However, the awards attention that Hamaguchi's "Drive My Car" received is more than just n apology for past snubs; the three-hour drama is a heartbreaking depiction of the coping process.
Inspired by the short story by Haruki Murakami from the 2014 collection "Men Without Women," "Drive My Car" follows the stage director and actor Yūsuke Kafuku (Hidetoshi Nishijima) as he prepares for a role in Chekhov's "Uncle Vanya." Kafuku enjoys his daily commutes, as it gives him time to read back his lines aloud and mentally prepare himself for rehearsals. Kafuku's methodical life is shattered by two shocking moments involving his wife, Oto Kafuku (Reika Kirishima). He discovers Oto has been having an affair with the younger actor Kōji Takatsuki (Masaki Okada) and finds her dead only days later after she collapses from a brain hemorrhage. As he prepares to direct another adaptation of "Uncle Vanya" two years later, Kafuku continues to process the shocking turn of events. The film explores how art can be helpful during the healing process, and how engaging in creative activity may allow artists to express their grief. It is a patient and beautiful film.
1. West Side Story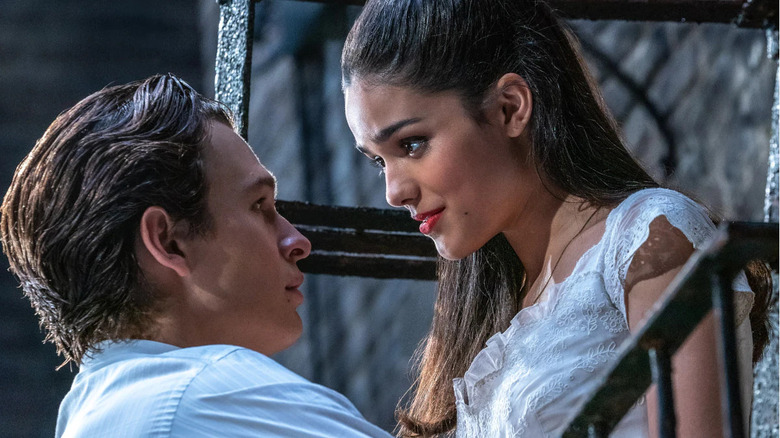 20th Century Studios
There aren't a lot of filmmakers in the history of cinema who are as versatile as Steven Spielberg. He has tackled nearly every genre, but he had never made a musical before. A lifelong theater fan, Spielberg finally decided to adapt his father's favorite musical, "West Side Story." The film is dedicated to Arnold Spielberg, who passed away during production. While it was clearly a passion project for Spielberg, "West Side Story" already had a built-in fan base with high expectations. The original 1957 stage musical is one of the biggest musicals of all time, and spawned many revivals. The first 1961 film adaptation won 10 Academy Awards, including best picture. Spielberg and screenwriter Tony Kushner managed to make the well-known story feel fresh again. 
Unlike the original film, Spielberg included scenes in Spanish without subtitles, and Kushner expanded the role of the Puerto Rican characters to address criticisms of the show. Although it retains the period setting, the new "West Side Story" respects its modern audience. The entire cast offers unique interpretations of their iconic characters. Although Rita Moreno and George Chakris had already won Oscars for their performances as Anita and Bernardo, respectively, Ariana DeBose and David Alvarez are just as compelling. The chemistry between Tony (Ansel Elgort) and Maria (Rachel Zegler) is also much stronger. The original "West Side Story" lyricist Stephen Sondheim stated he prefers Spielberg's version. Given Sondheim's tragic passing, it would feel right if the remake also won best picture.