Listen To The Emotional Title Track From The Adam Project Score By Composer Rob Simonsen [Exclusive]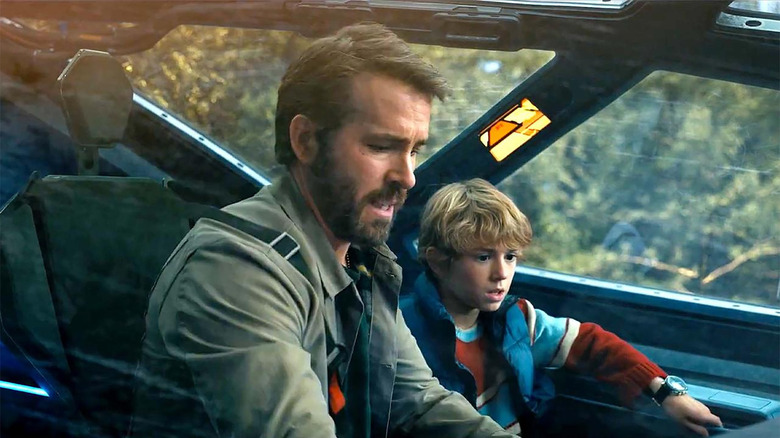 Netflix
Next week, Netflix will release "The Adam Project," a new sci-fi adventure starring Ryan Reynolds as a time-traveling fighter pilot who accidentally crash-lands in 2022, allowing him  to team-up with his 12-year-old self on a mission to save the future. 
A big adventure like that needs an exciting score to help drive the story, and director Shawn Levy recruited "Ghostbusters: Afterlife" composer Rob Simonsen to provide it. Interestingly enough, the kind of music that Levy and Simonsen thought would populate "The Adam Project" quickly evolved, resulting in something much different than they had anticipated. Here at /Film, we're happy to give you a taste of the music with our exclusive debut of the title track from "The Adam Project" score, and it's a beautiful piece. Listen below!
Listen to The Adam Project score's title track
Honestly, I was expecting more peppy adventure and excitement from the title track for "The Adam Project" score, but it's actually a much more emotional composition. It sounds like that's a result of Levy and Simonsen collaborating to figure out what worked best for the movie. In a statement, Levy told us:
"I have admired Rob's music for a long time, and I've been waiting for the right story to collaborate on. With THE ADAM PROJECT, Rob and I started off with a concept for the score, one that we felt would be largely electronic and subversive of expectations. The more we lived with the footage, however, the more we listened to our movie, which led to a revelation of what the score should be."
Simonsen's score for "Ghostbusters: Afterlife" perfectly captured the vibe of the original "Ghostbusters" score by Elmer Bernstein, while also providing some new flair that helped give the movie the spirit of an Amblin Entertainment production. Since Levy had no problem capturing a similar style by bringing in Kyle Dixon and Michael Stein to create the music for "Stranger Things," we're not surprised that he employed Simonsen to deliver the score for "The Adam Project," which feels like it fits right in with the iconic and beloved sci-fi adventures of the 1980s. Simonsen confirmed as much in describing the process of creating the music for the film:
"There's a tone of Amblin-esque action-adventure in the film, and the question was how to get at that sweeping, fun, romantic, classic 80's film score vibe, but do it in our own, modern way."
"It took some time to find the right tone."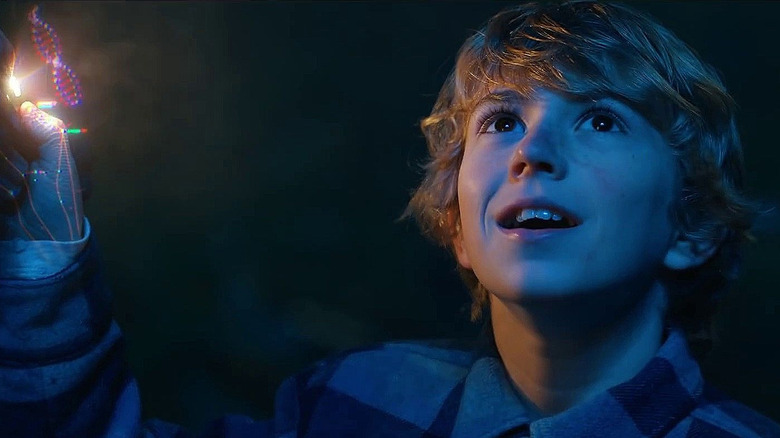 Netflix
That piano is beautiful in this title track, accompanied by heartfelt string movements. It picks up a bit in the latter third of the track, hinting at a little bit of an electronic synth element remaining in the pulsing adventure of the film. But Simonsen says it took quite awhile to find the right balance of sound:
"Shawn and I both felt drawn to the piano but it took some time to find the right tone. In my early experiments it was much more electronic and a bit more abstract. But as we got going, the film just reacted so well to a simple, emotional and inspiring piano melody and orchestra.

"The trickiest thing was nailing the theme. It took a bit of time before we arrived at it, which is a two-part theme. I played it for Shawn on piano and he flipped for it, so I then developed it into a suite that grows into an orchestrated piece. That is 'The Adam Suite Theme,' the first track on the album. Once we had that, we knew where we were going. The instrumentation ended up being fairly traditional- piano, full orchestra, drums, synths, ambiences. We just sought to wrap the orchestra and piano with ambiences and processed sounds to help it feel more lush and spacious."
Shawn Levy and Rob Simonsen never actually met in person to collaborate on the score until the actual recording process began. Simonsen said, "I'd be in my studio and he'd be somewhere in the world in a hotel room or something. He would sometimes be singing along with something we were working on, and the delay over Zoom and FaceTime would make it so oddly out of time, but we laughed through it and it was quite clear and we got great work done."
Levy came away loving the music that Simonsen created for the film, and he didn't hesitate to sing his praises:
"'The Adam Project' is a time travel adventure that aims to connect with audiences in a heartfelt way, not merely cerebral. Consequently, Rob developed both tender piano-based themes and soaring, full-throated orchestral cues for our film. Rob's majestic score became an integral part of the movie's power, scope and emotionality."
If this title track is any indicator, this movie is going to come with a big beating heart, and I wouldn't be surprised if those tender piano notes, sweeping strings, and grand orchestral cues resulted in some tears when the hits Netflix on March 11, 2022.