The Adam Project Trailer: A Time-Traveling Ryan Reynolds Crash-Lands With The Rest Of Us Into 2022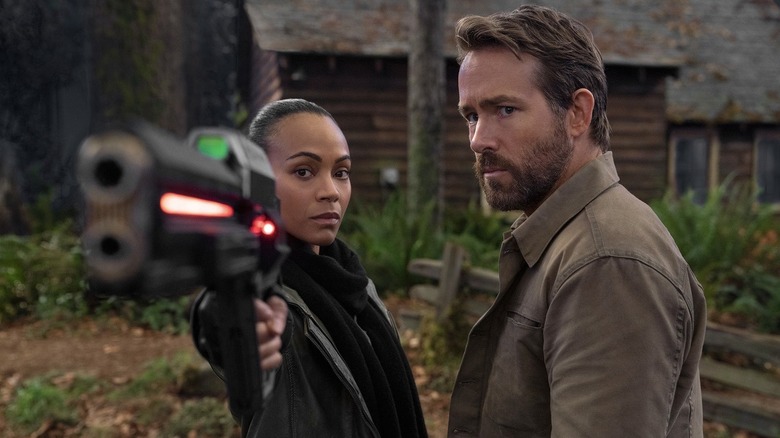 Netflix
In Netflix's "The Adam Project," Ryan Reynolds plays time-traveling fighter pilot Adam Reed, who accidentally crash-lands in 2022 and "teams up with his 12-year-old self on a mission to save the future," per the official logline.
Reynolds isn't alone on this time-traveling adventure. For starters, he's got Zoe Saldana with him, and she's ready to point a gun in your face because that's just how her character rolls. Saldana plays Laura, who is the love of Adam's life but who gets mysteriously lost in the timestream. That's what sets Adam on his adventure, where he'll be accompanied by Jennifer Garner, Mark Ruffalo, Catherine Keener, and Walker Scobell as Young Adam.
That's right: you're getting two Adams for the price of one. They don't call it "The Adam Project" for nothing. Check out the trailer below.
The Adam Project Trailer
"The Adam Project" reunites Reynolds with Shawn Levy, who directed him in "Free Guy." As a Netflix original movie, it also puts him back on the same streaming platform that teamed him with Dwayne Johnson and Gal Gadot in "Red Notice."
Using its own internal metrics, Netflix touted "Red Notice" as its most successful premiere ever and, eventually, its #1 movie of all time. Clearly, it's eager to stay in the Reynolds business, just as Reynolds is eager to stay in the Levy business. "13 Going on 30" co-stars Garner and Ruffalo are also reunited here as the Young Adam's parents, the latter of whom helped invent time travel.
After years of floundering in forgettable rom-coms and doing test runs in stray superhero films like "Blade Trinity" and "Green Lantern," Reynolds really found his niche playing Deadpool, the reluctant X-Man and fourth-wall-breaking Merc with the Mouth. "The Adam Project" seeks to put his snarky persona to use in a different way. The actor said that Adam uses humor as a defense mechanism but that part of his journey will be about him learning to lower his defenses.
"The Adam Project" hits Netflix on March 11, 2022.