Scott Derrickson Reveals One Of The Most Upsetting Moments Of His Filmmaking Career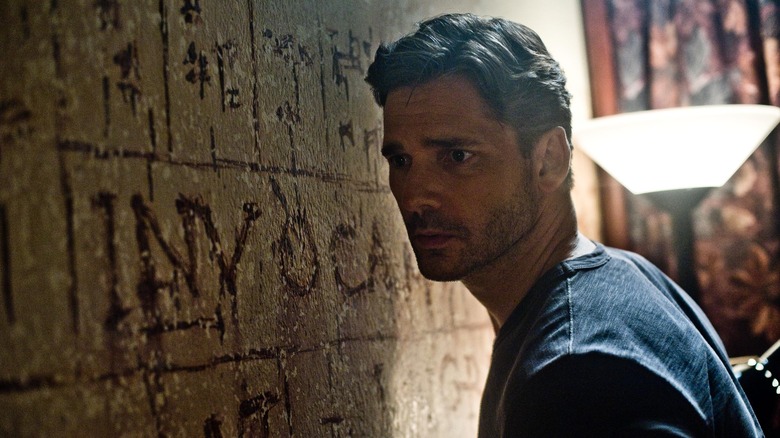 Screen Gems
Director Scott Derrickson began his career as a horror journeyman, doing uncredited writing work on oft-unnoted films like "Dracula 2000" and "Urban Legends: The Final Cut." His first feature film as director was "Hellraiser: Inferno," the fifth in the series and the first to go straight to video (did you know there are currently ten "Hellraiser" feature films?). In addition to a few studio blockbusters, Derrickson also helmed the modest horror hit "The Exorcism of Emily Rose," the mega horror hit "Sinister," and the poorly received 2014 possession thriller "Deliver Us from Evil." 
That last film, while perhaps failing to set critics' hearts aflame, did provide Derrickson with one of the most terrifying experiences of his film career, according to a recent confessional thread he posted on Twitter. According to Derrickson, actor Sean Harris, who played a man possessed by a demon in "Deliver Us from Evil," found himself sinking perhaps a little too deeply into character during a confrontational scene between him and the film's lead, Eric Bana. 
Something's wrong with Sean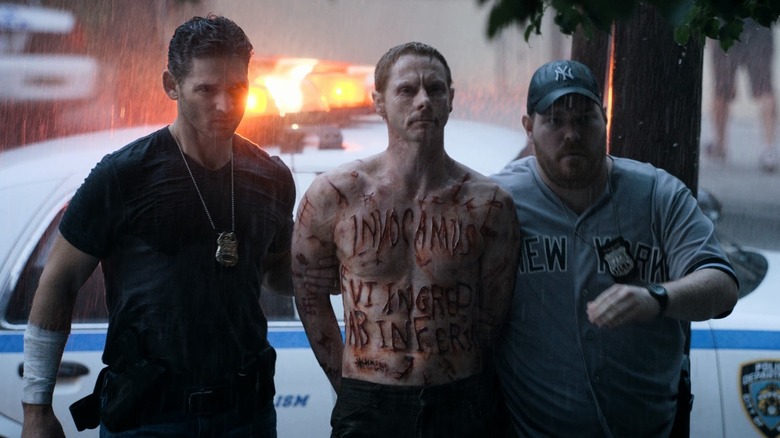 Screen Gems
"Deliver Us from Evil" (based on the book "Beware the Night" by Ralph Sarchie and Lisa Collier Cool) tells the true story of Sarchie, a real-life NYC street cop and Catholic demonologist — played by Bana — who, long ago, lost his faith. He witnesses all manner of horrid crimes, including a woman who throws her child into a lion enclosure at the Bronx zoo. This woman is sent to a mental institution and is put under the care of a priest Fr. Mendoza (Édgar Ramírez) under suspicion that something demonic may be afoot. 
Something is, natch. A mysterious painter and ex-marine named Santino (Harris) has been scratching mysterious messages at crime scenes before they become crime scenes. When Mendoza and Sarchie confront Santino, he breaks forth with a bloody, demonic attack. 
The scene in question is in Derrickson's Twitter thread, linked above. 
Derrickson describes that Harris improvised a lot of Santino's demonic behavior, including a disturbing guttural sound not usually heard from a human throat. At the end of shooting, Derrickson recalls a truly horrific experience with Harris. When he was having his multiple makeup prosthetics removed (Santino was covered with cuts and wounds in the scene), Harris collapsed onto the floor in a hypnotic trance of some kind. The makeup artists alerted Derrickson to the issue. "Something's wrong with Sean." Sure enough, Harris was on the floor, flailing and speaking in tongues. Derrickson tried to talk him down but seemed unable to connect to him. A crewmember drove Harris home and got him into bed. 
The next day, Harris claimed not to have remembered the makeup room incident, and indeed had forgotten parts of the filming. According to Derrickson, Harris didn't seem bothered by the incident.
Sean Harris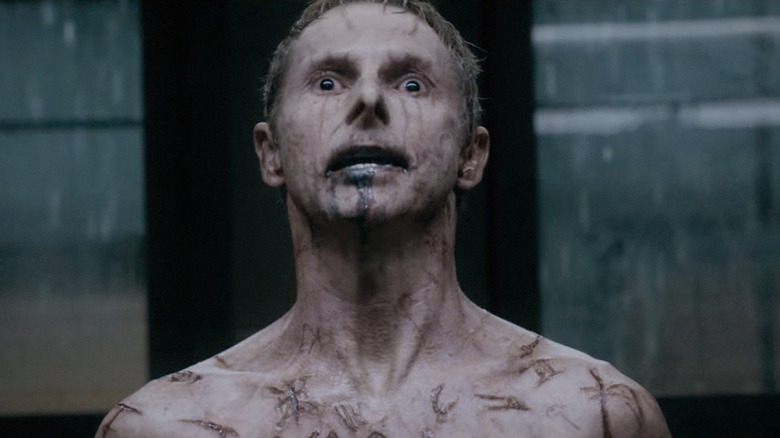 Screen Gems
Sean Harris broke through in the indie movie world in 2002, playing doomed Joy Division singer Ian Curtis in Michael Winterbottom's "24-Hour Party People." Harris, a very intense actor, has made a career playing heavies and creeps, not least of which was a 2004 film called "Creep" wherein he played the titular creep, a character named Craig. Harris also appeared in Ridley Scott's "Prometheus," as the villainous Solomon Lane in "Mission: Impossible – Rogue Nation" and "Mission: Impossible – Fallout," and as King Arthur in the critical darling "The Green Knight."
Whether or not Harris considers himself an actor who subscribes to Stanislavsky's method is not a matter of public record. As such, it's hard to say if Harris was overcome by his own willingness to disappear into the character, if he was merely taken by the intensity of the scene, or if he was having trouble dropping character at the end of the day, something experienced by many actors. 
Regardless, Harris remains an excellent actor, and Scott Derrickson remains a little terrified by the experience.