'Deliver Us From Evil' Trailer #2: Jerry Bruckheimer's Summer Horror Film From 'Sinister' Director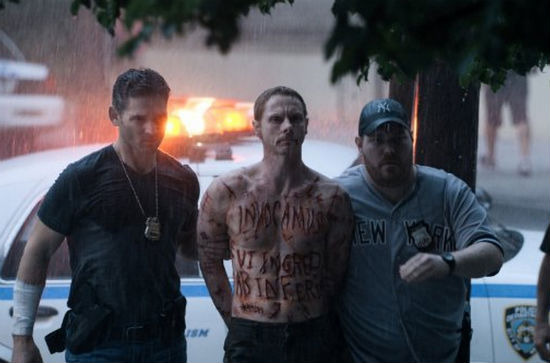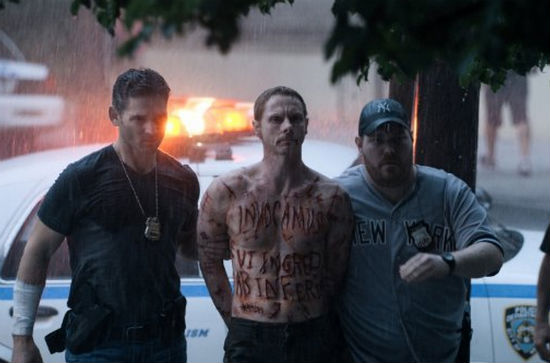 These days, it seems like every summer has a big breakout horror hit. In 2014, the smart money is on Deliver Us From Evil. The film is from producer Jerry Bruckheimer, making the first horror movie in his long career, and is directed by Scott Derrickson (Sinister) with stars Eric Bana, Edgar Ramirez, Olivia Munn, Sean Harris, and Joel McHale.
Deliver Us From Evil is based on the true stories of New York Police Officer Ralph Sarchie (Bana) who is assigned numerous supernatural cases on his regular beat. He enlists the help of a priest (Ramirez) as the details of those cases become more and more unbelievable.
The latest Deliver Us From Evil trailer is now online, showing more of the super-creepiness that awaits come July 2. Check it out below.
Thanks to Machinima for the trailer.
Deliver Us From Evil trailer
Deliver Us From Evil had a panel at WonderCon last month and they showed some of the footage you see above. It was chilling. Most chilling, though, were stories stars Eric Bana and Olivia Munn (playing his wife) told about real life exorcism videos Derrickson has collected. Bana said after watching them he couldn't sleep for days and he urged Munn not to watch. But she did and, after about 60 seconds, she had to stop. The experience was so frightening, she said she literally began to reconsider her faith. It shook her that much.
So, that's the kind of research and realism Derrickson is bringing to this true-life inspired story.
Deliver Us From Evil opens July 2. Here's the official description:
In DELIVER US FROM EVIL, New York police officer Ralph Sarchie (Eric Bana), struggling with his own personal issues, begins investigating a series of disturbing and inexplicable crimes. He joins forces with an unconventional priest (Edgar Ramirez), schooled in the rituals of exorcism, to combat the frightening and demonic possessions that are terrorizing their city. Based upon the book, which details Sarchie's bone-chilling real-life cases.