'The Day The Earth Stood Still' Remake Helmer Scott Derrickson To Direct 'Goliath'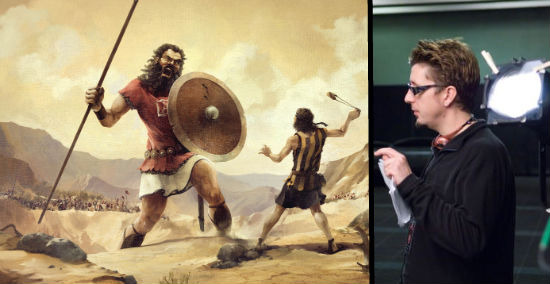 We all know how this one ends. Puny David slays the giant Goliath with only a slingshot. It's the journey towards that epic showdown, however, which makes up the plot of the new film Goliath. A period action film "with contemporary sensibilities," the Biblical tale is set to be directed by Scott Derrickson who did The Exorcism of Emily Rose and The Day The Earth Stood Still remake. Before it goes into production, though, the original script, written by John D. Payne and Patrick McKay, is apparently going to be overhauled to make it more like 300 or The Bourne Identity. Read more about this project after the break.
The Hollywood Reporter broke the news of Derrickson's attachment to the movie, which is being produced by Relativity Media and Temple Hill, the latter of which is behind the Twilight movies.
Here's the breakdown, according to that story.
The story is set in motion when the fierce warrior Goliath is sent to track down a foretold king of the Israelites. A young shepherd David is thrust into an epic chase and adventure fighting for his own life, the lives of his loved ones and eventually the lives of his people. The story climaxes in a battle of literal Biblical proportions between the young man and the giant sent to destroy him.
I'm all for period action, even Biblical action, but what worries me is the same old Hollywood nonsense of taking a script and making it something it's not. How can the story of David vs. Goliath be anything like The Bourne Identity? Is David going to do parkour all over the rocks of Israel? 300 makes a bit more sense as it's a small band of soldiers against an epic force, but that film seems to be the hack comparison for anything featuring guys with their shirts off.
As for Derrickson, while I despised The Day the Earth Stood Still, I kind of dug The Exorcism of Emily Rose, which he also wrote and was obviously filled with religious themes. I hope Goliath is more like that than Keanu Reeves carrying around Jaden Smith.
Do you think the David and Goliath story is cinematic? And is Derrickson the man for the job?