Here's When You Can Watch Scream At Home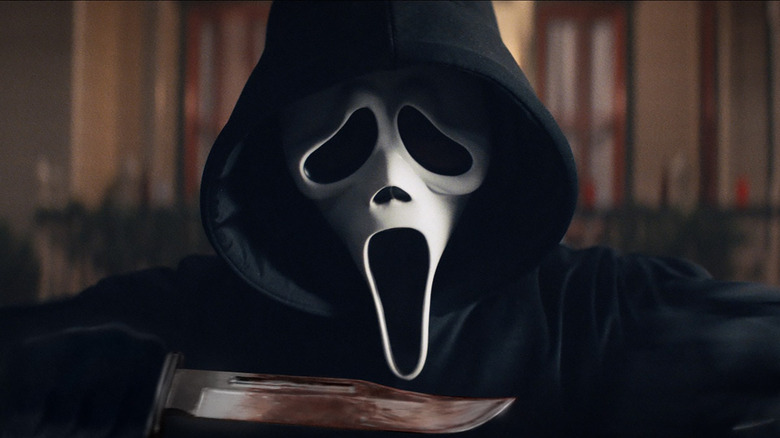 Paramount Pictures
It's a great time to be a legacy horror act, with "Halloween Kills," "Texas Chainsaw Massacre," "Candyman," "Chucky," and "Scream" all receiving remakes, sequels, continuation TV series, or requels over the last two years, and the "Hellraiser" remake on the way. Delayed from its original 2021 release due to the pandemic, "Scream" hit theaters in January of 2022, just as the Omicron variant decided to throw a tantrum and gave horror fans something scarier to worry about than what's on the theater screen.
Set 25 years after the original film, "Scream" (I didn't name the movie, I'm sorry if this is confusing), sees the reunion of Sidney Prescott (Neve Campbell), Dewey Riley (David Arquette), and Gale Weathers (Courteney Cox) as Woodsboro is one again plagued by a killer donning the Ghostface mask, terrorizing a new group of teens and reopening the wounds of the community's deadly past.
Despite the ongoing pandemic, "Scream" still managed to bring in over $137 million worldwide, as fans continue to lament on social media (myself included) about the lack of "Scream" access on VOD or streaming. Well, my friends, get ready to take "Scream," "Sidney Prescott," and "S5REAM" off of your muted phrases on Twitter, because there is a Ghostface mask-shaped light at the end of the tunnel for those of us who missed the theatrical run. That's right, "Scream" is finally coming home, and we're not just talking about Woodsboro.
Scream digital release date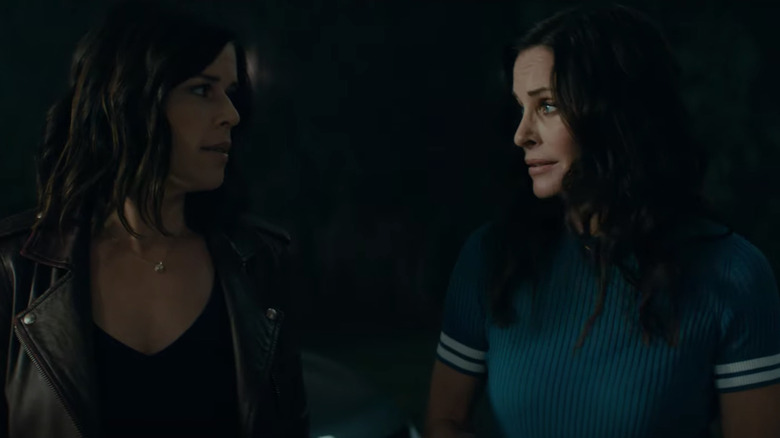 Paramount Pictures
Beginning March 1, 2022 (if you're reading this on publication date, that's tomorrow!), "Scream" will be available for purchase on VOD services. While a rental price has yet to be determined, it can be assumed that the film will likely be available for the traditional VOD price on new films of $19.99. 
If you don't want to pay the $19.99 price, "Scream" arrived on Paramount+ on March 7. This decision is part of Paramount+'s plan to go all-in on their streaming service, and help build up their catalog of exclusive and original content.
Scream Blu-ray release date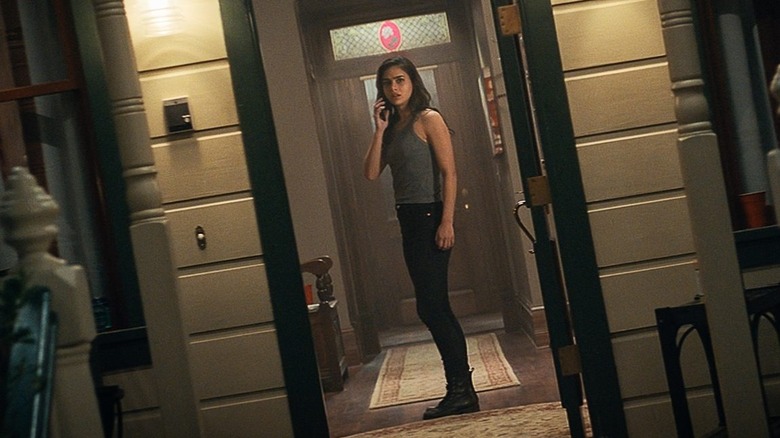 Paramount Pictures
Physical media fans will have to wait a little while longer, as the Blu-ray won't be available until ​​April 5, 2022. Fortunately, the wait will be worth it because according to the press release, Paramount Home Entertainment is selling special editions for the 4K Ultra HD, Blu-ray, and DVD editions, filled with a ton of awesome bonus features.
Filmmaker Commentary — The directors, writers and filmmakers reveal the unwritten rules for surviving this genre-busting horror movie.
Bloodlines — Catch up with "Scream" stars Neve Campbell, Courtney Cox, and David Arquette for a deep dive into their characters and why they came back for a fresh stab at their favorite horror franchise.
New Blood — Meet the new generation of Woodsboro victims and potential killers!
In the Shadow of the Master — The cast honor movie maestro Wes Craven and look back on his incredible legacy as the director who redefined horror.
Deleted Scenes — Look out! They're back from the dead: see the scenes slashed from the movie.
The feedback to "Scream" was mostly positive, and once you've finally had the chance to see the film for yourself, we've got you covered with Easter eggs and ending explainers.