John Mulaney Sings, Shuffles, And Gets Slimed In A Superb Saturday Night Live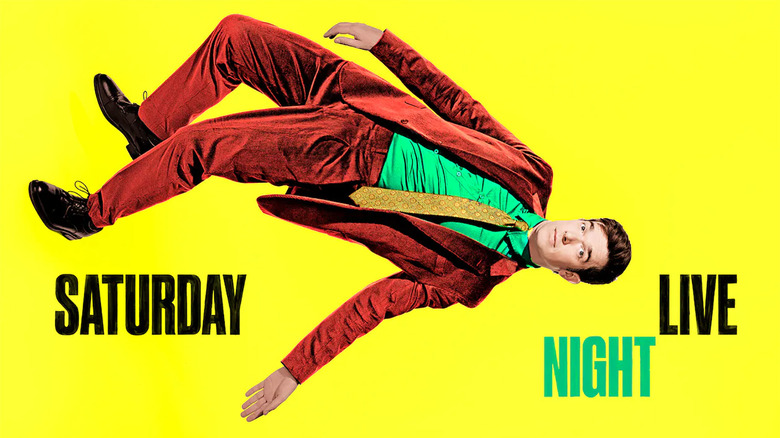 NBC
John Mulaney returned to "Saturday Night Live" to officially join the Five-Timers Club, and he had some much deserved company. Since Paul Rudd was unable to completely enjoy his own induction into the exclusive "SNL" club due to the surge of coronavirus infections at the end of 2021, the forever young star came back to Studio 8H to get in on the cameo-filled fun. 
But let's not forget that this is Mulaney's show, and not only did he deliver another great monologue to kick off the show, he also followed through on the now-expected tradition of doing a musical based on the seedy underbelly of New York City. So let's dig into the latest John Mulaney-hosted episode of "Saturday Night Live."
The Best
Ukraine – Before we get to the breakdown of each sketch, I wanted to take the time to acknowledge the beautiful yet somber opening of the show, with the Ukrainian Chorus Dumka of New York performing the song "Prayer for Ukraine" in tribute to the people of the nation being needlessly invaded by Russia. This is an unjust war and we hope the outcome of this unfortunate conflict finds the people of Ukraine claiming victory over their oppressors.
Nickelodeon Show – As a Nickelodeon kid of the 1990s, I can't tell you how much I loved this sketch. Tears streamed down my face as this faux retrospective looked back at the origin of the cable network's famous slime. The reactions from the likes of Cecily Strong, John Mulaney, and Mikey Day are uproariously funny. On top of that, the host interludes with Chris Redd and Alex Moffat are equally as funny, from the reactions to the dated teen interactions to Redd's mustache malfunction. Honestly, I'm not sure if that was a genuine make-up flub that Redd used to its full comedic potential, or if it was a scripted element of the silliness, because the mustache gag carried over to the point that Redd appeared to throw it at Moffat in one of the cutaways. 
Subway Churro – In previous "SNL" hosting stints, John Mulaney has given us "Diner Lobster," "Bodega Bathroom," and "Airport Sushi," so everyone was waiting to see what New York City staple would get the musical treatment this time. Mulaney didn't disappoint with "Subway Churro," featuring variations on familiar songs from the likes of "Fiddler on the Roof," "The Music Man," "Little Shop of Horrors," "Jesus Chris Superstar," and a surprise with Evan Hansen belting the big ballad from "Dreamgirls." If you've loved Mulaney's previous musical efforts, this one does not disappoint, and it gets bonus points for having an impressive set with a moving subway train. It's just great all around.
Please Don't Destroy: Good Variant – After being somewhat disappointed with the last Please Don't Destroy sketch (that made it to air), I'm happy to see them back with a vengeance this week. Initially, I wondered if this sketch was intended for Paul Rudd's hosting stint, but didn't make it to air in spite of being a pre-recorded sketch. That suspicion was only elevated when John Mulaney initially only popped up via television. But as soon as he showed up with a huge sandwich in Please Don't Destroy's office, it was clear that this was recorded much more recently. The appearance of Al Roker only makes things more ridiculous alongside all the positive symptoms of the good variant of coronavirus, and this is the kind of stuff you love to see from Please Don't Destroy.
The Average
Five Timers Club – Since Paul Rudd's Five-Timers Club induction was a little awkward, despite Tom Hanks and Tina Fey getting in on the fun, it was splendid to see him back for a proper sketch ceremony. Tina Fey returned for Mulaney's welcoming, along with favorite host Steve Martin, as well as Candice Bergen, Elliot Gould, and Conan O'Brien. Under normal circumstances this would have been one of the best sketches of the night, but there were a lot of fumbled lines and moments where the timing of punchlines was completely ruined. O'Brien did a good job of recovering by mocking his dialogue stumbles, but his entrance was wrecked by poor cutting in the control room. Meanwhile, Bergen botched a couple of lead-ins to what would have been great jokes. However, you'll notice in the YouTube version above that a few quick edits have fixed these errors that aired live during the show's original broadcast. Even with these missteps, it was still quite enjoyable, but not one of the best Five-Timers Club sketches.
Cupid Shuffle – First of all, let's just recognize how good Kenan Thompson is at doing the voice of the guy who narrates the "Cupid Shuffle," that almost never fails to make an appearance at weddings. In this case, the instructional dance song has popped up at a family reunion, but it comes with hilarious Atlanta flair. Even though this sketch didn't make me laugh out loud, I appreciated how well it was constructed as a piece of comedy. First, you have the laughs that come from the unique lyrics in this special remix. Then, you have what originally seemed like a sketch predicated on Mulaney being the only white guy at a Black family reunion turned on its head to have him being more recognized and comfortable than his own wife. The interludes with Punkie Johnson and Chris Redd were very funny too. But overall, this sketch was more amusing than downright hilarious. 
COVID Dinner Discussion – It's always nice to see "Saturday Night Live" veer into comedic tension by approaching a controversial topic in this way. These are discussions that people everywhere are afraid to have for multiple reasons, whether it's the fear of being judged or the desire to avoid discomfort, and the depiction of the awkwardness is heightened but accurate. Having said that, there were some timing issues, and it felt like this sketch went on a little too long, even though it was only five minutes long.
The Worst
Blue River – Here's the thing: this sketch takes some weird turns in the backend that absolutely made me laugh. But the entire lead-up to it feels so odd. It starts off as a commercial parody, but becomes something bigger than that. There's some really funny threads here, but honestly, I think this is one of those cases where it's played too seriously to be funny. That's the only reason I can think of when it comes to why this didn't work for me. There are instances when playing a silly scene straight results in even greater comedic returns, but in this case, it felt more odd than anything. Frankly, I'm surprised that this aired so early in the show instead of being the 10-to-1 sketch.
Monkey Trial - Here's another example of a sketch that felt like it was a little too strange to land earlier in the broadcast. Mulaney is probably the only one who could make this work, mostly because the cadence and tone of his voice makes the deadpan dialogue from a monkey that much funnier. There are a couple of amusing moments, especially when Mulaney does sign language, but the overall concept of the sketch still didn't land for me. 
Weekend Update
Oops! All Jokes! That's how Colin Jost appropriately referred to this edition of Weekend Update, and thanks to the gauntlet of gutbusting one-liners from him and Michael Che, it's totally accurate. This was my favorite edition of Weekend Update headline jokes in a while, so much that I wasn't actually upset that there weren't any other guests at the desk. I'm willing to bet that there was a plan to have other cast appearances, but the show also felt packed to the brim with sketches, including a seven-minute stand-up monologue from Mulaney and the eight-minute "Subway Churro" sketch. This edition also has exactly the kind of energy I like to see between Jost and Che, chuckling at each other, ad-libbing when jokes take a turn, and acting more as a duo rather than two comedians doing bits next to each other. 
The Host
What can we say about John Mulaney that hasn't already been said? Not only is he a stellar stand-up comedian, he's also a great sketch comedian as well. Even if Mulaney's comedic persona doesn't allow for a wide range of characters, the kind of comedy he's good at is so satisfying that it often doesn't matter. 
In this case, his stand-up monologue was filled with more personal anecdotes regarding his intervention after being addicted to drugs, not to mention the birth of his infant son last year. The way Mulaney talks about such intimate topics and weaves them together is simply pitch perfect. It's clear that these are honed bits he's been working on since returning to the stand-up stage last year, and I'm sure there are even more if you're lucky enough to catch him on tour. Personally, I'll always be psyched to have Mulaney host "Saturday Night Live," and since he's been hosting once a year since his debut in 2018, we're hoping this is a tradition that continues for a long time.
The MVP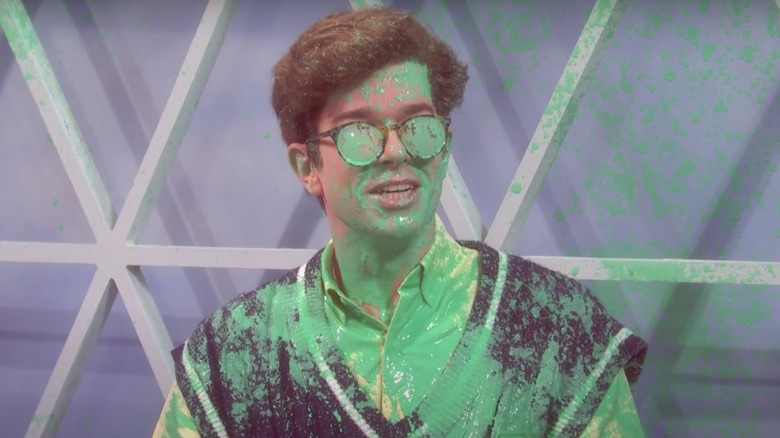 NBC
John Mulaney – Typically it takes something special for the host to deserve the MVP title, because they're meant to be the star of the show. But when that host is John Mulaney, you can't help but love what he brings to the table, both in his wit and his overall comedic energy. Mulaney brings out the best of "Saturday Night Live" because he's a former writer who knows the ins and outs of the series, and he even poked fun at the substance-abusing, stress-inducing annals of the sketch comedy staple. Though Mulaney doesn't have much variation in the characters that he plays, he knows the sweet spot with the audience and he brings "SNL" squarely into that arena to make the series sing. Even in the worst sketches of the night, Mulaney had bright spots, and in the face of missteps and flubs, Mulaney rolled with the punches.
The Final Word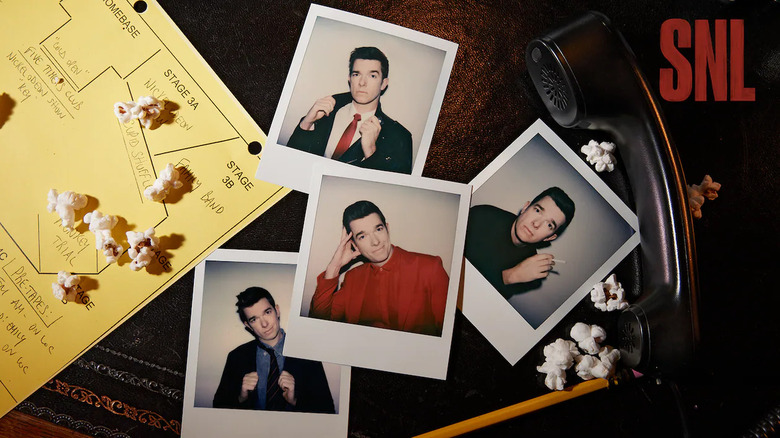 NBC
After the long break for the 2022 Winter Olympics on NBC (that nobody seemed to be watching), it was great to get back into "Saturday Night Live" with a banger of an episode. John Mulaney is a reliable host, and the cast and writers were fully prepared to get back into the groove. Cecily Strong in particular made a big comeback, and if she was in a couple more of the funniest sketches, she might have been the MVP. Either way, it was nice to have her back with the rest of the cast, even though Pete Davidson was not in attendance this time. 
Now that "SNL" is back in the swing of things, we're hoping they can keep this momentum going into next week when "Star Wars" franchise star Oscar Isaac takes the stage just in time to host in conjunction with the upcoming premiere of his Marvel Cinematic Universe debut in "Moon Knight" on Disney+. We'll be back with a review of the episode next weekend, so stay tuned.