Paul Rudd's Saturday Night Live Was Totally Disrupted And Weird, Thanks To Omicron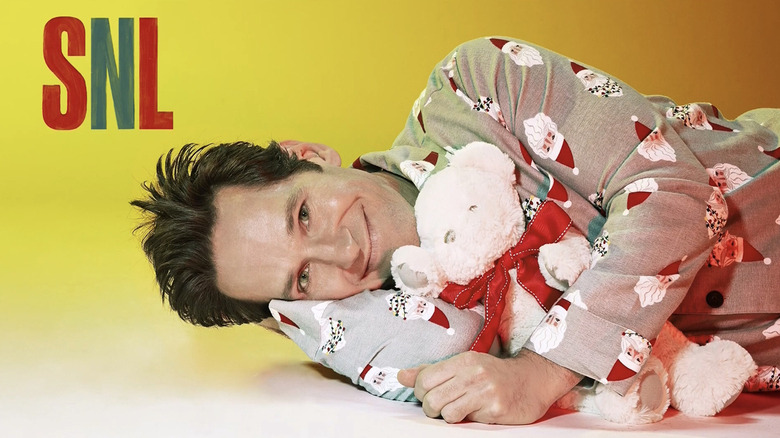 NBC
Was there a new "Saturday Night Live" this past weekend? The answer is a little more complicated than you might think. Initially, yes, there was supposed to be an entirely new episode of "SNL" hosted by Paul Rudd. In fact, it would have been kind of a big deal, because not only was it the Christmas episode, but it was going to be the fifth time that the "Ghostbusters: Afterlife" co-star hosted the show. Unfortunately, the ongoing coronavirus pandemic had different plans.
In the afternoon leading up to what would have been last night's new episode of "Saturday Night Live," the show's official Twitter account posted this update:
Due to the recent spike in the Omicron variant and out of an abundance of caution, there will be no live audience for tonight's taping of "Saturday Night Live" and the show will have limited cast and crew.

— Saturday Night Live – SNL (@nbcsnl) December 18, 2021
In case you haven't heard, the Omicron variant of the coronavirus has been sweeping across New York spectacularly fast. The New York Post reported that four "SNL" cast members tested positive for coronavirus this week, and three other cast members pulled out of the show due to the sudden exposure. That's why the show opted to get rid of the live audience and go on with limited cast and crew, which meant that musical guest Charli XCX didn't get to follow through with her performance either.
The result was an episode of "Saturday Night Live" that was still hosted by Paul Rudd (with some help from Tom Hanks, Tina Fey, and Kenan Thompson), but it only featured three new pre-recorded sketches completed earlier in the week, an assembly of favorite holiday sketches from the past, and a makeshift Weekend Update without Colin Jost. So let's breakdown this weird episode of "SNL."
The Five-Timers Club Returns
As we mentioned, this episode of "Saturday Night Live" marked the fifth time that Paul Rudd hosted the show. It has become customary on "SNL" for hosts reaching this milestone to be inducted into the "Five-Timers Club," complete with a nice, plush robe. Unfortunately, this honor for Rudd didn't shake out in nearly as rewarding a fashion as we've seen before, thanks to the limited cast and crew.
Tom Hanks began the show on the main stage in his own Five-Timers Club robe, and he was joined by fellow frequent host and former cast member Tina Fey. After some quick banter, they brought out Rudd, who kept the energy up despite the "disappointing" circumstances that he playfully acknowledged right off the bat. Kenan Thompson had the honor of giving Rudd his fancy robe, even though this episode really only counts as hosting four-and-a-half times. 
This kind of thing is awkward without a live audience, even as Tom Hanks and the limited crew tried to make as much noise as possible with all the applause they could muster. Thankfully, Steve Martin helped liven things up with a recorded message alongside Martin Short (watch one of his hands carefully as he gives a drink to his "Only Murders in the Building" co-star). The video was "mistakenly" made for Tom Hanks, but some shoddy audio adjustment turned it into a congratulations for Paul Rudd instead. 
Well, congratulations, Paul Rudd. Hopefully "SNL" will bring you back to do this a little more properly sometime next year. Even though this situation is a bit of a bummer, it certainly made "SNL" history, and it's undoubtedly a situation that Rudd and the rest of us won't forget anytime soon.
Thankfully, the entire show didn't unfold this way. There were a handful of pre-recorded sketches made for what would have been the live show, and those still aired last night among a smattering of assorted holiday sketches from previous seasons. So let's dig into the new sketches.
HomeGoods
The first pre-recorded sketch teamed up Kate McKinnon and Aidy Bryant, which is almost always the sign of great things to come. In this case, the two women play mothers starring in a commercial for HomeGoods. As the director, Paul Rudd tells them that they only have to rattle off some things that they want for Christmas. However, the only thing that these two women want is grandchildren, and they can't think of anything else. 
From the beginning, Aidy Bryant gets plenty of laughs as she continually emphasizes "grandchildren" in a unique way. Even though the repetition of the gag goes on a little too long, especially since we've seen Bryant and McKinnon do characters like this plenty of times before, there's just enough variation within the premise to keep it from becoming stale. Plus, the turn where Paul Rudd suddenly realizes he wants grandchildren takes the sketch to a fun new place. Easily the best joke of the sketch is wanting to have weird opinions about Israel ("It's the wrong shape!"), and even though that ending is entirely predictable, it works. 
An Evening with Pete
Every now and then, "Saturday Night Live" delivers a sketch that is more contemplative and serious than merely tickling the funny bone. This surprising sketch featuring Pete Davidson in his own short rendition of "Raging Bull" isn't without jokes, but the sketch has an authentic short film style. A lot of work went into the production quality for this one, right down to the robot slinging drinks behind the bar. Plus, there's this fascinating blend of melodramatic acting and a genuinely dramatic tone that makes this feel like a Christmas movie that Martin Scorsese actually directed. But what I think is most interesting is how reflective this sketch seems to be on Pete Davidson's place in pop culture at this point in time. 
The Christmas Socks
All right, this was the best of the limited, new pre-recorded sketches of the night. Honestly, I think this could have been the 10-to-1 sketch during a normal episode. In case you didn't realize, it's a parody of the manipulatively tear-jerking Christmas song "The Christmas Shoes," but it goes in a much weirder direction with Paul Rudd in one of the worst wigs ever. What starts off as a touching Christmas tale about some socks turns into an extended conversation about a bird that has no real bearing on the scenario whatsoever. 
This is a new Christmas classic, in my opinion. I love how it firmly stays in melodramatic music video territory, even though there's a slight, hilarious interruption because of how long this damn conversation is taking at the register. Kenan Thompson's reaction shots make this even more funny. Then it gets thrown into fully wild territory with the bird TJ Rocks forming a band, with the bird itself played by would-be musical guest Charli XCX. I just love this sketch. 
Sidenote: It's wild to hear from Paul Rudd in the intro that this sketch was only just finished at 5:00 A.M. that morning. It just goes to show you how quickly "SNL" comes together and how close to showtime the pre-recorded sketches are often still being completed. This show is always a miracle, even when it's not all that great of an episode.
Weekend Update-ish
Colin Jost was nowhere to be seen on "Saturday Night Live," and it was rumored that he may have been one of the cast members who tested positive for coronavirus. Tina Fey filled in alongside Michael Che, but they didn't even bring out the Weekend Update desk. Instead, Fey and Che (that's some great cadence there) did some one-liners from the "SNL" mainstage with Tom Hanks, Kenan Thompson and Paul Rudd acting as the audience. The camera even cut back and forth to see some of their reactions to the jokes. 
It's rough when certain Weekend Update jokes don't go well with a live audience. It's even more awkward when the limited people on set don't laugh, and Fey had a couple jokes that seemingly didn't work. Meanwhile, Che had a killer opening joke about O.J. Simpson that would have made Norm Macdonald proud. This was maybe the most awkward bit of the night, but I appreciate how dedicated everyone on stage was to making the best out of the situation. 
The Rest of the Sketches
Since there were only three new pre-recorded sketches, the rest of the evening was filled with a variety of holiday sketches from older seasons. It feels like they were all hand-picked by those who stayed behind to pull this makeshift episode off. Along with standbys like "Dick in a Box," "Steve Martin's Holiday Wish," and TV Funhouse's "Christmastime for the Jews," there were some surprising sketch encores.
First of all, Tom Hanks dug back into one of his earlier hosting stints from 1991 with the throwback sketch, "The Global Warming Christmas Special." Featuring Mike Myers as Carl Sagan, Tom Hanks as Dean Martin, Phil Hartman as Isaac Asimov, Dana Carvey as Paul McCartney, and more, this sketch is basically 10 minutes long, and you really feel it. Sure, there are some funny bits, but this sketch does not sustain itself for 10 minutes. They could have kept the funniest stuff and cut this one down to about five minutes. But even so, this is one of those sketches that feels severely dated, even if the subject matter is still sadly relevant.
Secondly, "SNL" played the sketch from one of Paul Rudd's earlier hosting stints where One Direction was the musical guest. It features Paul Rudd as one of the band's biggest fans, conversing with all the young girls in the crowd in a hilariously flamboyant and occasionally overbearing fashion. It's not a Christmas sketch, but since this one isn't legally available online (presumably due to music rights), it was nice to see it in an official capacity again. Sadly, this hasn't resulted in the sketch being released through the "SNL" YouTube channel, which is a shame. 
Welp, That Was Weird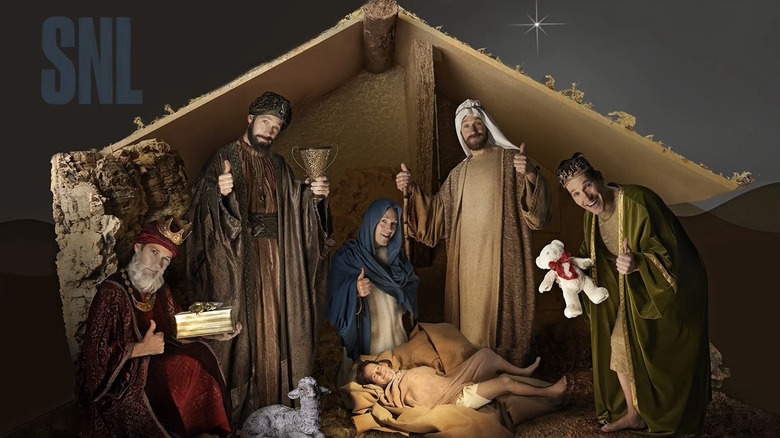 NBC
After the encore playing of "Christmastime for the Jews," which brought back the bumper-ripping TV Funhouse animated opening, the "SNL" Christmas episode for 2021 came to an end. Paul Rudd, Tina Fey, Tom Hanks, Kenan Thompson and Michael Che did the usual good nights, but they awkwardly avoided any hugging or even high-fiving to maintain social distancing. Rudd closed with an amusing misremembered quote from "Forrest Gump," and that was that. 
Personally, I'm glad that "SNL" decided to put something together for the show. I'm sure it was more about delivering something so the advertising money didn't disappear, but all three pre-recorded sketches would have been irrelevant later down the road. And if the cast and crew spent the time to make those sketches earlier this week, they might as well work with what they have. 
However, the question now is whether "SNL" comes back in January after their holiday hiatus. If this is what happened as the Omicron surge in New York is just beginning, are things going to be better enough to bring the show back in January? Let's not forget that the 2022 Winter Olympics are slated to begin in February, so that doesn't give "SNL" much time to get new episodes off the ground before the games begin. I wonder if we might not see any new "SNL" until March. Maybe they'll go back to doing "At Home" episodes for a little while, just as they did at the start of the pandemic last spring. We'll have to wait and see.