Will There Be A Sequel To The Harder They Fall? Here's What We Know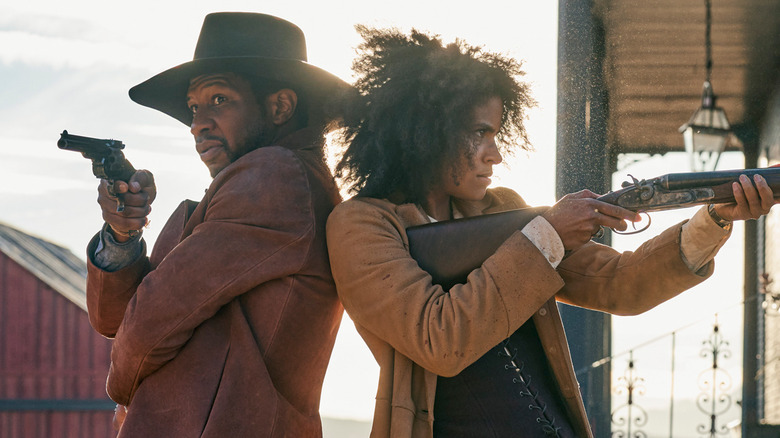 Netflix
(Welcome to Will There Be a Sequel?, a series where we answer that question and explore what comes next.)
Towards the end of 2021, "The Harder They Fall" exploded onto Netflix in all its gun-slinging, beat-dropping glory —  but it's never too early to wonder about round two. Thanks to many creative minds working overtime, this epic western is a very special kind of unforgettable. Jeymes Samuel stepped up to the plate when it came time to finally direct his passion project, a stunning reinvention of Spaghetti Western cinema that both pays tribute and breathes new life into the genre.
"The Harder They Fall" is all kinds of stylish and was especially buzzy thanks to its all-star cast. But while some movies waste the big names or lose the story thanks to an overcrowded ensemble, Samuel put the stardom to incredible use with two rival gangs facing off for Wild West dominance. Did I mention that the impressive lineup is almost exclusively Black stars? All playing real-life figures and highlighting the lost legacy of Black cowboys?! And on top of all the many chips in its favor, "The Harder They Fall" is pure, heart-pumping fun. So you can see why we're aching for more time with the surviving gun-slingers. Thankfully, things are looking pretty optimistic.
Jeymes Samuel is ready to return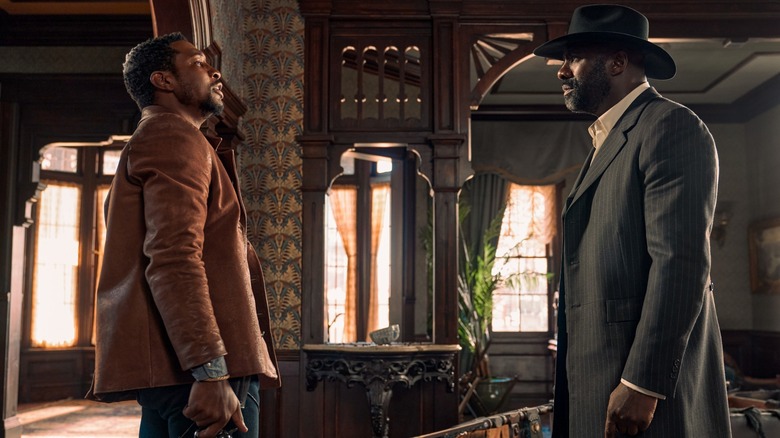 Netflix
Jeymes Samuel was enamored by Western cinema from a young age, but he always sensed something missing. He's talked at length about the lack of diversity plaguing the genre, but rather than deterring his interest, he was determined to fix the problem himself, by making movies that thrust Black cowboys and lethal frontier women into the spotlight. He first tackled the issue with his SXSW short film, "They Die By Dawn," a 50-minute movie that pulled from history to focus on badass Black outlaws. Packed with talent, the film starred ​​Michael K. Williams, Erykah Badu, Isaiah Washington, Rosario Dawson, and more. After it was warmly received, Samuel followed up with another all-star cowboy epic, thus giving us "The Harder They Fall." Given his passion for the genre and the momentum building up to this film, why would he stop there?
Netflix has yet to announce official plans for a follow-up to "The Harder They Fall," but director Jeymes Samuel has made it very clear that he plans to return to the Old West as soon as he can. Ahead of the film's release last year, he told /Film:
"I've always imagined 'The Harder They Fall' as a three-parter, as it were, a prequel and a sequel. And I've always wanted to flesh out that story... I'm always going to go to the Old West. I love Westerns too much. I can't do nothing about it. I try, but I can't."
Throughout the film's press tour, both Samuel and key cast members have indicated their interest in continuing the rip-roaring saga. Jonathan Majors stars in the film as Nat Love, a young gunslinger who dedicates his life to avenging the murder of his family, which has haunted him since childhood. The film introduces the tragic backstory via flashback before launching into the future, which ultimately leaves a huge chunk of time unexplored. For Majors, this is a prime opportunity for further exploration. He told Entertainment Weekly,
"I will play Nat Love as long as Jeymes Samuel wants me to play him. The most interesting thing about Nat Love is what happened to him from the time he was 10 to the time we meet him at 33 in the picture. What is that moment? How was that growing up?"
Samuel also floated an intriguing prospect:
"The world of The Harder We Fall is expansive, so I'm not stopping there... [The film was] never, for me, a singular story. It has a before and an after. So I'll leave that there without spoilers, but let's just say we're going in."
The door was left wide open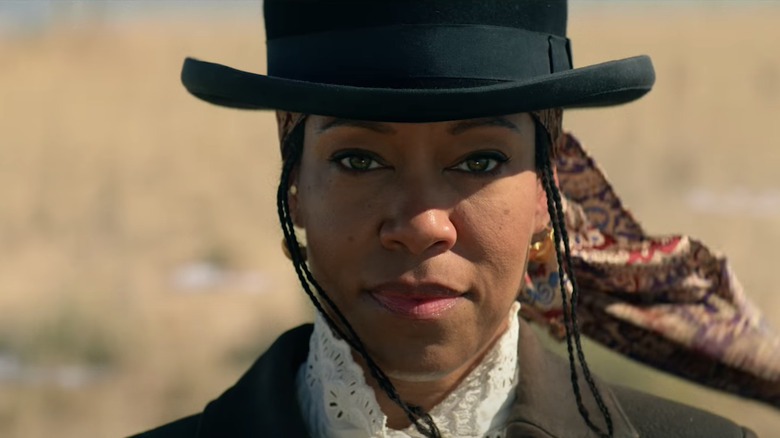 Netflix
The rest of this post contains spoilers for "The Harder They Fall."
"The Harder They Fall" has an expansive cast, but Nat Love's quest for revenge anchors the film. Spoiler alert — he gets the vengeance he spent years yearning for, but it comes at a painful cost. Finally confronting the man who murdered his parents, Rufus Buck (Idris Elba), forces Nat to accept a life-altering truth: his father wasn't everything he seemed. Nat comes to the devastating realization that Buck is more than just the man who destroyed his life, he's also his long-lost brother. Nat argues that his father was a loving father and a good man, but Buck counters with his own harsh reality.
Long before Nat, their father was brutal and abusive, murdering Buck's mother before abandoning his son to go the run. He changed his last name to Love, met a new woman, and started a new family by having Nat. Needing vengeance himself, Buck tracked him down and ultimately chose to leave Nat alive, unable to kill his brother. But with Nat, the cycle of violence continues when he shoots Buck and leaves him for dead. Afterward, he finds that the epic showdown between the two gangs has come to an end with his friends as the successors (save for a few tragic casualties). Together, they ride off into the metaphorical sunset, but off in the distance, someone watches. Based on the signature bowler hat in hand, it's likely Regina King's vicious Trudy Smith. That's an opening for a sequel if I've ever seen one! Talking to /Film, Samuel confirmed that this was purposeful.
""The Harder They Fall" always ended the way "The Harder They Fall" ended because I'm coming back, I'm coming back. Like those zombies that won't go down [mimes gunshot noises] 'bam, bam, bam.' But they keep coming, 'bam bam bam bam bam,' they keep coming. That's me with the Old West."
"The Harder They Fall" is now available to stream on Netflix.