The Jamie Lee Curtis Scene In True Lies You May Not Realize Was Improvised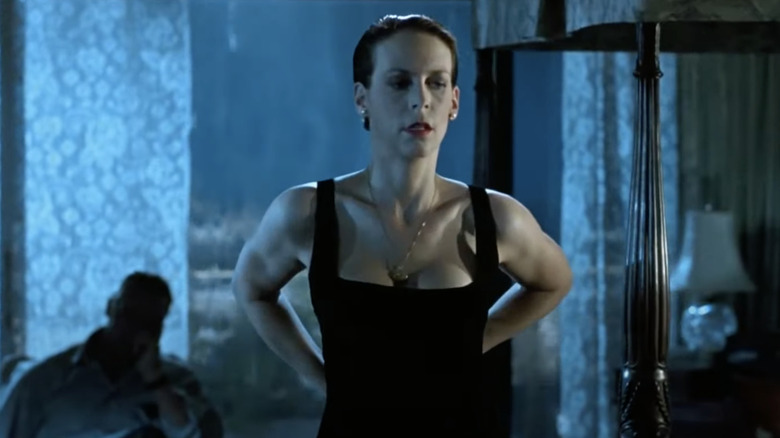 20th Century Studios
"True Lies" was the third highest-grossing film of 1994 behind "The Lion King" and "Forrest Gump," and it won Jamie Lee Curtis a Golden Globe Award for Best Actress in a Motion Picture – Comedy or Musical. One of the most famous scenes in the film involves her character, Helen Tasker, doing a striptease for a man in the shadows. Unbeknownst to her, that man is her husband, Harry Tasker, played by Arnold Schwarzenegger.
Using his resources as a secret agent who masquerades as an unadventurous computer salesman, Harry has conspired to put Helen in this awkward position after learning that she was stepping out on him with a car salesman, Simon (Bill Paxton), who leads women to believe that he is a secret agent. Helen hasn't cheated on Harry with Simon, but she doesn't know that Harry is a spy, and she's bored with their seemingly mundane life.
What you may not know is that the striptease scene in "True Lies" was not expertly choreographed. Writer/director James Cameron allowed Curtis to choose the song she would dance to and he also gave her a great deal of leeway when it came to the actual dancing. In an episode of the "People in the '90s" podcast in 2021, Curtis revealed:
"The thing that nobody knows: There was no rehearsal, there is no choreographer. Jim said to me, 'What do you want to dance to?' It was when John Hiatt's 'Bring the Family' album was out and I said, 'There's a song called 'Alone in the Dark' that has this really funky rhythm.' And I said, 'I really like that song.' And that's what they played."
It's a little rough around the edes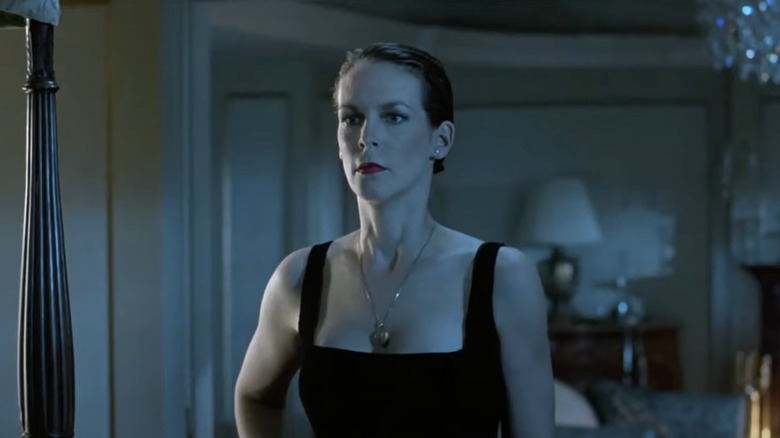 20th Century Studios
Since Helen is not a professional exotic dancer but rather a wife and legal secretary seeking thrills, it makes sense that her striptease would not be refined. She starts off by leading with her thumbs, almost like the character of Elaine (Julia Louis-Dreyfus) on the sitcom "Seinfeld," which was in the middle of its run as the #1 show on television at the time. Using a recording of another man's voice, Harry coaches her from the shadows, and Helen eventually loosens up and gets into the dance more. 
Like all of us, Curtis had some experience in her own life dancing in her underwear behind closed doors. As she was doing her pants-off dance-off on the set under the camera's watchful eye, Cameron had the idea to have her let go of her makeshift stripper pole, the bedpost, and fall down. He brought in a mat, and she did it. Curtis explained:
"It's because Jim knew that the dance was too sexy; it was too real. It started to actually be good, and he knew he needed to break the spell of what the husband had put his wife through."
"True Lies" is not currently available on Blu-ray or any digital or streaming services (which is really annoying), but there is a new TV show in the works based on Cameron's popular action-comedy, and you can always find clips of the striptease scene on YouTube. Just remember, if you decide to emulate Helen's dancing, you might want to bring in a mat, in the event you fall.