Selena Gomez, Steven Martin, And Martin Short Were Asked To Host The Oscars, But Scheduling Got In The Way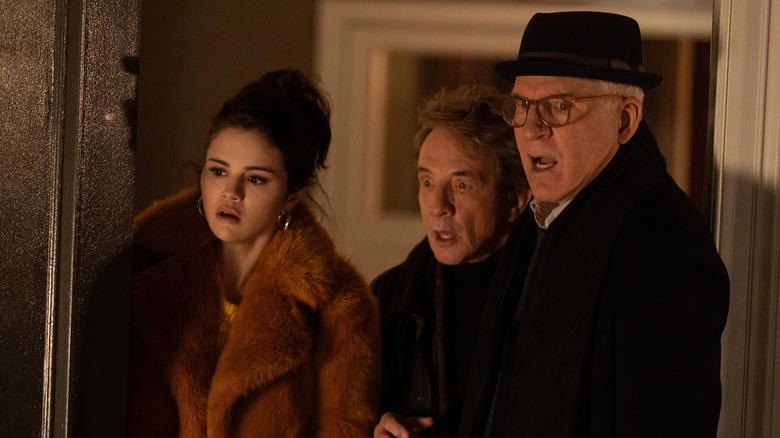 Hulu
In the wake of last year's Oscars ceremony hitting an all-time low for viewership, the Academy is on the hunt for some cultural relevance. While one misguided method has sent them to Twitter with a polling plan that definitely won't go terribly wrong, another strategy sees the broadcast reintroducing the concept of a host. You remember those, right? Back in Oscars' past they'd take the form of a late-night host or otherwise hilarious personality playing the part of a face-forward cheerleader for the event. The past three award ceremonies have gone without a celebrity ushering us through the category announcements, beginning with the whole Kevin Hart debacle that saw the comedian step down from his would-be hosting position after coming under fire for some resurfaced tweets. The Oscar producers then opted out of finding news hosts, which many viewers saw as an improvement upon the oft overlong ceremony. But this year is different.
For the 94th Academy Awards, the producers are bringing on the dazzle. The ceremony is sizing back up, returning to the Dolby Theater, and embracing the allure of star power! And why stop at one star when they can have three? This year's Oscars are employing a three-act three-host structure, with three different stars taking on hosting responsibilities for each segment: Regina Hall, Wanda Skyes, and Amy Schumer. The announcement came yesterday and struck many by surprise. For one thing, this feels like a random assortment of comedians but most importantly, there was an obvious trio perfect for the role and we all know it! But as it turns out, we weren't just screaming into the angry Twitter void with our suggestions — the Academy was well aware of the excitement for "Only Murders in the Building" stars Selena Gomez, Martin Short, and Steve Martin.
The trio is set to reunite ... just not at the Oscars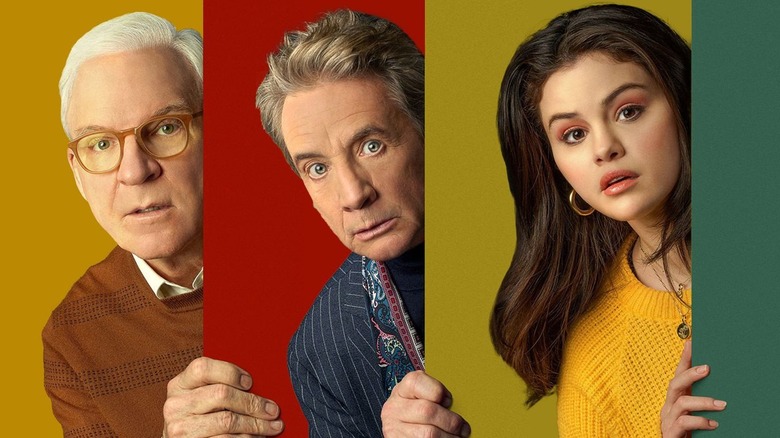 Hulu
Turns out popularity is a double-edged sword. We love the "Only Murders" squad because we've seen everything they're capable of in the hit Hulu series, but this also happens to be the very reason they can't carve out time for Hollywood's big night. Oscars producer Will Packer pursued previous Oscars host Steve Martin to reprise the role alongside his "Only Murders" co-stars Gomez and Short. Unfortunately, the New York Times reports that the trio turned down the offer due to scheduling conflicts.
The three stars have gone above and beyond proving their chemistry through their unlikely team-up in the series. Beyond that, they're all proven comedians, magnetic performers, and beloved across generations. While "Only Murders" flew under the radar when it first premiered, it quickly became the kind of irresistible weekly watch that folks were buzzing to keep up with. So if the return to hosts is a bid to build excitement, these three were the obvious answer. It's a shame it didn't work out, but at least we get to enjoy the reunion set for season 2 of "Only Murders in the Building."
If you haven't already had the absolute pleasure of watching the series unfold, I highly recommend you run, not walk to your nearest Hulu-capable screen and get to streaming. Here's the pitch: former '90s detective TV star Charles Haden-Savage (Martin), washed-up Broadway director Oliver Putnam (Short), and Mabel Mora (Gomez), a mysterious and very fashionable young woman, form an unlikely friendship. They first bond over their shared love of true crime podcasts then set to create one themselves, in the hopes of solving the mysterious death of their neighbor, Tim Kono. Hilarious hijinks ensue with lots of surprising twists, some experimental episodes of TV, and magnificent fur coats courtesy of Selena Gomez.
It's a shame they won't be bringing that level of fun to the Academy Awards (who desperately need it). But then again, I can't say I'm too broken up about their absence from the Dolby Theater, which will apparently play host to hundred of potentially unvaccinated celebrities milling around without masks. It'll be much more exciting to see them get the band back together at the Arconia, where their only threat is, ya know, murderers.