The Super Bowl Overshadowed A Weird, Crowded Weekend At The Box Office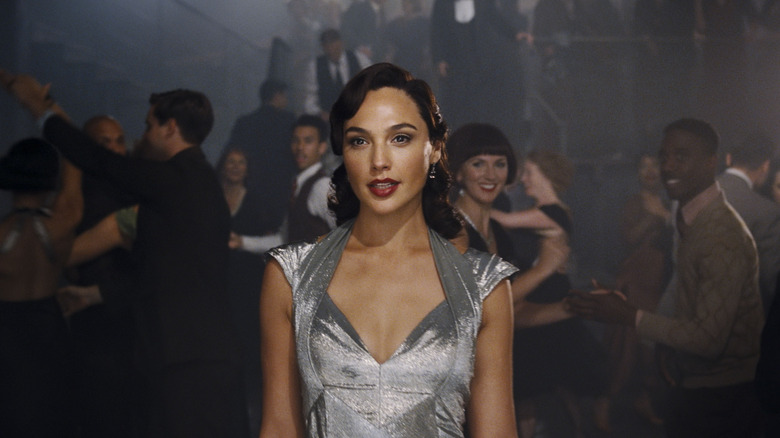 20th Century Studios
It was a big weekend for movies all around as the Super Bowl brought with it a wealth of trailers and TV spots for some of the biggest releases coming our way in 2022. It was also a big, uneven weekend at the box office, with not one but three new studio movies arriving in theaters for audiences to choose from. As it turns out, "Death on the Nile," "Marry Me," and "Blackout" were no match for the big game, and essentially none of them succeeded in the face of the American pastime that is football. Let's dig into the numbers, shall we?
Death On the Nile Wins the Weekend (But Still Counts As a Loss)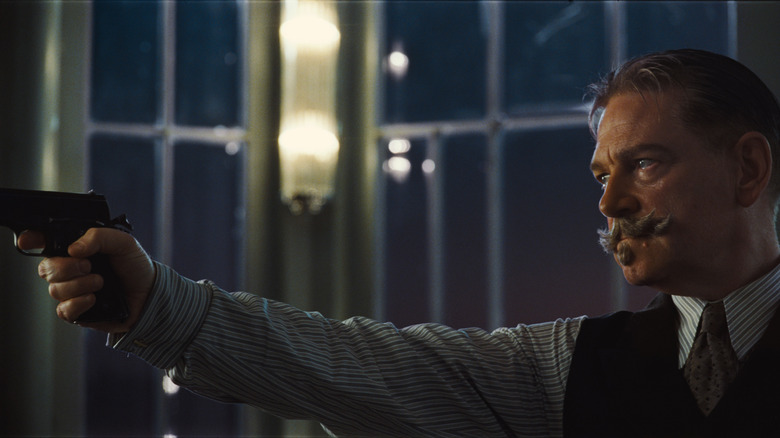 20th Century Studios
The (kind of) good news for Disney is that the long-delayed "Death on the Nile," the sequel to 2017's surprise hit "Murder on the Orient Express," managed to top the box office this weekend. The bad news is that it did so by making just $12.8 million domestically, according to Box Office Mojo. The first film in Kenneth Branagh's series of Agatha Christie adaptations opened to $26 million, so the sequel earning less than half is a bad sign. Especially considering that "Murder" had a $55 million budget and "Death" comes with a reported $90 million budget. Ouch.
Perhaps the only genuine good news here is that "Death on the Nile" did decent business overseas, currently sitting at $33.5 million globally. Still, that's a long way from profitability. Unfortunately, the film became a victim of the Disney/Fox merger and the pandemic, being delayed multiple times before being on the wrong end of the Armie Hammer scandal. In the end, it was yet another sad example of Disney kind of dumping one of the movies it inherited from Fox and another possible theatrical hit dying on the vine. Even a stacked A-list cast led by Gal Gadot couldn't save this ship from sinking.
Marry Me and Blacklight Both Underperform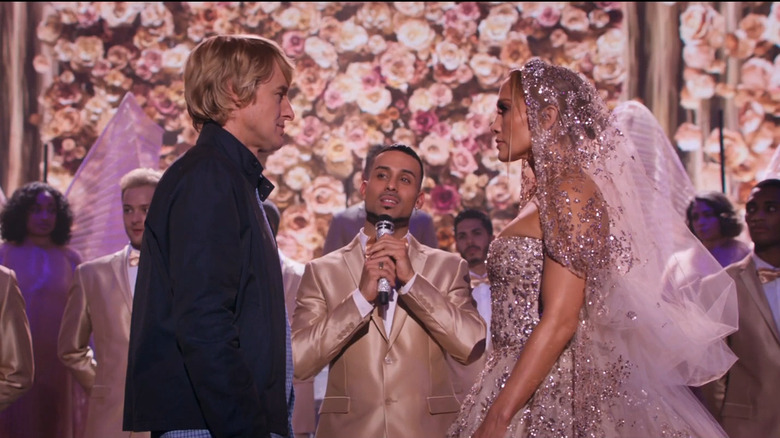 Universal Pictures
The weekend's other new releases couldn't be more different from one another — and yet, they both failed to live up to expectations in their own ways. Starting with "Marry Me," the new rom-com that serves as an "Anaconda" reunion of sorts for Jennifer Lopez and Owen Wilson, landing in the number three spot with $8 million. That's well below what a rom-com like this might typically have made in pre-pandemic times, and it certainly doesn't help that Netlflix has made a steady stream of romcoms available from the comfort of home for years now.
To that end, the Universal Pictures release was also available to stream on Peacock, which undoubtedly cut into its earnings potential. That having been said, depending on how well it performs on streaming, the box office could just help to recoup the budget while the real added value is in streaming subscriptions. Either way, it's a kick in the shins for the theatrical experience as even seemingly bankable romantic flicks aren't remotely a safe bet in the age of streaming.
Meanwhile, Liam Neeson's latest action/thriller "Blacklight" was dead on arrival with just $3.6 million, landing in the number five spot. Oddly enough, "Taken" opened in the U.S. on Super Bowl weekend back in 2009 and did exceedingly well, kicking off Neeson's career reinvention as an unexpected action star. But that was a long time ago and things have changed. Its supposed $43 million budget makes this especially painful.
Jackass Falls Fast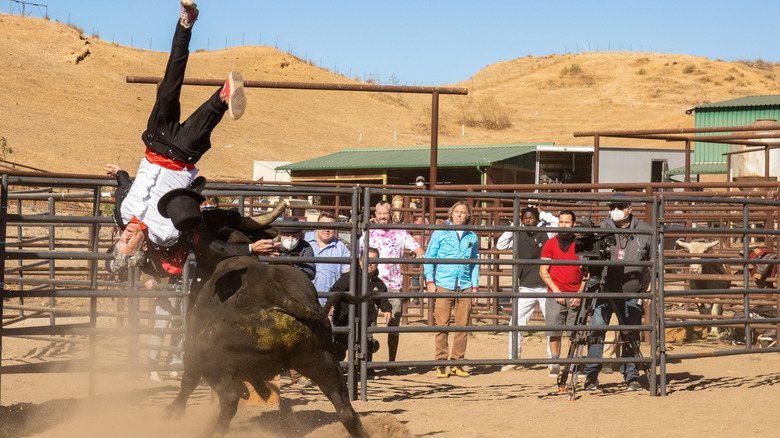 Paramount Pictures
Last weekend's box office champion "Jackass Forever" only fell one spot to number two — that's the good news. The bad news is that it fell a steep 65.2%, taking in $8 million in its second weekend. That's still not bad for Paramount given that the movie comes with a modest $10 million budget and has amassed a total of $47.4 million globally. The problem is that in the majority of cases, a fall this hard is not out of the question anymore. Whereas falling 60% or more used to be a rare disaster in weekend two, it's now part of the brutal movie math studios are having to face down. Times have changed — and not for the better, folks.
The Oscar Season Bump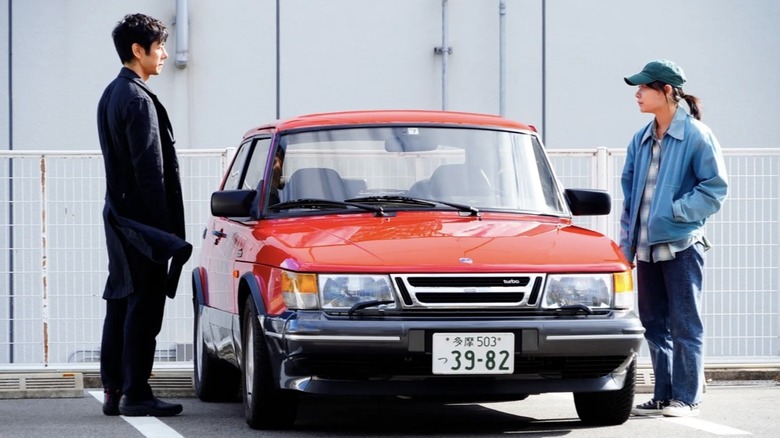 Janus Films
In "good but maybe not good enough" news this weekend, several of the Oscar nominees managed to get a little bump at the specialty box office. Paul Thomas Anderson's "Licorice Pizza" cracked the top ten with $922,000, up 43% compared to last weekend and yet, the movie has still made a little over $23 million globally. Not nearly enough to be considered a hit and, for the most part, that remains the case for the movies that got a little bump this weekend.
"Belfast" ($285,000) saw a 42% bump, while "The Worst Person In the World" ($255,000) enjoyed a very healthy 85% bump. Lastly, "Drive My Car" got a boost to the tune of $191,000, representing a huge 91% week-to-week jump. This comes just ahead of the movie's HBO Max debut in early March. The good news is the Oscars still have the power to push people to find these movies. The bad news is the numbers are still a relative drop in the bucket, but perhaps that's the pessimism talking.
And the Rest...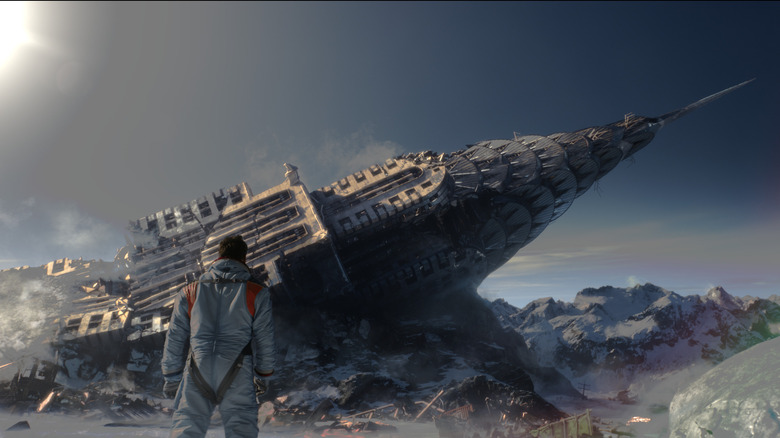 Lionsgate
Yes, "Spider-Man: No Way Home" had yet another great weekend taking in $7.1 million, landing in the number four spot in its ninth weekend. It dropped just 24.8% and has now officially passed $1.8 billion globally. It has almost no chance of catching "Avengers: Infinity War" ($2 billion) to make it into the top five all-time worldwide, but it will any day now pass "Avatar" ($760 million) to become the third-largest domestic movie in history. At this point, it is just consistently astounding how well this movie has done. It remains a rare exception in a new world full of new rules.
"Sing 2" continued to carry a tune, taking in $2.9 million in the number six spot, with the animated sequel standing at $310 million globally. Along with the premium VOD revenue, this should be a healthy win for Universe. Speaking of wins, "Scream" took in $2.8 million in the number eight spot, with its global total now standing at $128 million. "Scream 6" already has the green light, so everything else is pure gravy at this point.
On the opposite end of the spectrum, Lionsgate's "Moonfall" suffered a fatal blow, dropping 71% to number eight on the charts with just $2.85 million. The $140 million budgeted disaster pic from director Roland Emmerich has earned a paltry $19.9 million worldwide. This is going to go down as perhaps the biggest flop of the year, and it brings me precisely zero joy to say so. 
Looking ahead to this weekend, Sony's big-budget video game adaptation "Uncharted" rolls into theaters with high hopes, with Channing Tatums' "Dog" also looking to bring in a crowd as a bit of counterprogramming.