Here's When You Can Watch The Oscar-Nominated Drive My Car At Home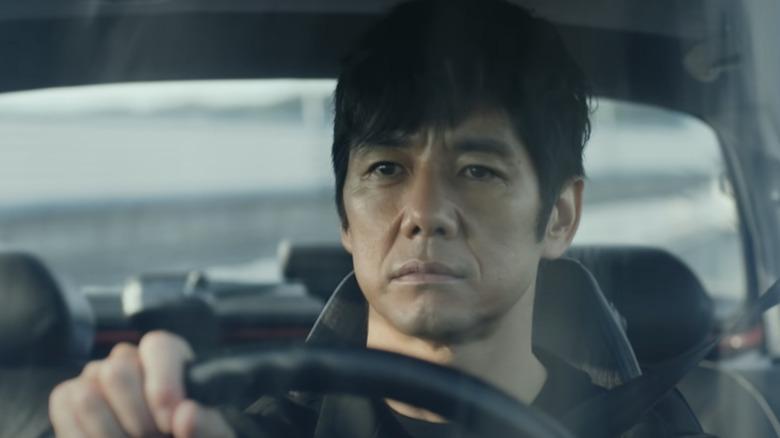 Janus Films
It's hard not to love a "little movie that could" story. Who among us could have expected a meditative, three-hour Japanese film about a production of "Uncle Vanya" could turn into a proper player this awards season? "Drive My Car," the latest film from "Happy Hour" and "Asako I & II" director Ryusuke Hamaguchi, raked in Academy Award nominations for Best Picture, Best Director, Best Adapted Screenplay, and Best International Feature. It is a testament to the expanding Academy membership that they would even have a film like this enter the conversation, let alone actually score some huge noms. Coming from a niche distributor in Janus Films, the theatrical reach of "Drive My Car" has its limitations, though it did have almost a 92% increase in ticket sales this weekend compared to the previous one, with only 12 new theaters being added. The Oscars still can create a bump. Though the film is currently playing in over 100 cities in the United States, most people are just going to sit around and wait for when they can watch it at home. Here's when and how you will be able to do that.
Drive My Car Hits HBO Max in March 2022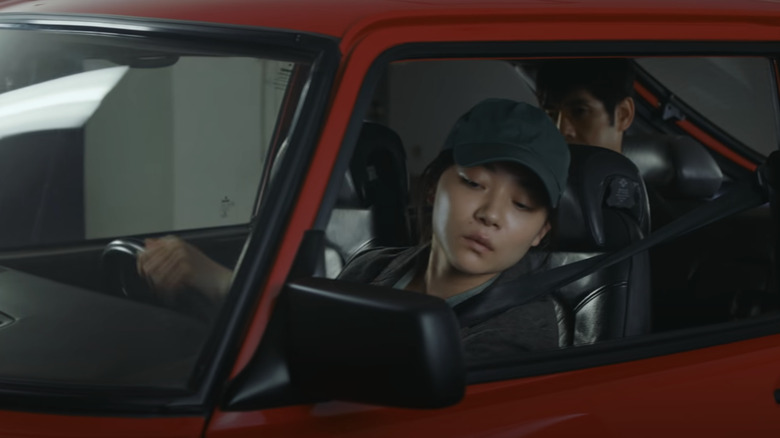 Janus Films
Because Janus Films distributes the film, one might assume that "Drive My Car" would make its streaming premiere on the Criterion Channel, considering the two companies' long history. This is not the case. According to Deadline, you can look forward to seeing "Drive My Car" on March 2, 2022 when it drops on HBO Max. Out of the major streaming services, it really is the most fitting — Janus and Criterion both have a lot of their titles available already on HBO Max, if you feel like getting your arthouse on.
One would hope that Janus would have Criterion put out their own physical disc release of the film. Whether they would go ahead and spring for the immediate 4K run, as the company now has released a few titles on the format, is in question. The recent releases Criterion has been putting out, such as "One Night in Miami" and "Dick Johnson Is Dead," have not been given the 4K treatment. It is costlier to make those discs, and perhaps they are just saving those for certified classics they know will sell, like "Citizen Kane" and "The Piano." I mean, as of the writing of this article, the 4K release of "A Hard Day's Night" is sold out everywhere, much to my chagrin. Thanks, Peter Jackson. Perhaps with the swell of critical and awards support for the film, they will take that UHD plunge for "Drive My Car."
What's the Big Deal About Drive My Car?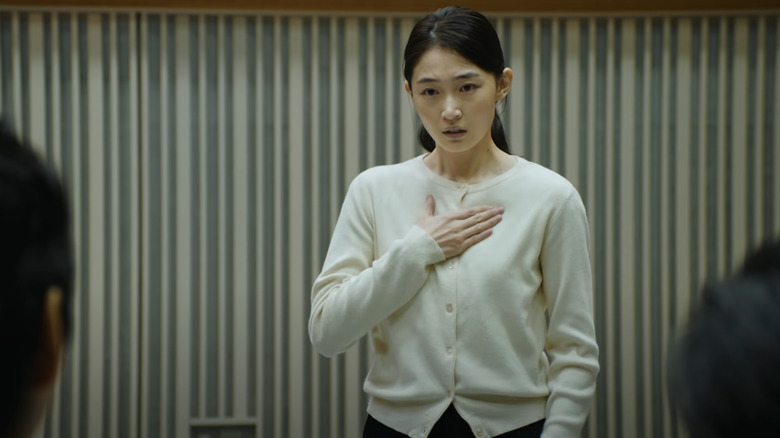 Janus Film
Considering the size and origin of "Drive My Car," plenty of people scan their eyes across that title and have absolutely no idea what to make of it. So, what is this movie that everybody who works in and around film professionally seems to be going nuts about? Here is the official synopsis:
"Two years after his wife's unexpected death, Yusuke Kafuku (Hidetoshi Nishijima), a renowned stage actor and director, receives an offer to direct a production of 'Uncle Vanya' at a theater festival in Hiroshima. There, he meets Misaki Watari (Toko Miura), a taciturn young woman assigned by the festival to chauffeur him in his beloved red Saab 900. As the production's premiere approaches, tensions mount amongst the cast and crew, not least between Yusuke and Koji Takatsuki, a handsome TV star who shares an unwelcome connection to Yusuke's late wife. Forced to confront painful truths raised from his past, Yusuke begins – with the help of his driver – to face the haunting mysteries his wife left behind. Adapted from Haruki Murakami's short story, Ryusuke Hamaguchi's 'Drive My Car' is a haunting road movie traveling a path of love, loss, acceptance, and peace. Winner of three prizes at the 2021 Cannes Film Festival, including Best Screenplay."
It plays in a realm that is really friendly to Oscar voters, as it is a film about actors and creating art, but the reserved, emotional approach Hamaguchi's film takes could not be further from all the bombastic movies about Hollywood we usually see. Ironically, "Drive My Car" got all this awards respect, but did not receive any nominations for its actors. Hidetoshi Nishijima should be in the Best Actor line-up will Will Smith and Benedict Cumberbatch, but the acting categories are where it really helps to be a big name. Personally, Park Yu-rim, who plays a non-verbal Korean woman, should have been a slam dunk nomination in Best Supporting Actress. Alas, we can't get too greedy. Just enjoy that a film like "Drive My Car" could break through in this way. With it soon to be available to stream, hopefully more people will see why it has that kind of power.
"Drive My Car" arrives on HBO Max on March 2, 2022.