Sing 2 Review: Let's Close The Curtains On Sing-Off Movies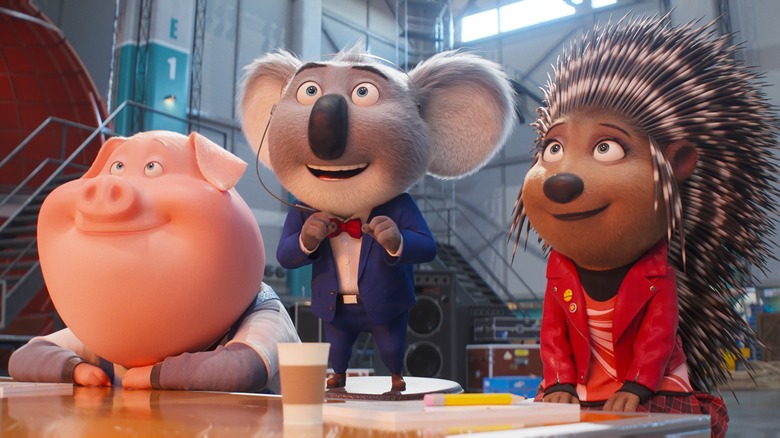 Illumination
It was 2012. "Pitch Perfect" was released at the height of the "singing competition" genre, one that had been popularized (and quickly run into the ground) by "Glee" — itself a thin satire riding on the coattails of popular reality shows like "American Idol" and "The X Factor." Even by the time the first "Sing" movie hit theaters in 2016, the sing-off movie was starting to grow stale, harkening back to a simpler time when fresh covers of pop hits were a source of joy and not a product of a viral clip-making machine run by Jimmy Fallon's "Tonight Show." But the first "Sing" was a major hit anyways, which meant the inevitable wait until a sequel.
Which is why in 2021, "Sing 2" feels like a relic from another era. And oddly, a relic that really wants to sell you on U2 songs. Written and directed by Garth Jennings, who returns after helming the first "Sing," "Sing 2" completely bucks the talent-show format that made the first film a curious little charmer, and instead dives right into the nitty gritty of show business. Or, at least, an alien's strange idea of show business.
Shortly after the events of "Sing," which saw a group of amateur performers help revive Buster Moon's theater, the Moon theater's show has become the hottest ticket in town. And Buster (Matthew McConaughey) is even more over the moon over the presence of a talent scout (Chelsea Peretti), who is to decide whether their act is worthy of the big leagues: a spot in the line-up of Crystal Entertainment mogul Jimmy Crystal (Bobby Cannavale, making a meal out of his lupine villain role). But after the talent scout turns up her snout (because she's a dog) at the small-fry local act, the relentlessly ambitious Buster decides that he and his team must crash the auditions themselves. Auditions for what? Who knows! Apparently in this world (or at least, in the bright and shining Redshore City) the key to getting hired as a producer for a buzzy new stage musical is to put on an audition in front of an apathetic media mogul.
The first "Sing" already had a tenuous idea of what a talent show was (why did they need to stage such a large production for an amateur talent show?) but "Sing 2" throws any semblance of reality out the window just for the excuse to create bigger sets, stage even flashier shows, and bring in even more famous guest stars. And for some reason, the movie's big guest star is ... Bono.
Stuck in a Moment You Can't Get Out Of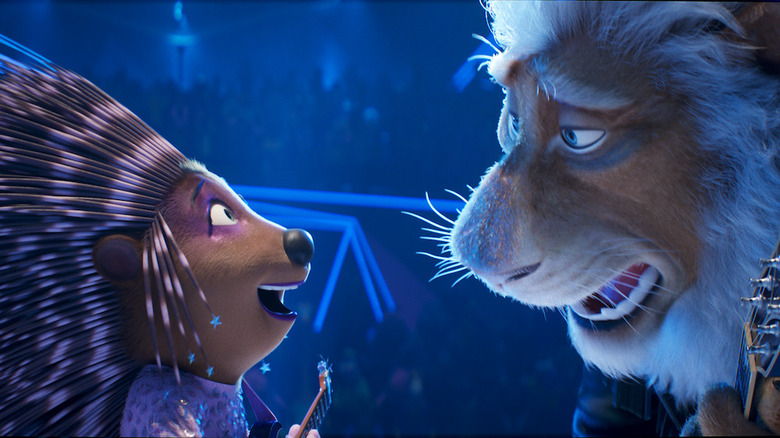 Illumination
After a white lie lands Buster Moon his first big stage show financed by Jimmy Crystal, "Sing 2" starts to revolve around the mystery of Clay Calloway (Bono). See, Clay Calloway is a reclusive rock star who was once the biggest rock legend of all time until his wife passed away, leading him to withdraw from the public eye. But Buster, in all his overambitious ego, promises Jimmy Crystal that he is not only close friends with Clay, but he can bring Clay out of retirement to sing in his show. Skeptical, but loyal, the rest of the Moon theater crew follow along with Buster's harebrained (koalabrained?) schemes, even as Jimmy grows increasingly irritated, and eventually, murderous.
With a mysterious figure looming large, and a whole new ensemble of characters which include Jimmy Crystal's airheaded daughter Porsha (Halsey), a breakdancing lynx played by Letitia Wright, a haughty proboscis monkey choreographer voiced by Adam Buxton, and Eric André's teen idol yak, "Sing 2" loses sight of the original cast of characters that gave the first film its rare charms. Reese Witherspoon, Scarlett Johansson, Taron Egerton, Tori Kelly, and Nick Kroll are all still there (sans Seth MacFarlane), but in greatly diminished roles — apart from perhaps Egerton and Kelly's Johnny and Meena, respectively, with the former learning to dance and the latter falling in love for the first time. But it's all jammed into this overstuffed plot that gives way too much airtime to playing U2 songs and oddly, murder plots, and far too little to its characters. Not that character arcs ever really mattered in the "Sing" movies anyways, not when there was a show to put on and a new hit pop song to cover.
With many animated films that have alarmingly adult quips or pop culture references that wouldn't be understood by anyone born after 1984, the question is always asked: who was this made for? "Sing 2" is transparent in its answer: it's made for parents to half pay attention to while their children play it over and over again. Illumination has cornered the market on these kind of half-measure movies — glossy, star-studded productions that are the cinematic equivalent of white noise, but harmless enough that you won't really get offended. "Sing 2" is the epitome of that formula, a perfectly pleasant cover album of pop hits that will start to show their age in three to five years — or in three to five weeks, depending on how many times your little tykes rewatch this movie. Just don't throw it on if you're not a U2 fan.
/Film Rating: 5 out of 10