Superhero Bits: The Doctor Strange 2 Super Bowl Spot, Teen Titans Go! Season 8 & More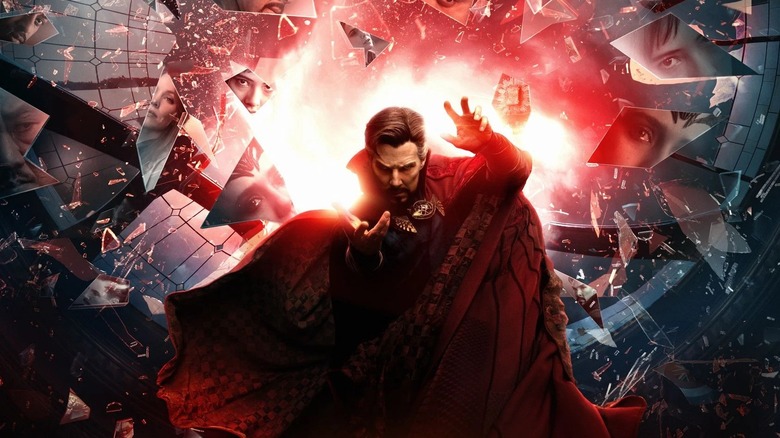 Marvel Studios
(Superhero Bits is a collection of stories, updates, and videos about anything and everything inspired by the comics of Marvel, DC, and more. For comic book movies, TV shows, merchandise, events, and whatever catches our eye, this is the place to find anything that falls through the cracks.)
In this edition of Superhero Bits:
"Doctor Strange in the Multiverse of Madness" offers much to discuss.
Robert Pattinson on what he might like from a sequel to "The Batman."
"Spider-Man: No Way Home" passes another major milestone.
"Teen Titans Go!" is going to continue on for at least one more season.
Teen Titans Go! Season 8 Is A Go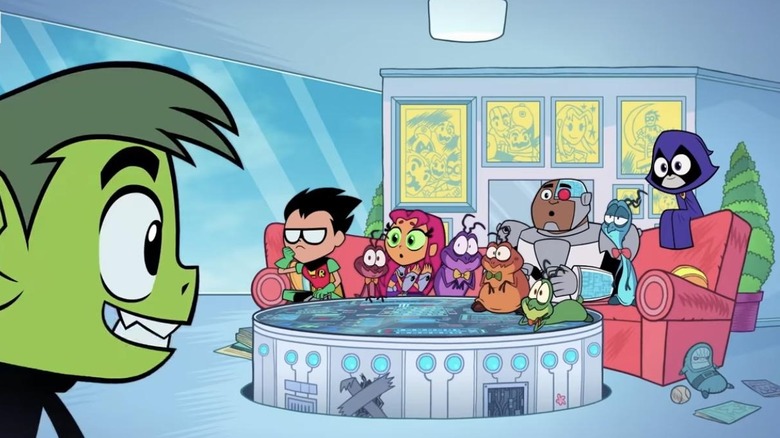 Cartoon Network
Fans of "Teen Titans Go!" rejoice as the long-running animated series is going to be running a bit longer on Cartoon Network. As reported by Collider, the show has been renewed for season 8, which will take it (rather amazingly) past the 400 episode mark. It is the longest-running DC animated series ever, and in terms of the sheer volume of episodes, nothing else even comes close. Since its debut in 2013, it's been going strong with not only the show, but several movies including the theatrically released "Teen Titans Go! to the Movies." No premiere date has been set but "Teen Titans Go!" season 8 is set to arrive sometime in 2022.
Marvel Goats Took Over The Super Bowl
For those who perhaps didn't tune into the big game on Sunday, there were many, many interesting commercials and trailers, as per usual. One that really seemed to catch the internet off guard was the above ad for Disney+, featuring Awkwafina traversing through an entire office building filled with goats dressed up as Disney characters. Unsurprisingly, there were quite a few Marvel superheroes in the bunch. So if you want to see a bunch of goat superheroes, check out the video above in its entirety.
No, That Isn't Knull In Doctor Strange in the Multiverse of Madness
As virtually every Marvel fan has probably noticed, the Super Bowl also brought us a brand new trailer for "Doctor Strange in the Multiverse of Madness." And there is much to discuss! This isn't the only thing relating to that movie we're going to be discussing today, but first up, writer Donny Cates has revealed that Knull, the character he created in his "Venom" run who headlined the "King In Black" event, is (probably) not in the trailer.
Or maybe…it is??

I dont know. Hey it's good to be back! Love you all! Let's talk about fun stuff! What have y'all been up to? What's new in comic book land!? https://t.co/me3eFHKwzP

— DONNY CATES (@Doncates) February 14, 2022
Cates took a break from Twitter only to return yesterday to speculation that Knull appears in the trailer, as one shot of Doctor Strange (above) kinda, sorta looks like Knull. Cates appears to be indicating that he has no inside knowledge here. In any event, his commentary seems to put this squarely in the "not happening" camp.
Brie Larson On Captain Marvel: We're Just Getting Started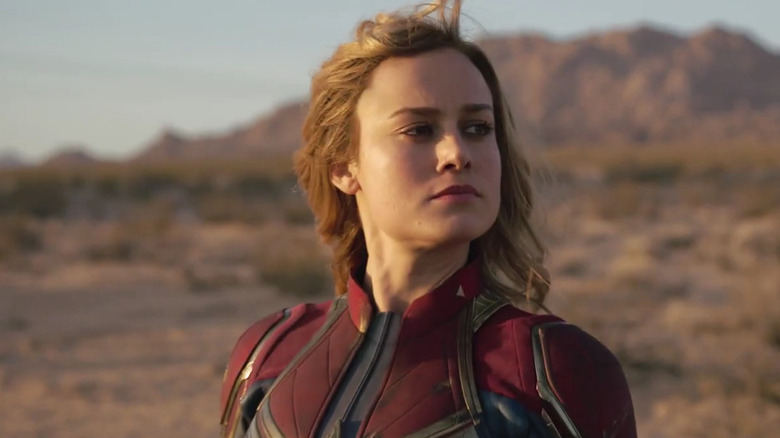 Marvel Studios
Brie Larson already has "Captain Marvel" and "Avengers: Endgame" under her belt, and "The Marvels" on the way. Be that as it may, the Oscar-winning actress sees her time in the MCU as just getting started. This according to a recent interview with Insider, in which Larson appears to be eager to keep this train on the tracks for some time.
"The novelty is not even close to wearing off. It's the thrill of a lifetime. It's the greatest honor and beyond my wildest expectations that I could help provide this symbol for people. Three years have just been the beginning for me of getting to see what the importance of having characters like this can do for people. It can bring strength, it can bring confidence, it can bring community, and so we're just getting started and I'm really excited for people to see what's next."
Now, does this mean the folks at Marvel Studios also have long-term plans for Carol Danvers? We shall see, but it doesn't sound like Larson is going to get bored with the part any time soon.
Tom Taylor Weighs In On Superior Iron Man In Doctor Strange 2
Circling back to "Multiverse of Madness," one huge bit of speculation surrounding the trailer has to do with the alleged appearance/hint at a Superior Iron Man appearance. This was a version of the character co-created by Tom Taylor who, in the above tweet, weighs in on the alleged evidence. Taylor, for his part, seems to confirm that the evidence being cited by fans lines up with what occurred in his comic book run. So the evidence does indeed seem to suggest we might meet another version of Tony Stark elsewhere in the multiverse who may or may not be tied to the Illuminati. This one figures to be wild as hell, dear reader.
The Batman Star Robert Pattinson Wants The Court Of Owls In The Sequel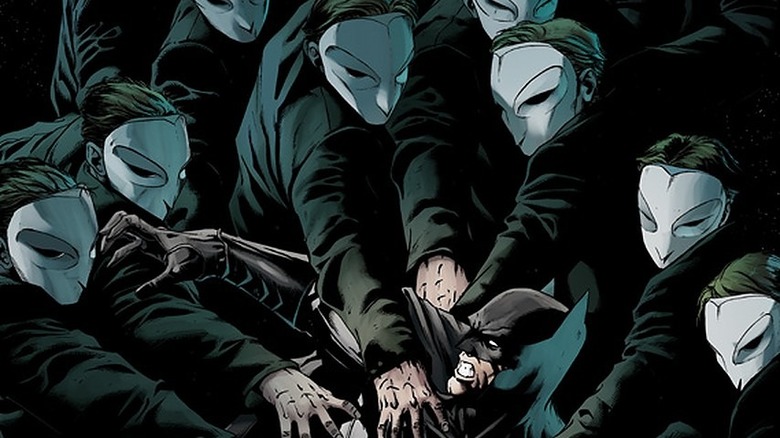 DC
There is no telling whether or not Warner Bros. is going to make a sequel to "The Batman." What we know is that director Matt Reeves has at least rough plans for a trilogy and the first movie sort of sets the table for a potential sequel. In a recent interview with Den of Geek, star Robert Pattinson revealed what he might like to tackle in a sequel. "I'd love to do something like Court of Owls," the actor said to the outlet. This refers to the 2011 DC storyline from Scott Snyder that sees a bizarre secret society that has been ruling Gotham City from the shadows for years. Though it is relatively new in the pantheon of Batman stories, it is truly beloved and acclaimed, so a number of fans would likely agree with Pattinson on this one. We'll see what (if anything) comes of it.
Doctor Strange in the Multiverse of Madness Super Bowl TV Spot
Circling back yet again to "Doctor Strange," a full-length trailer did indeed make its way online that included a whole bunch of footage that has led to a whole lot of speculation online. But it is important to highlight the Super Bowl TV spot that was largely a condensed version of the same trailer, albeit with a few key shots that were not in the main trailer. Specifically, we get a look at "zombie Strange" which might see us venturing into "Marvel Zombies" territory within the larger multiverse. Be sure to check out the full TV spot for yourself above.
Spider-Man: No Way Home Passes Another Box Office Milestone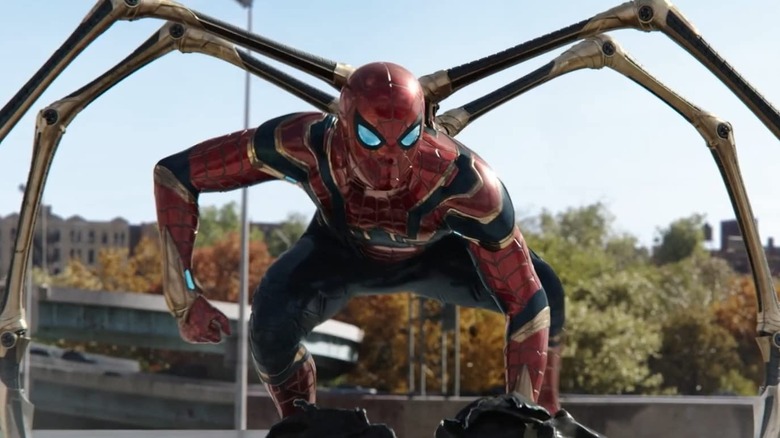 Sony Pictures
Despite being out for two months now, little has been done to slow "Spider-Man: No Way Home" at the box office. Case in point, with this most recent weekend's earnings under its belt, the latest MCU film has now crossed $1.8 billion at the global box office, according to Box Office Mojo. It is already the sixth highest-grossing movie of all time worldwide and is now about $1 million away from passing "Avatar" domestically. So yeah, safe to say Marvel and Sony are going to do just about anything they can to get Tom Holland back for more in the future.
New Doctor Strange in the Multiverse of Madness Poster
Last, but certainly not least, today brings us a new poster for the "Doctor Strange" sequel as well, and it's more than just your average one-sheet. The many shards of broken glass actually represent various ripples in the multiverse, it seems, and they contain a ton of Easter eggs hinting at stuff we are going to see in the movie. I won't point any out here for those who don't want too much spoiled, but let's just say an awful lot seems to be hiding in relatively plain sight here. "Doctor Strange in the Multiverse of Madness" is set to hit theaters on May 6, 2022.