And Just Like That Season 1 Ending Explained: It's Never Too Late To Find Yourself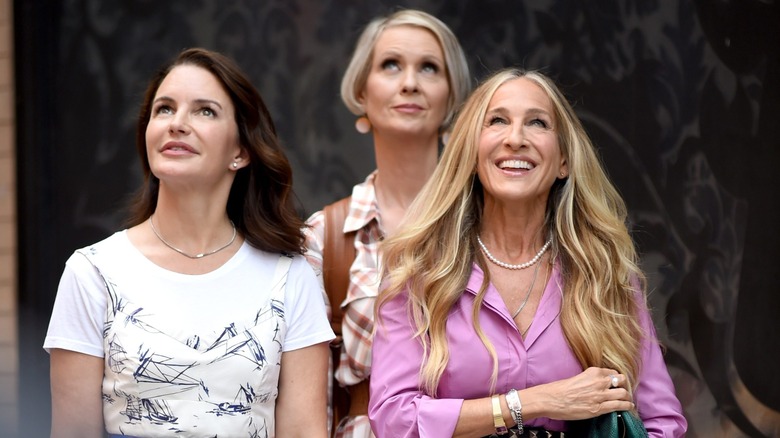 HBO Max
Whether we were joyously revisiting old friends or loudly cringing at the women they've become, the "Sex in the City" reboot "And Just Like That" has kept us captivated for the last two months (for better or worse), and now we're saying goodbye once again. The end of the first episode was so shocking it caused Peloton's stock to drop, and the massive changes seen with Cynthia Nixon's character, Miranda, have sparked endless online twitter debates, with Sara Ramírez's character Che Diaz trending on Twitter for most of Thursday following the series finale. "And Just Like That" wasn't perfect by any means, but getting a chance to hang out with Carrie (Sarah Jessica Parker), Miranda (Cynthia Nixon), and Charlotte (Kristin Davis) once again felt like slipping into a favorite pair of heels, the ones that make you immediately feel great about yourself even if you're only putting them on in front of the mirror, alone in your room, while still wearing a bathrobe.
The entire season of "And Just Like That" felt both like a whirlwind and centuries-long, with a constant flurry of twists in tension that has left many fans wondering, "what's next?" While a second season hasn't been confirmed, the rumor mill has already been swirling for an inevitable return, including Sarah Jessica Parker publicly stating that she doesn't want Kim Cattrall to return as the sorely-missed Samantha, because at this point, "There's just too much public history of feelings on her part that she's shared." The finale of "And Just Like That" did leave us with some lingering questions that could easily set up a second season, so let's break down what happened and figure out where our beloved ladies go from here.
Miranda Makes Sense of a Mess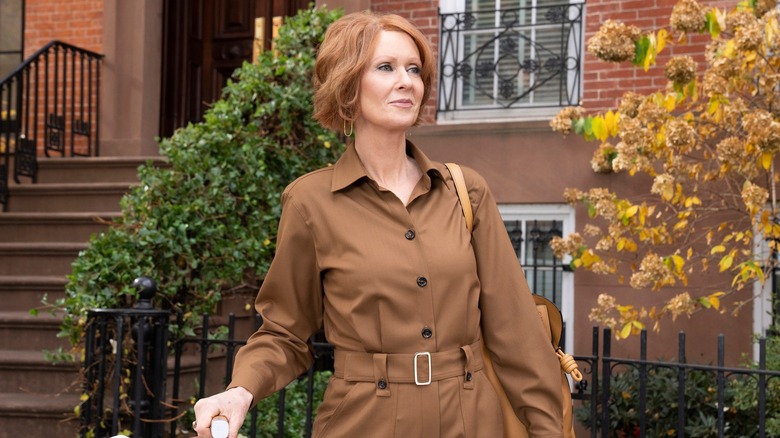 HBO Max
I called it from the trailer that Miranda was going to end her marriage with Steve (David Eigenberg) and pursue a queer relationship, but I couldn't have guessed how messy she was going to be about it. Nixon, a queer icon in real life, has defended this massive change for the character, and that likely includes her decision to give up her upcoming internship and relocate to Los Angeles for a few months to be with Che, who is working on a pilot for a new show. Carrie clearly thinks Miranda is acting impulsively by making such a massive decision for a new romance, but as any queer person who has ever been told "it's just a phase," knows, sometimes those risks are worth taking.
Miranda has always been the most practical of the bunch, and a lot of fans have hated this new version of her, feeling that this newfound impulsiveness betrays the very root of her character. I've been "the Miranda" of my friend group since I first watched "Sex and the City" DVDs from Blockbuster, and I, too, imploded my entire life to be with someone (my now wife), but it was the best decision I ever made. I understand the frustration with Miranda, but I can't help but see her as a kindred spirit. We get so caught up with this idea that once you reach a certain age that your life is "set," and Miranda is proof that it's never too late to find yourself and follow your heart. 
I just hate that she's doing all of it because she fell for a self-described narcissist who is absolutely going to break her heart. Hey, you live and you learn.
Charlotte Has A Bat Mitzvah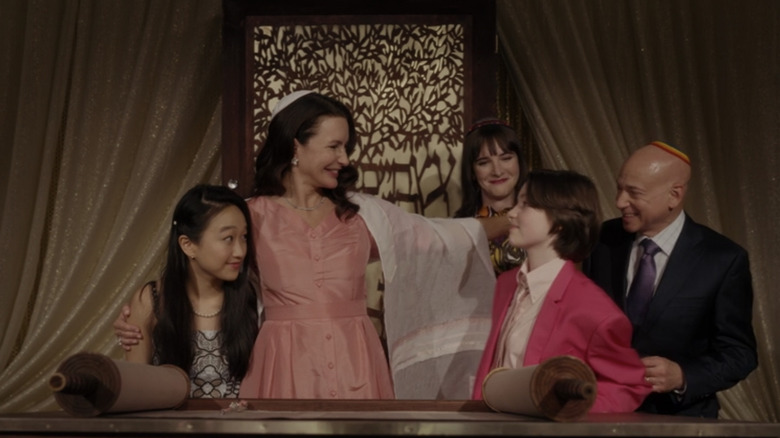 HBO Max
Charlotte spent most of the season a bit more isolated from Carrie and Miranda, dealing with the trials and tribulations of parenting teenagers. She helps her daughter Lily learn how to correctly use a tampon, but the big focus has been with her gender-nonconforming child, Rock. The more Rock asserts their identity, the more Charlotte is forced to contend with her obsessive need for perfection. Her finale arc focuses on Rock's "they mitzvah," complete with a trans rabbi (Hari Nef of "Assassination Nation") and an over-the-top rainbow-colored candy bar for the kids. In a weird way, Charlotte coming to terms with Rock and letting go of all of her preconceived notions of what her kid is supposed to be like is her coming full-circle to the same realization she had that allowed her to pursue her now-husband, Harry (Evan Handler), a man she initially never imagined she would fall in love with.
"I don't want to be labeled as anything," Rock says before refusing to go through with the non-binary mitzvah. "Not as a girl or boy, non-binary, a Jew, Christian, Muslim, or even a New Yorker." Rather than forcing her child to do something they aren't comfortable with, Charlotte takes Rock's place and gets bat mitzvahed herself. After all, she converted 19 years ago and already memorized all of Rock's Torah portions. The rabbi welcomes the family to join Charlotte on stage, and Rock, clearly realizing that their mother did this less to save face and more to save them from feeling pressured, joins the family and we get a beautiful tableau of the Goldenblatt family, together at last.
Carrie Starts Her Life Anew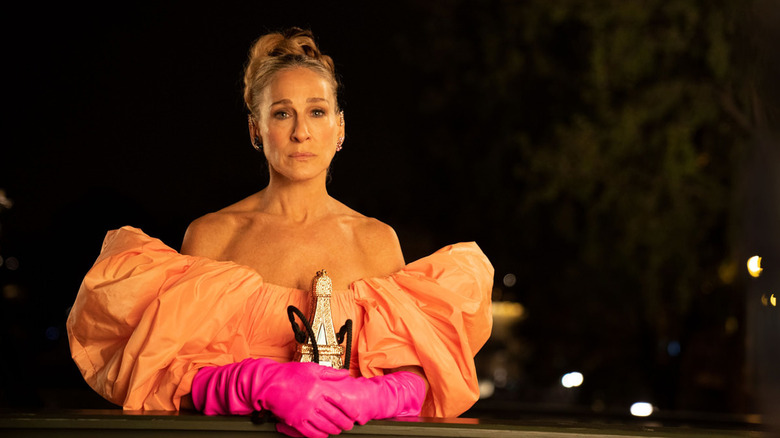 HBO Max
After losing her husband, needing hip surgery, witnessing her best friend start an affair with her boss, go on some lackluster dates, turn into that "old lady" neighbor who tells twentysomethings to keep it down, and fear that the spirit of her dead husband was trying to communicate through a lamp, Carrie has had a hell of a season. After meeting with Big's brother about where his final resting place should be, she has a dream where she realizes that Big's ashes should be scattered on their bridge in Paris. The "Carrie, you're the one" bridge that she ends up on during the "Sex and the City" finale. After scattering his ashes (while wearing an unbelievably gorgeous dress) she texts Samantha to inform her that she's in Paris and invites her to a cocktail. We don't get to see Samantha, but we're led to believe that after all this time, there's a love in their friendship that will never die.
With Che off to Los Angeles, Carrie is now out of a job, until the show's producer, Franklyn (Ivan Hernandez), suggests that Carrie have her own relationship advice show ... called "Sex and the City." It's not unheard of for a newspaper column to cross mediums, and in a super corny way, it feels like the natural evolution for Carrie's narrations and writing. After she records her first successful episode (with callers because apparently, no one on this show knows what a podcast actually is), she shares an elevator with Franklyn, and the two ravish each other. 
Our girl is finally ready to move forward, and the stage is perfectly set for a second season.