Who's Who In The Offer: A Guide To The Making-Of The Godfather Series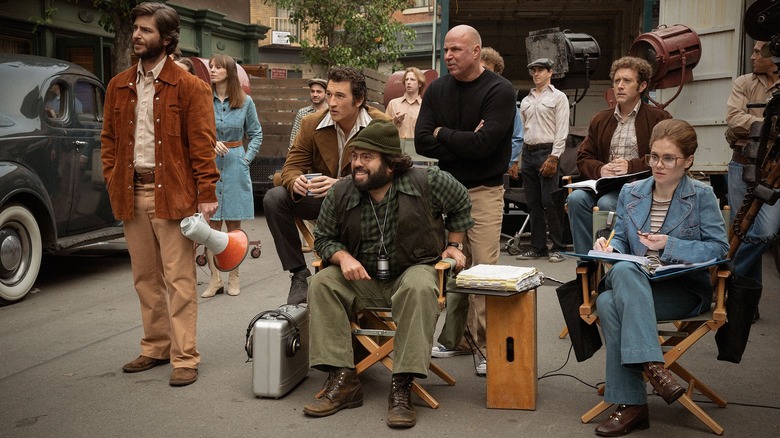 Paramount
"The Offer," the new streaming series about the making of "The Godfather" coming to Paramount+, has one seriously stacked cast. Dozens of highly talented performers will be bringing the 1970s back to life, portraying historical figures ranging from famed actor Marlon Brando to mob boss Joe Colombo. The 10-episode limited series will follow Albert S. Ruddy (Miles Teller), one of the producers of "The Godfather" who had to fight to get the movie made, going up against studios who weren't interested in gangster films, Italian-Americans who were tired of being depicted in stereotypical ways, and even the mafia itself. 
While many viewers may know "The Godfather" itself and some of the big Hollywood names attached, they might not know some of the other major players behind the scenes. To help get everyone up to speed before the series premieres on April 28, 2022, I've put together this handy dandy guide to the main figures and who's portraying them in "The Offer." 
Miles Teller as Albert S. Ruddy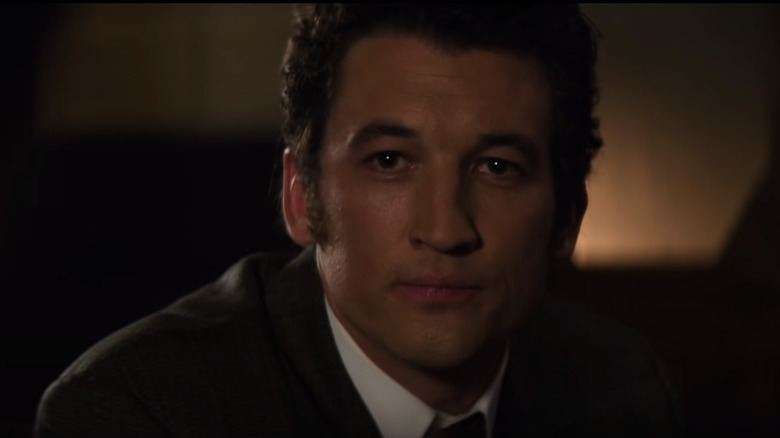 Paramount
Albert S. Ruddy was born in Montreal and raised in New York, where he eventually studied chemical engineering before moving to California to study architecture. While in California he met Jack Warner (of Warner Bros.), who offered him a job at the studio as an executive. He took on several different jobs before Marlon Brando, Sr. hired him to produce the film "Wild Seed." Ruddy soon created the World War II sitcom "Hogan's Heroes," which did well enough to get him jobs on two more films. In 1972, he produced "The Godfather," winning an Oscar for Best Picture. Ruddy's relationship with Brando, Sr. was instrumental in getting his son to sign on to play the gangster patriarch Don Corleone. After the success of "The Godfather," Ruddy went on to produce a number of popular and critical favorites, including "The Cannonball Run," "The Longest Yard," and "Million Dollar Baby." He also created the television series "Walker, Texas Ranger," which changed the career of action star Chuck Norris forever. Ruddy is still producing movies and TV shows, and is an executive producer on "The Offer."
Ruddy will be portrayed by Miles Teller, stepping in for Armie Hammer, who was originally cast in the role but was cut due to sexual assault allegations. Teller first garnered major attention for his portrayal of young jazz drummer Andrew in "Whiplash," though he fumbled a bit through several big-budget films like "Fantastic Four" and the "Divergent" series. With the right role, Teller is fantastic, and the grounded but high-energy world of movie producing seems perfect for his talents. Teller will also be appearing in the upcoming "Top Gun: Maverick," as the son of Maverick's late friend, Goose. 
Matthew Goode as Robert Evans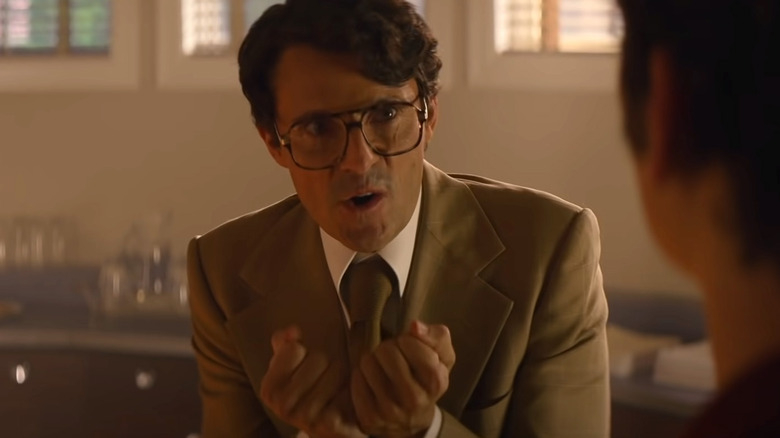 Paramount
Robert Evans was one of the most fascinating producers to ever live, even starring in his own animated TV series, "Kid Notorious." He rose to become the head of Paramount Pictures in the 1960s after a brief attempt at being an actor. He had almost no experience running a studio but somehow managed to turn Paramount around, saving the flagging studio and helping to create a new era in Hollywood. Evans was responsible for some of the biggest films of the era, including "Rosemary's Baby," "The Conversation," "Chinatown," and of course, "The Godfather." Over the years, Evans had his own brushes with the law, including a conviction for cocaine trafficking in 1980 and alleged involvement of the murder of producer Roy Radin in 1983. He was also married a whopping seven times before his death in 2019 at the age of 89.
Evans will be portrayed by "Downton Abbey" star Matthew Goode, who absolutely gives it his all in the trailer for "The Offer." The English actor first garnered attention in the romantic comedy "Chasing Liberty," but has since gone on to have major roles in a number of prestige dramas, including "The Crown" and "The Imitation Game." He's also in Park Chan-Wook's phenomenal psychological thriller "Stoker," playing Mia Wasikowska's long-lost uncle who comes back under mysterious circumstances. I can't wait to see what Goode does with such a meaty role, because he's chewing all of the scenery in every shot of that trailer. 
Juno Temple as Bettye McCartt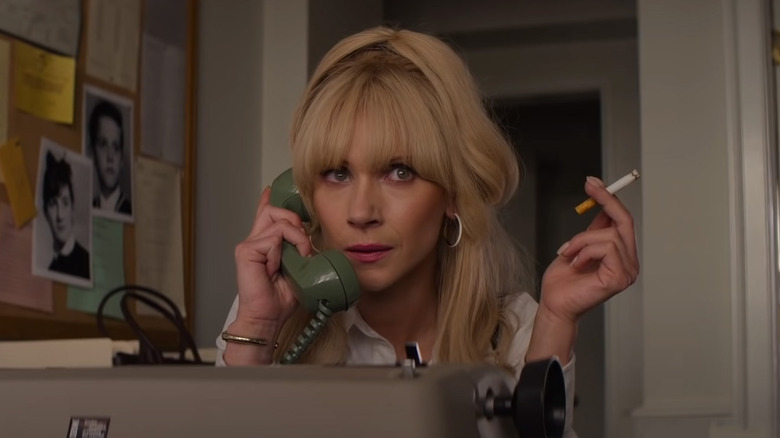 Paramount
Bettye McCartt was a publicist for 20th Century Fox who worked as an assistant for Ruddy on "The Godfather" and "The Longest Yard." She would later become an agent and manager, with clients including Tom Selleck, Billy Dee Williams, Maureen O'Hara, George Clooney, and more. McCartt was a major help to Ruddy, even helping him evade the mafia by switching cars with him when he was being tailed. One night, her car windows were shot out with a note left behind that said "Shut down the movie or else." It takes some serious guts to stand up to the mob, and doing it on behalf of your boss is even scarier. On the other side of things, there is another tale about McCartt being given a diamond watch from Lenny Montana, a mafia enforcer who was hired by the Colombo crime family to infiltrate the set and ended up being cast in a role by Coppola. McCartt died in 2013 at the age of 81. 
McCartt will be portrayed by Juno Temple, who performed in a number of smaller indie films like "Killer Joe" and "Unsane" but recently became a household name when she starred as Keeley on the AppleTV series "Ted Lasso." Temple was nominated for an Emmy for her performance in 2021. 
Lou Ferrigno as Lenny Montana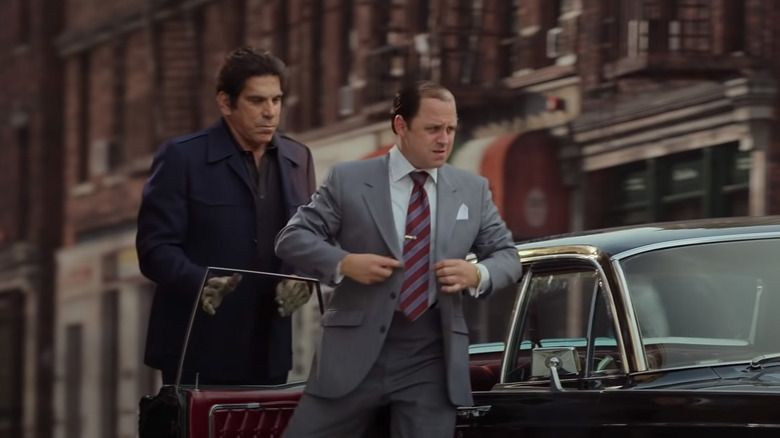 Paramount
Lenny Montana (birth name: Leonardo Pasaforo) was a former professional wrestler who worked as hired muscle for the mob. He was hired by one of the young dons visiting the set of "The Godfather," and instead of intimidating director Francis Ford Coppola, the massive man impressed him. Coppola hired Montana to play Don Corleone's henchman Luca Brasi. Montana became a fixture on the set, telling the cast and crew various stories about his many misdemeanors, including arson. After McCartt broke her cheap watch on set, Montana noticed and asked what kind of watch she wanted. She joked about wanting an antique diamond watch and Montana brought her one a week later, with the warning: "The boys sent you this, but don't wear it in Florida." Montana was both the real deal and portraying a fictional criminal, and was a truly interesting figure. He died in 1992 at the age of 66.
Montana will be portrayed by Lou Ferrigno, and who better to play this absolute hulk of a man than the guy who brought "The Incredible Hulk" to life for the first time? Ferrigno's career began in bodybuilding and fitness training before he was cast as the Hulk in "The Incredible Hulk" television series in 1977. Ferrigno has appeared in numerous shows and films in the time since, sometimes playing himself like when he beat up Jason Segel in "I Love You Man." Not only do Ferrigno and Montana share physiques, but they're both from Brooklyn, New York. 
Giovanni Ribisi as Joe Colombo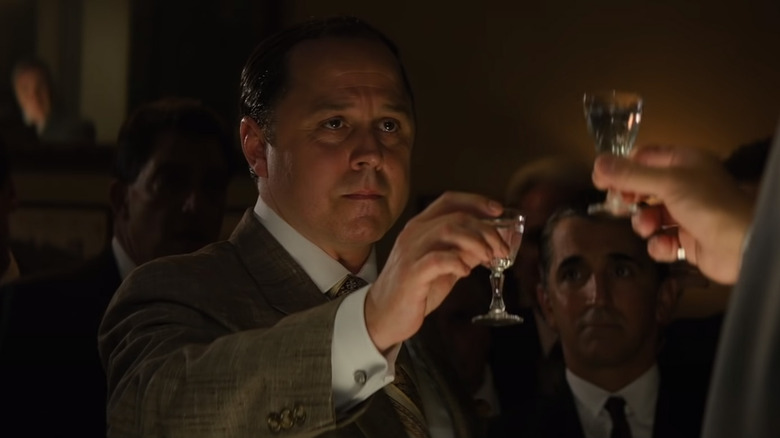 Paramount
Joseph "Joe" Colombo was the head of the Colombo crime family, one of the Five Families that made up the mafia in New York City. He was extremely outspoken about Italian-American rights and was vehement that "The Godfather" not be made. He created the Italian-American Civil Rights League, which protested the film at every turn for its depiction of Italian-Americans. Ruddy sat down with Colombo and his men to work out an accord, agreeing not to use the words "mafia" or "La Cosa Nostra" in the film, and things seemed to be calming some. Unfortunately, peace never lasts long for gangsters, and while Coppola was filming the famous scene where Michael (Al Pacino) orders hits on his rivals, there was an assassination attempt on Colombo's life just a few blocks away. Colombo was headlining the United Day rally of his league when a hitman posing as press lowered his camera, pulled out a gun, and shot Colombo three times in the head. Somehow, Colombo survived but remained in a coma for seven years before dying. The hitman was killed on the scene. 
Colombo will be played by Giovanni Ribisi, a prolific performer who has been regularly starring in movies and television shows since he was a child in the 1980s. He garnered attention as Army Medic Wade in "Saving Private Ryan" and had recurring roles on "Friends" and "Dads" before starring as the lead in the con-man series "Sneaky Pete." Ribisi honestly looks transformed in the trailer, his usual squirrelly demeanor gone, replaced by the terrifying calm of a mob boss. Ribisi's next big gig is in all four of James Cameron's "Avatar" sequels. 
Burn Gorman as Charles Bluhdorn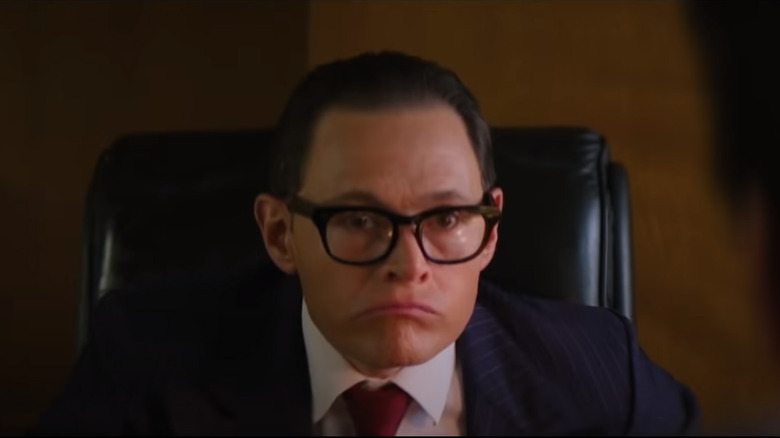 Paramount
Charles Bluhdorn was an American business tycoon and industrialist who founded Gulf+Western Industries, which owned Paramount. Bluhdorn was in cahoots with the mafia, and in 1970, he made a deal with a mobster named Michele Sindona that ended with Sindona's companies owning a major share of the Paramount lot. Sindona was a money-launderer and adviser to the Gambino crime family, and he was convicted in 1980 on 65 different counts, including fraud and perjury. Bluhdorn was involved with the production of "The Godfather" at every level, sometimes to Coppola and Ruddy's annoyance. By the mid-1970s, Gulf+Western would also acquire games company Sega and publisher Simon & Schuster. Bluhdorn was a business legend, both because and in spite of his shady dealings. 
Bluhdorn will be portrayed by Burn Gorman, best known for playing the kaiju scientist Herman Gottlieb in the "Pacific Rim" films. He's done his fair share of television as well, with recurring roles on "The Expanse" and "Jamestown." Gorman is great at looking really intense and kind of unhinged, so he's basically perfect for Bluhdorn. 
Dan Fogler as Francis Ford Coppola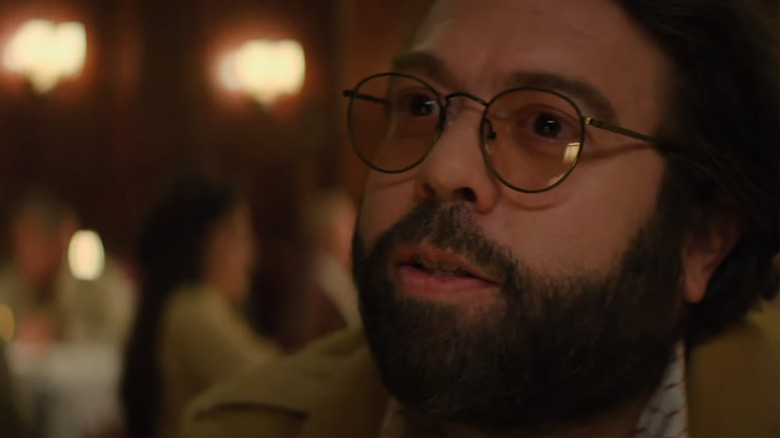 Paramount
Francis Ford Coppola is an Academy Award-winning director, producer, and screenwriter. He was an untested talent when he was hired to direct "The Godfather," and he notoriously clashed with Evans, barely avoiding being fired from the film. Coppola learned a few things from the mobsters on set, employing the tactic of getting rid of your enemies before they can hurt you by firing everyone who opposed him on set while he was off filming a scene with star Marlon Brando. That's pretty cold-blooded, but what are you going to do when you're making a movie as troubled as "The Godfather"? Coppola's career took off after "The Godfather," and he directed a number of incredible features including "Bram Stoker's Dracula," "Apocalypse Now," and "The Rainmaker."
Coppola will be portrayed by Dan Fogler, who started in comedies like "Fanboys" and "Balls of Fury" before seeing dramatic success as Luke on "The Walking Dead." Fogler mostly looks the part of young Coppola and has the range to do just about anything, so his portrayal should be one to watch. 
And Many, Many More...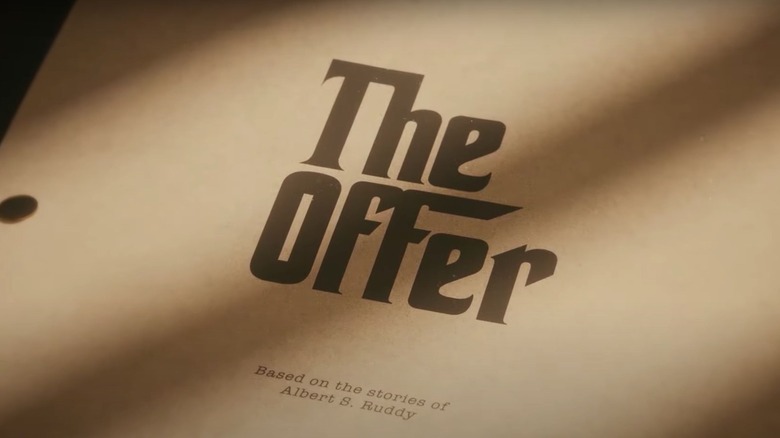 Paramount
This cast is huge. If I listed every actor who played a real person, we would be here all day. It is worth mentioning that Colin Hanks, son of America's favorite nice guy Tom Hanks, will be playing a fictional Gulf+Western executive, but otherwise just about everyone else is based in reality. In addition to everyone listed above, the cast also includes Justin Chambers as Marlon Brando, Patrick Gallo as Mario Puzo, Anthony Ippolito as Al Pacino, Meredith Garretson as Ali MacCraw, Josh Zuckerman as Peter Bart, Nora Arnezeder as Francoise Glazer, Anthony Skordi as Carlo Gambino, Paul McCrane as Jack Ballard, James Madio as Gino, Michael Rispoli as Tommy Lucchese, Jake Cannavale as Caesar, Stephanie Koenig as Andrea Eastman and Frank John Hughes as Frank Sinatra.

"The Offer" premieres exclusively on Paramount+ on April 28, 2022.