'Top Gun: Maverick' Casts Miles Teller As The Son Of Goose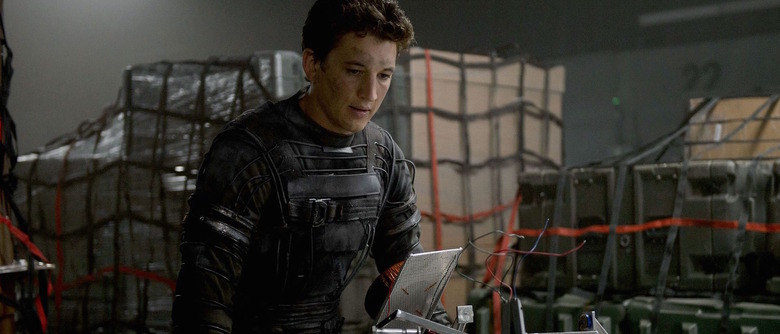 Last week, we learned that Top Gun: Maverick was looking to cast the son of a familiar face – the offspring of Nick "Goose" Bradshaw, who met a grisly end in 1986's Top Gun. Now, we know who will strap into the flight suit and take on the mantel of Son of Goose: Whiplash and Fantastic Four star Miles Teller.
Variety reports that Teller has signed on for the role, making this a reunion between him and director Joseph Kosinski. The Tron Legacy and Oblivion director had previously worked with Teller on the firefighter drama Only the Brave, which apparently gave him the edge over Nicholas Hoult and Glen Powell, who also numbered among the finalists for the part.
It remains to be seen how the Son of Goose will figure into the plot of Top Gun: Maverick, but it's easy to jump to a few conclusions. Goose 1.0 died in the arms of Tom Cruise's Pete "Maverick" Mitchell after an ejection gone terribly wrong, so maybe the older, wiser Maverick will be haunted by guilt and try to teach this kid a thing or two. Or maybe Goose 2.0 blames Maverick for his father's death. In either case, these two are probably going to head into the Danger Zone together and feel the need for speed and maybe even engage in some homoerotic volleyball. This is a Top Gun movie, after all.
When he's in the right part, Teller is an incredible actor. His work in Whiplash and The Spectacular Now revealed him to be a performer with an uncanny naturalism and an intensity that can singe your hair from the screen. However, he's fared less well in blockbuster roles – his disinterest in the Divergent series was evident in every frame of those movies and the less said about his take on Reed Richards in Fantastic Four, the better. War Dogs, which straddles the line between small film and blockbuster, saw him a little lost, buried beneath the bluster of his co-star, Jonah Hill.
But maybe this is the role that finally transforms Teller into a bonafide star (even if he'll still spend the movie stuck under the long shadow of the ageless, undying Tom Cruise). After all, he certainly has the chops to play the determined son of a dead fighter pilot and he looks just enough like actor Anthony Edwards to sell himself as his child. So let's see what happens.
Top Gun: Maverick will land in theaters on July 12, 2019.