Superhero Bits: Booster Gold In The Arrowverse, Loki Season 2 Cast Updates & More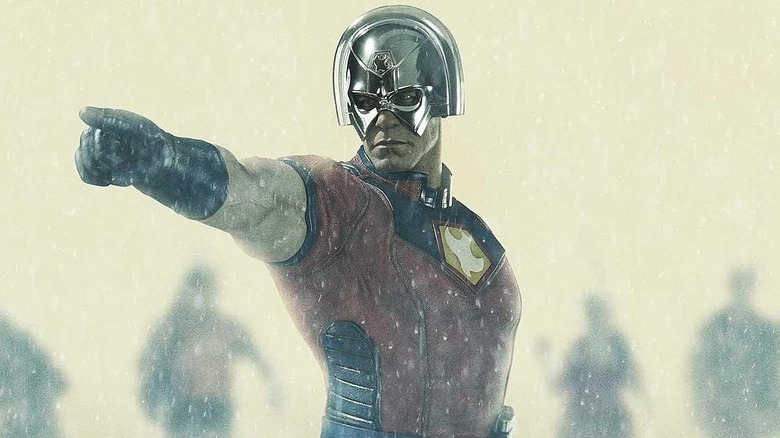 Prime 1 Studio
(Superhero Bits is a collection of stories, updates, and videos about anything and everything inspired by the comics of Marvel, DC, and more. For comic book movies, TV shows, merchandise, events, and whatever catches our eye, this is the place to find anything that falls through the cracks.)
In this edition of Superhero Bits:
Booster Gold might be coming to the Arrowverse.
A key character is returning for "Loki" season 2.
More "Spider-Man: No Way Home" concept art.
Ezra Miller seems to cast doubt on Ben Affleck's Batman retirement.
Batwoman Season 3 "We're All Mad Here" Promo
Here's the official promo for the 12th episode of the third season of "Batwoman" on The CW. As far as I can tell, as of this writing, there is not an official synopsis for the episode available at the moment. But with only two episodes left this season, the network may be playing things a little close to the chest. Be sure to check out the promo for yourself.
Oscar Isaac Never Heard of Moon Knight Before Taking The Role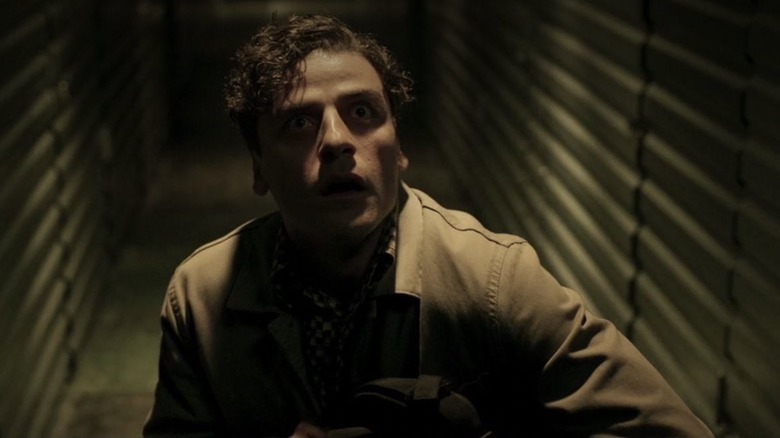 Disney+
Oscar Isaac recently sat down to speak with actor Jared Leto for the "Actors on Actors" series from Variety. Naturally, the subject of both "Moon Knight" and "Morbius" came up, since Isaac and Leto are starring in the respective projects. Isaac revealed that, despite being a comic book collector in his youth, he had not heard of the character until singing on for the Disney+ show.
"I'd never heard of Moon Knight before, and I collected comics when I was younger. I'd heard of Morbius, but I'd never heard of Moon Knight. I don't know how the process was for you because it's a feature film, we're a limited series."
It's doubtful Isaac is going to lose any street cred here. The man is one of our finest actors and it's tough to imagine anyone else better suited for the job. "Moon Knight" arrives on March 30, 2022, on Disney+.
Legends of Tomorrow Season 7 "Too Legit To Quit" Promo
Here's the official promo for the 12th episode of the seventh season of The CW's "Legends of Tomorrow." Similar to "Batwoman," there is no full lengthy synopsis floating around for the episode quite yet. But again, we are approaching the end of the season with just a couple of episodes left, so that could have something to do with it. The synopsis will surely surface within the next day or two. Be sure to check out the promo above.
Is Donald Faison Playing Booster Gold In the Arrowverse?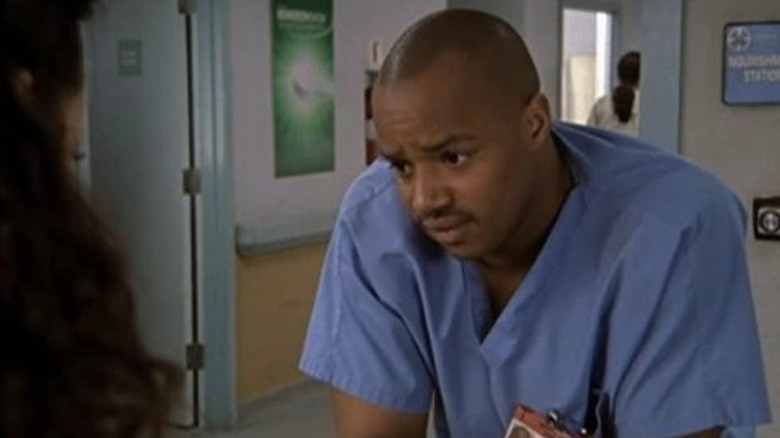 ABC
Speaking of "Legends of Tomorrow," we have some potentially exciting news for fans of the show — and the Arrowverse in general. According to Entertainment Weekly, former "Scrubs" star Donald Faison is set to appear in the show's upcoming season finale. As for who he's playing? While it has yet to be confirmed, it sure sounds like he is going to be playing none other than Booster Gold. The outlet released an official description of the character, which reads as follows:
"The Legends first encounter this character at a different phase of his career whose golden years are in the rearview mirror. He is good guy deep down; his ego is looking for a boost that only fame, fortune, and glory can provide. While he claims to have been recruited to work for a mysterious time organization, he wasn't offered much of a choice in the matter. As an unauthorized time traveler with high-profile aspirations, he developed a mischievous streak and cuts a few corners along the way to achieving his dreams. He knows all about the Legends of Tomorrow and finds them inspiring because they are the kind of heroes who started at the ground floor, as opposed to inheriting their powers from an alien planet, a spider bite, or wealthy parents. But the big question is whether his respect for the team is going to be able to help the Legends out of hot water or get them into hotter water!"
Connecting some dots there, it sounds like Booster Gold. It's also worth nothing that the producers hope this is not a one-off appearance and that the actor would appear in season 8, if it happens. Also of note, a "Booster Gold" movie has been in the works on and off for years now. Could TV finally bring him to life? We shall see when the episode airs on March 2, 2022.
Gugu Mbatha-Raw Returning for Loki Season 2
While it may not come as a surprise, actress Gugu Mbatha-Raw has confirmed that she is going to return for "Loki" season 2, having appeared as Judge Renslayer alongside Tom Hiddleston in the first run of episodes. As one might expect, she revealed next to nothing else in the above interview with "Good Morning America," but at the very least, we know she'll have a part to play. The timing is good as we recently learned that the second season is gearing up to film this summer. So we should expect to hear more in the coming weeks/months as production gets underway.
Spider-Man: No Way Home Sandman and Green Goblin Concept Art
Artist Christian Cordella has taken to Instagram to reveal some more concept art from "Spider-Man: No Way Home." In particular, we are getting a glimpse at some alternate looks for Willem Dafoe's Green Goblin and Thomas Haden Church's Sandman. Of note, this artwork has Sandman appearing in the flesh, but he only appeared in the movie in sand form. That's because Church never actually made it to set and only provided voiceover. One assumes this was probably cooked up before they knew they would have to go full CGI for Sandman. Be sure to check out that art above, as well as some different looks at Electro here.
Ezra Miller Seemingly Casts Doubt On Ben Affleck Being Done As Batman
Ezra Miller is reprising his role as Barry Allen in "The Flash" movie later this year alongside Ben Affleck as Batman, with the latter actor saying this is truly going to be his final go-around as the Caped Crusader. The above image was recently shared by Miller on his Instagram Stories. It sees the actor seemingly casting doubt on that notion, with Joker-style spray paint over Affleck's comments on the matter. Does Miller know something? Is this just wishful thinking? It's tough to say, especially since the actor has been a little unhinged on social media lately. We'll see what happens after the movie comes out.
Peacemaker Statue By Prime 1 Studio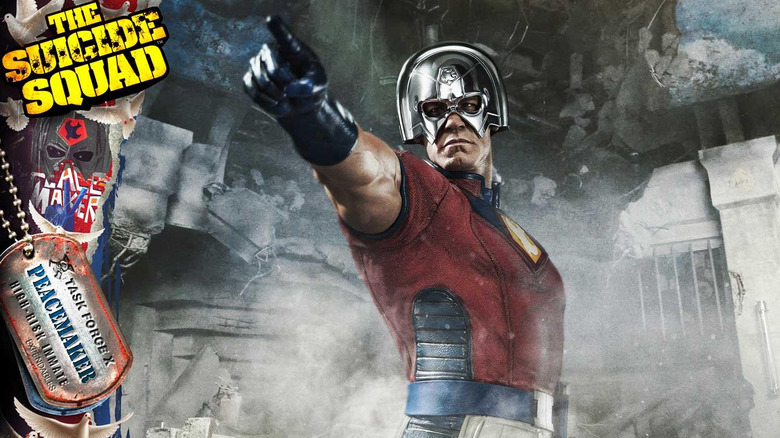 Prime 1 Studio
Lastly, today brings a new statue of John Cena's Peacemaker by the folks at Prime 1 Studio. Specifically, the 1/3 scale statue will depict the character from last summer's "The Suicide Squad" as opposed to the HBO Max "Peacemaker" series, which is currently rounding out its first season. (Though they are pretty much the same character in terms of the overall look.) In any event, as the above image indicates, it's an impressive recreation but one that doesn't come cheap, as it's priced at $1,399. It is expected to release in the first quarter of 2023. For those who wish to learn more, or possibly pre-order one, all of the info can be found by clicking here.