Greg Berlanti's 'Booster Gold' Movie Won't Be Part Of The DC Extended Universe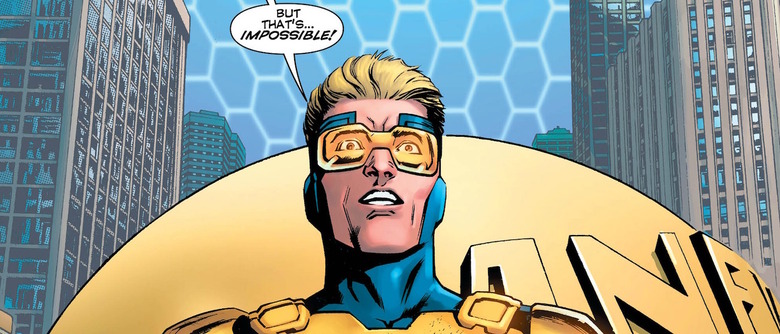 Warner Bros. brought together several of its marquee DC superheroes for this year's Batman v Superman: Dawn of Justice and will unite even more of them for next year's Justice League, including Batman, Superman, Wonder Woman, Aquaman, Cyborg, and The Flash. But one DC superhero who won't be reporting for duty? Booster Gold.
Although the character has his own film in development from Greg Berlanti (the powerhouse producer behind The CW's Arrowverse), Booster Gold will reportedly not be part of the DC Extended Universe. Instead, Berlanti explains, Booster Gold will be "a separate thing." 
Berlanti addressed the Booster Gold DC universe connection — or rather, lack thereof — in a chat with
. "As of right now we have no connective tissue to those worlds," he said. "It'd be a separate thing."
To be clear, the Booster Gold movie is still in the works, and Berlanti still plans (but has not yet been confirmed) to direct. Berlanti said the idea for the Booster Gold movie came from a Booster Gold TV project that he'd been developing with Andrew Kreisberg. When the small-screen project failed to pan out, they spoke with DC Films' Geoff Johns about making it a film instead. Berlanti and Kreisberg then started working on the story with Zack Stentz (the Thor and X-Men: First Class scribe who'd previously worked with them on episodes of The Flash).
It's just that Booster Gold won't belong to the same continuity that began with 2013's Man of Steel and continues with Batman v Superman and Suicide Squad plus the upcoming Justice League, Wonder Woman, The Flash, Aquaman, and Cyborg. It's kind of a surprising move, considering Warner Bros. has been working hard to build an interconnected DC universe to rival Disney's Marvel franchise.
The news might come as a disappointment for fans hoping Booster Gold would inject some much-needed levity into the grim and gritty DC universe. In the comics, the character is a disgraced athlete from the 25th century who steals a power suit and travels back in time to what we would consider the present. He rebrands himself as the superhero Booster Gold, drinking in the fame and glory that comes with his new persona. He's a funnier, more lighthearted character; to give you a sense of his appeal, Nathan Fillion has been a popular fantasy-cast pick for the role.
On the flip side, though, Booster Gold's disconnect from the rest of the DC universe could give Berlanti more freedom to develop the character as he sees fit. He won't have to worry about toning down Booster Gold's colorful, humorous personality to mesh with the gloomier vibe of DC's other films, or changing the story to fit with the other films' continuity. Besides, all that interconnectedness hasn't necessarily been an advantage for the existing DC universe films; remember when Batman v Superman had to grind to a screeching halt so Wonder Woman could watch teaser trailers for Cyborg, Aquaman, and The Flash?
While the DC cinematic universe has its fans (including yours truly), Berlanti's more upbeat and playful small-screen empire seems to be the DC franchise of choice for many fans. If the DC movies don't want to take a page out of Berlanti's Arrowverse, maybe letting Berlanti serve up a sunnier alternative in the form of an unrelated Booster Gold movie is the way to go.