Upload Season 2: Release Date, Cast, And More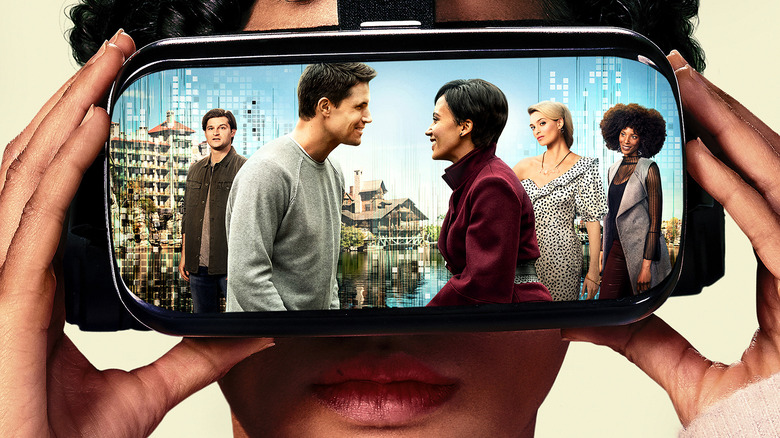 Amazon Studios
(Welcome to ...And More, our no-frills, zero B.S. guide to when and where you can watch upcoming movies and shows, and everything else you could possibly stand to know.)
A fatal self-driving car accident leads to a firsthand experience with an uploaded afterlife that's much more similar to life on Earth than anyone could've ever expected. It's not difficult to see why this elevator pitch for "Upload" has resulted in the latest hit series from creator Greg Daniels, the man behind other popular shows such as "The Office," "Parks and Recreation," and most recently "Space Force." Even with that unconfirmable afterlife part (which, let's be real, sounds perfectly plausible), everything about this show feels like a relevant and too-real metaphor for the world we live in today, almost like a more cynical and tech-savvy twist on "The Good Place."
Well over a year since the premiere of the first season, we've finally received more clarity about the Amazon series' upcoming sophomore season. Luckily, viewers still have plenty of time to either binge through the show for the very first time, revisit the story to prepare for the next batch of episodes, or simply read on and let us provide all the recap you could ever need. Here's everything you need to know about "Upload" season 2.
Upload Season 2 Release Date and Where You Can Watch It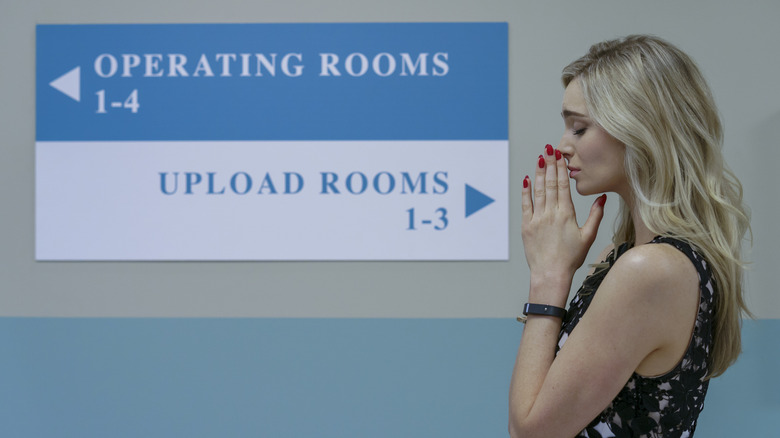 Amazon Studios
Season 1 of "Upload" premiered in May of 2020, dropping all 10 episodes on Amazon Prime Video at once and earning a renewal for the second season a mere week later. As Amazon's Jennifer Salke said in a statement at the time:
"In 'Upload,' Greg Daniels delivered a smart, cinematic comedy crackling with intrigue and it has clearly delighted our customers who have spent a lot of time in Lakeview this past week. We know our global fans want to see the next chapter with Nathan and Nora so we are greenlighting Season Two and are excited that Greg's passion project has found such a devoted audience."
Earlier in January of this year, Amazon announced the premiere date for season 2. Fans can finally look forward to more irreverent explorations into life after death on March 11, 2022 for subscribers to Amazon Prime Video.
What is Upload?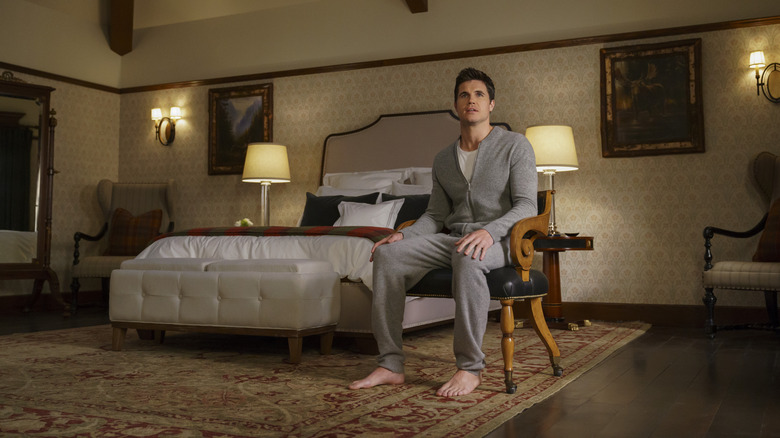 Amazon Studios
Set in the near future, "Upload" takes place in a world where people can choose to "upload" themselves in to their own personal, virtual afterlife. App designer Nathan Brown suffers a fatal self-driving car accident (which is not entirely in the realm of science-fiction, if you pay attention to the news!), resulting in the hasty choice to upload his consciousness to his on-again/off-again girlfriend's expensive afterlife "Lakeview," where he soon finds out that not everything is as perfect as it first appears. The action is split between Nathan in the afterlife and the real-world continuing on after his death, where he watches his own funeral, realizes that one determined family member is doggedly investigating the circumstances surrounding his accident, and continues to be disheartened by the inequitable (virtual) reality of Lakeview.
At the end of season 1, Nathan finally discovers the shady business behind his death, but is interrupted by the appearance of his girlfriend who has uploaded herself into Lakeview and the wider conspiracy that has followed him into the afterlife. The cliffhanger ending left fans anticipating the next stage of this story, and luckily only a few months remain until viewers will be able to follow along for more.
Upload Season 2 Showrunner, Crew, and More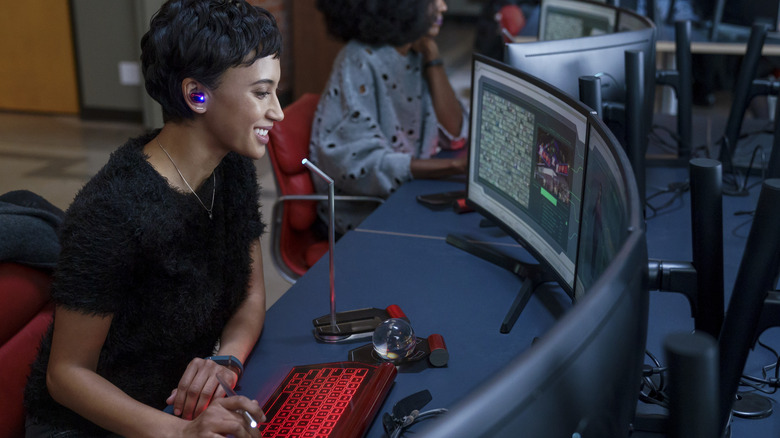 Amazon Studios
In addition to creating the series, Greg Daniels also served as executive producer, writer, and director on several episodes of the first season. Other directors included Jonathan van Tulleken, Kacie Anning, David Rogers, Jeffrey Blitz, and Daina Reid and a writers room that featured names such as Mary Gulino, Aasia Lashay Bullock, Mike Lawrence, Shepard Boucher, Owen Daniels, Alex Sherman, and Alyssa Lane in addition to Greg Daniels. No official announcement has yet been made about whether any (or all!) will be back to steer episodes throughout season 2, as well.
Upload Season 2 Cast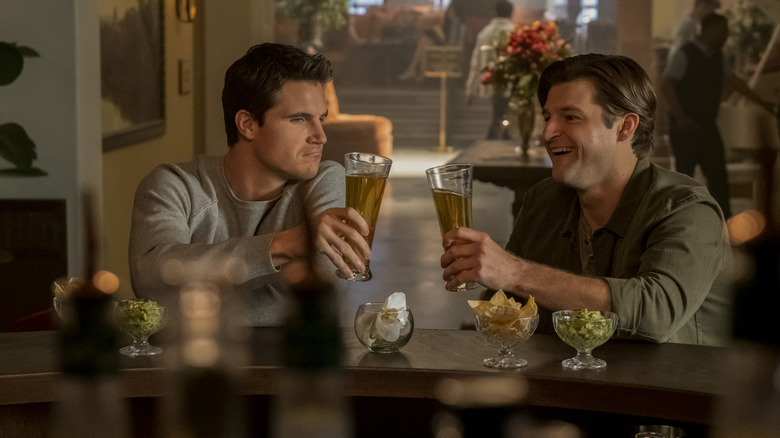 Amazon Studios
"Upload" stars Robbie Amell as Nathan Brown, the lead of the series and the recently deceased app creator who gets a firsthand look at the afterlife of the story. He navigates this new virtual world along with Andy Allo, who plays Nathan's "handler" and eventual love interest Nora Antony. Allegra Edwards is Ingrid Kannerman, Nathan's still-living girlfriend. The rest of the cast includes Zainab Johnson as Aleesha, and Kevin Bigley as Luke, all of whom will be returning for the second season alongside new cast members Paulo Costanzo and Mackenzie Cardwell.
Upload Season 1 Recap Video and Synopsis
In Upload Season Two, Nathan is at a crossroads in his (after) life... his ex-girlfriend Ingrid has unexpectedly arrived to Lakeview hoping to strengthen their relationship, but his heart still secretly yearns for his customer service angel Nora. Meanwhile Nora is off the grid and involved with the anti-tech rebel group "The Ludds." Season Two is packed with new near-future concepts, including Lakeview's newest in-app digital baby program called, "prototykes," and other satirical glimpses of the technological advances and headaches to come.