Sideshow's Avengers Assemble Thanos Statue Throws Down The Gauntlet [Exclusive]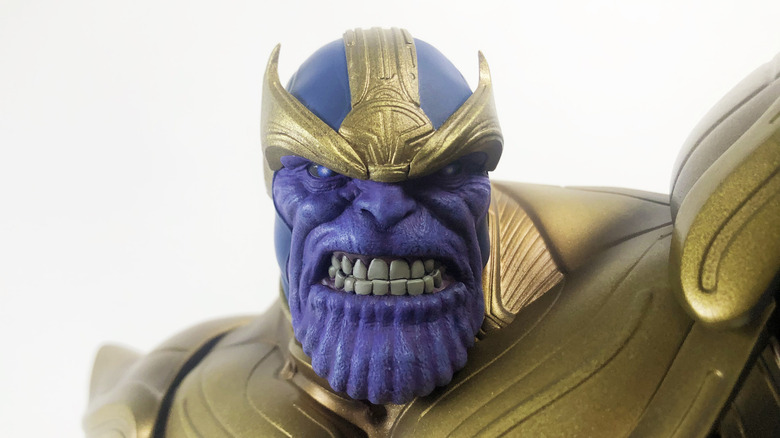 Max Evry
Our friends at Sideshow Collectibles have provided us with an opportunity to unbox a standout piece in their continuing Avengers Assemble line, and it's the mack daddy villain of the Marvel Universe: Thanos. At 23 inches tall, this polyresin Mad Titan is looking to collect all the Infinity Stones for his gauntlet, but not if you collect him first. 
At a retail price of $590 dollars (with payment plan options), this is the Modern Version of Thanos and is nearly sold out, so grab him before some other intrepid collector does. A Classic Version that more closely resembles his original appearance as drawn by George Perez in "The Infinity Gauntlet" comics is also available.
Enjoy our detailed unboxing below, and check out some more Sideshow goodness with our recent Batman, Cable, and Wolverine Premium Format Statue unboxings!
Art Box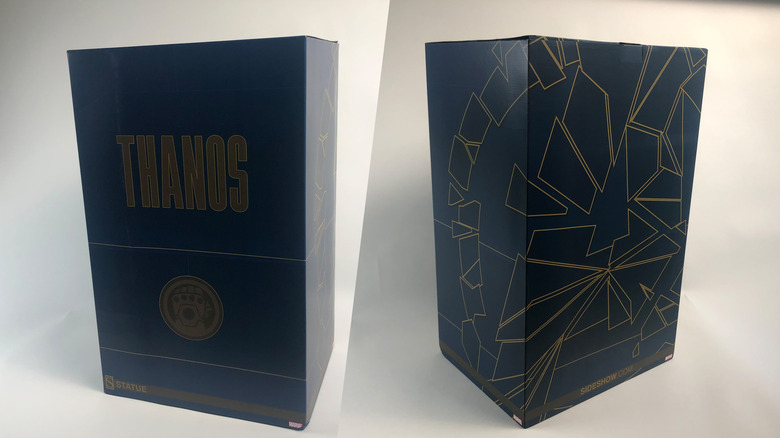 Max Evry
As with other statues in the Avengers Assemble line, the graphics on the box are simple and effective, giving little hint as to what is inside. It's almost as if you're pulling a secret file from deep within the archives of Avengers Headquarters.
Packaging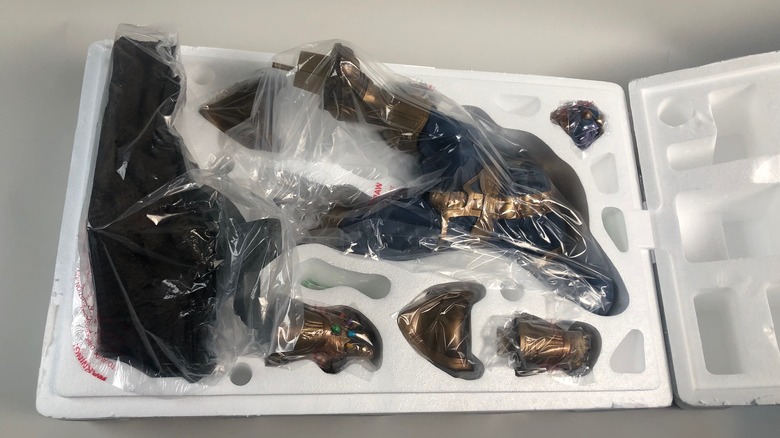 Max Evry
The packaging for most Sideshow items is typically second to none, and the same goes here. Every piece is packed securely into its own form-fitted compartment wrapped in an additional protective plastic bag. Since Thanos' right leg juts out, an extra bit of styrofoam padding is placed underneath to prevent breakage. 
Base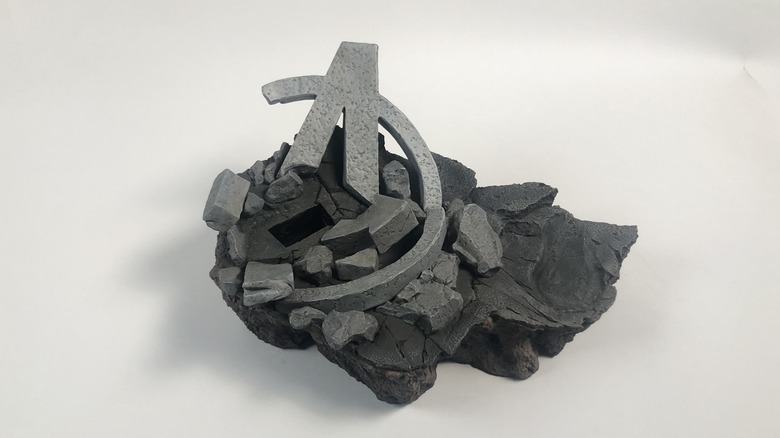 Max Evry
An outlier in the Avengers Assemble line, which all stand on similar sections of ground rubble, this one actually has the extra feature of the Avengers HQ "A" being trampled on by Thanos in a serious diva power move. As you can see, the detail and weathering on every aspect is fantastic, setting a tone that is both dynamic and distinctly comic book-y. 
Head Piece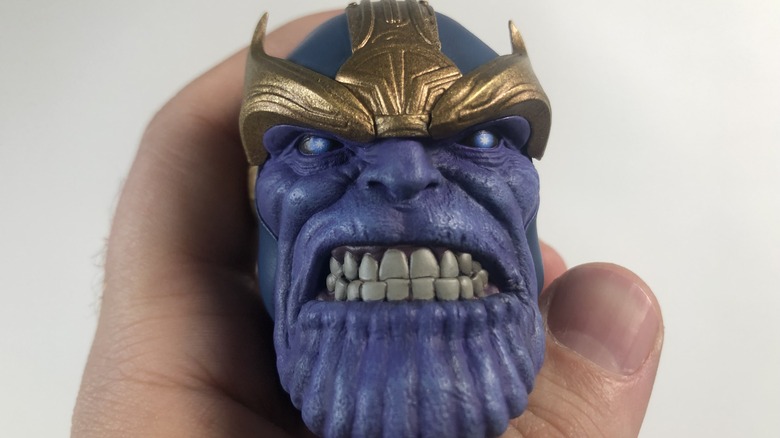 Max Evry
Before we put this whole thing together, let's just take a moment to look at how beautiful the detail on this head is. The sculpt gives you that signature Thanos snarl, while the paint job captures intricate subtlety including his starry eyes. Special attention must be given to the headpiece, which like the rest of the armor is given a sparkly reflective golden sheen. 
Figure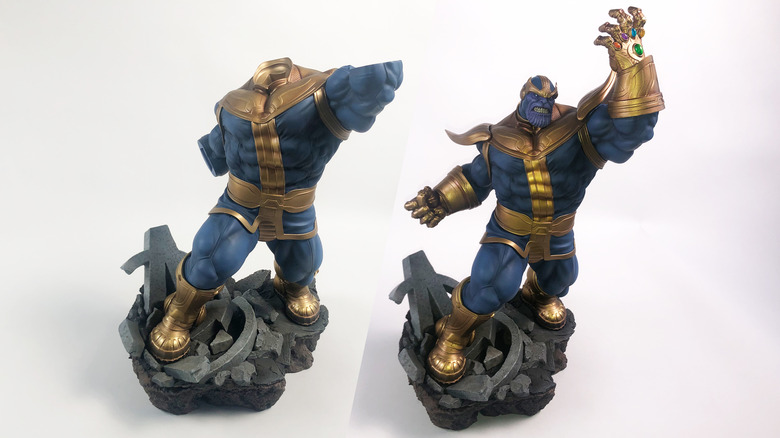 Max Evry
There he is, and as you can see, it's simply a matter of connecting the two gloves, two shoulder plates and head onto the already-placed body before the whole menacing package is complete. He doesn't resemble Josh Brolin's movie version of Thanos, hewing closer to his look in the 616 comics universe with the intent to create something that matches a kind of collective memory of the character.
To put the appearance of Thanos in context, here's what art director David Igo had to say about the intent of the Avengers Assemble line after it was first announced in 2016:
The Avengers Assemble Series was all about capturing a feeling. We tasked our artistic team with 'trying to find the classic' in each hero. To make the most iconic and nostalgic versions of some of our favorite characters. Not just in look, but in pose, in composition, in everything. This collection is about heroes defined!
Infinity Gauntlet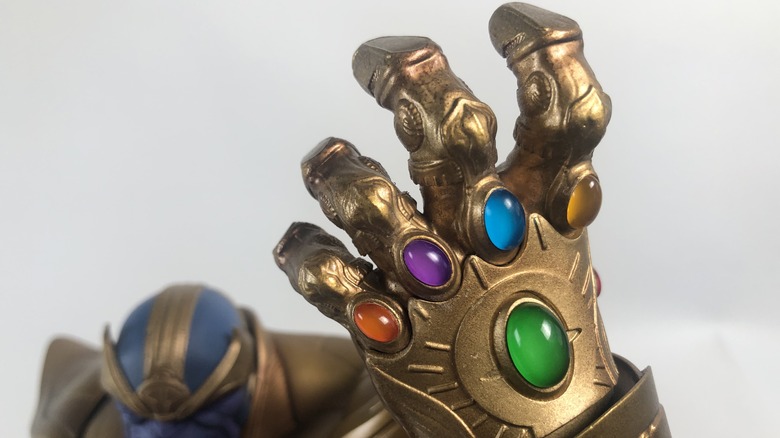 Max Evry
Behold, the great glove containing the six Infinity Gems taken from the Elders of the Universe so that Thanos could remove half of the population of all worlds. With a snap of his finger he can do just about anything he damn well pleases, and you can feel that power in this iconic pose. All the gems have a gorgeous translucency, and are fitted seamlessly into the sculpt. This is by far the coolest, most eye-catching aspect of a statue that has many fine attributes. 
Gloves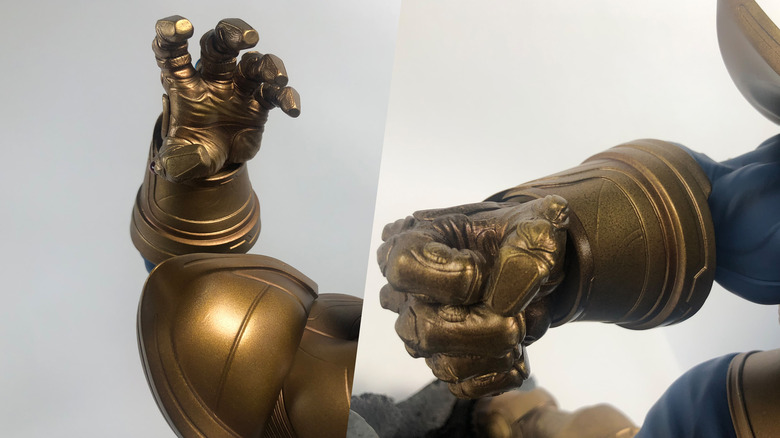 Max Evry
Here we see the reverse angle on the Gauntlet (Thanos is a lefty!), as well as his mighty right hand of nearly-equal doom. Again, the reflectivity of the paint job adds another dimension to this piece and separates it from the flatter yellow of the Classic Version also on offer from Sideshow. Depending on your lighting situation at home, this Modern golden take on the baddie might be the better bet, and is certainly closer to the recognizable film version. 
Boots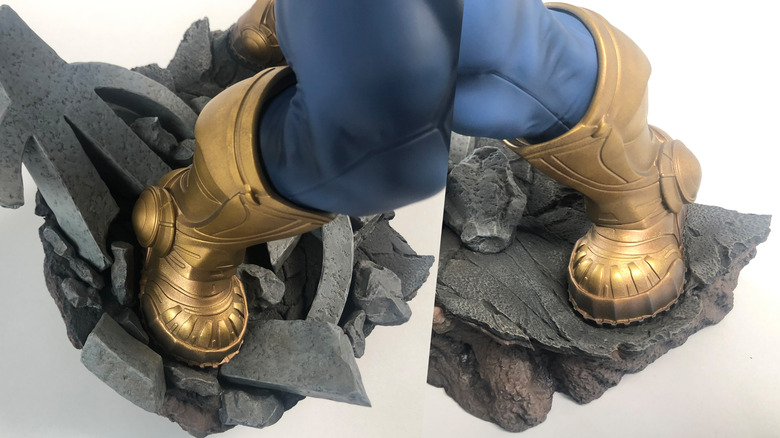 Max Evry
The same goes for the boots, which should be noted for the dynamic way in which they are posed on the base. It creates the appearance of motion, like Thanos has literally just crushed the "A" underfoot and is about to unleash holy hell on Earth's Mightiest Heroes. 
Torso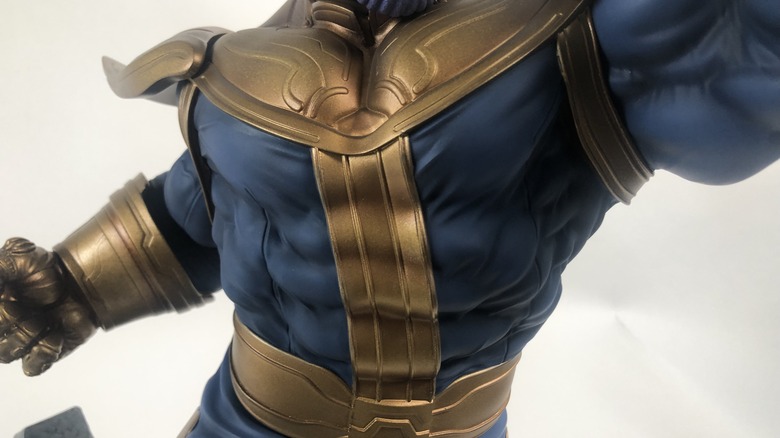 Max Evry
Look at that bod! In terms of the other statues in the Avengers Assemble series, the only one that comes close to this level of rip-i-tude is the Hulk piece (see below). Special kudos must be paid to sculptors Martin Canale and Igor Catto creating the impression of fabric tightening over that musculature.
Reverse View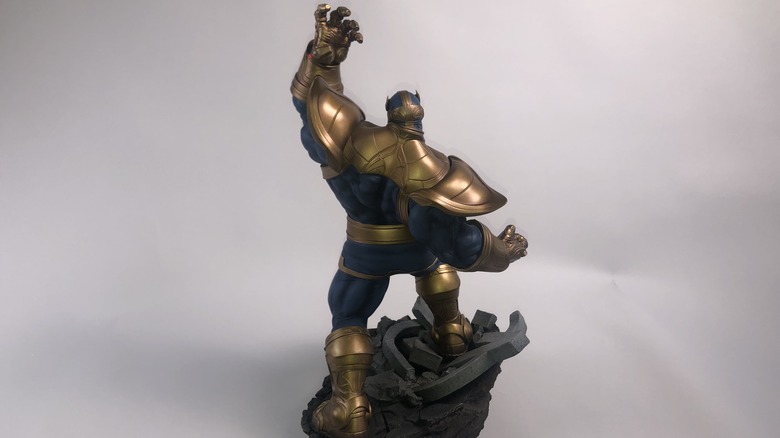 Max Evry
It always amazes me how much work goes in to making these statues look great from behind, even though almost no one will ever display them like this. That said, if you already have three or four Avengers in this line it would look pretty boss to pose them behind this statue with Thanos in the reverse position just like this.
Reverse Detail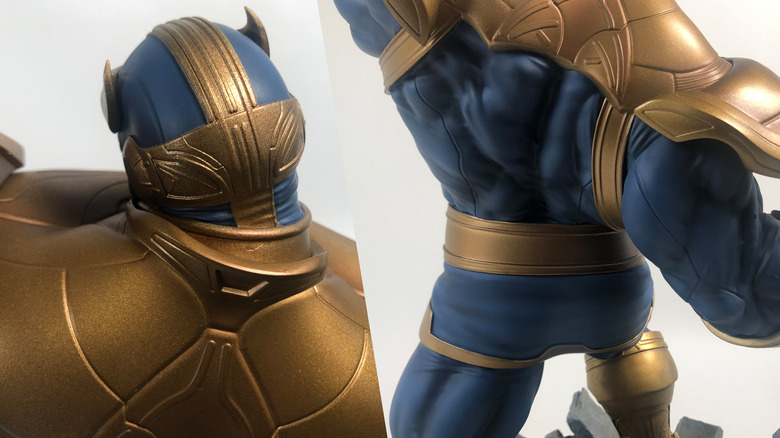 Max Evry
Again, Sideshow left no stone unturned (literally) when it came to capturing the ferocity and power of Thanos. Even the subtle folds in the neck here help sell the pose that makes him such a formidable adversary for the team.
Avengers Assembly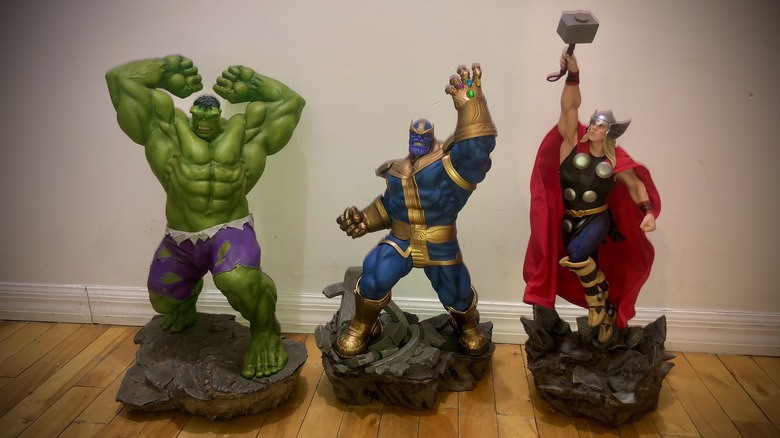 Max Evry
Since I own a couple other statues in Sideshow's Avengers Assemble line-up, I thought it would be fun to compare and contrast. As you can see, Thanos has neither the sheer bulk of Hulk nor does he reach the same height of the Thor piece (both of which are now sold out). In terms of how substantial the figure is, the Mad Titan is somewhere between these other two previous releases. Where he really shines, though, is in the base. The fact that he's stepping on the iconic "A" places the tableau of all these statues squarely at Avengers HQ, which ties them all together thematically and, as in "Avengers: Endgame," gives all the heroes a target villain for their boss battle. If you're at home assembling this Avengers line, it's hard to imagine it would feel complete without Thanos.
Alternate Head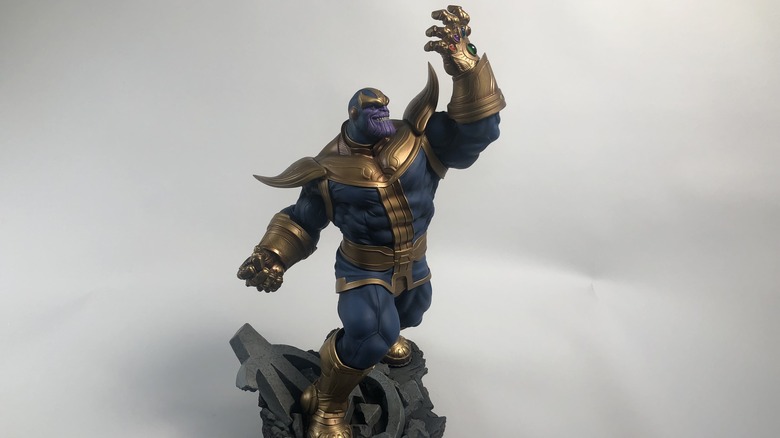 Max Evry
As if that weren't enough, Sideshow has given you an alternate portrait showing off Thanos' more gleeful side, not to mention some killer red eyes. When he's in warlord mode, The Mad Titan has been known to take a modicum of pleasure in the death and destruction he deals out. This switch-out head captures that sinister grimace with perfection, perhaps even better than in that first rough glimpse of him that we got at the end of 2012's "The Avengers" movie. 
You'd Be Mad Not to Get This Titan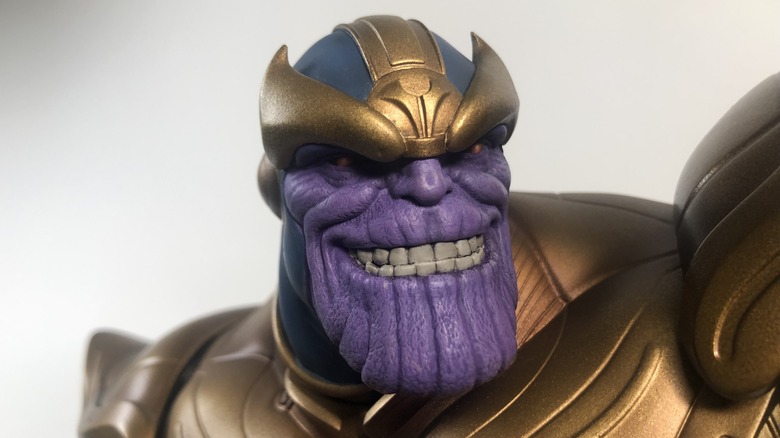 Max Evry
All-in-all, Sideshow's Avengers Assemble Thanos (Modern Version) is just about the perfect distillation of the character into statue form. Something in-between the comics and the movies, he will stand tall and defiant among your collection. And seeing as how he's almost sold out, now would be the time to grab him before it's too late.