Sideshow's Cable Premium Format Figure Brings Out The Big Guns [Exclusive]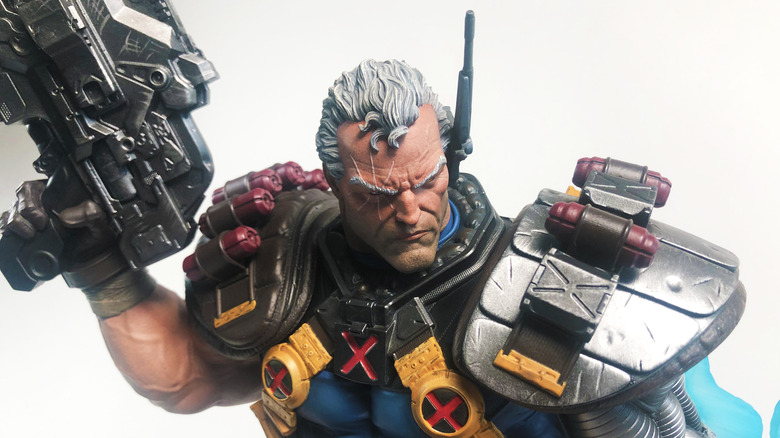 Max Evry
The folks at Sideshow sent along a copy of their super bulky, hyper-manly Cable Premium Format Figure depicting the battle-hardened X-Force leader. Coming in at a mighty 24.5-inches tall, this piece has future warrior Nathan Summers packing some serious heat with perhaps the biggest guns this side of a Naval destroyer. Retailing for $710 dollars with the option of an affordable payment plan, the statue packs so many incredible details and we want to get to all of them in the flash of a time travel vortex! 
This statue was featured along with several other premium Sideshow pieces in our recent Holiday Gift Guide. Be sure to check out the full unboxing of the company's Batman Premium Format Figure.
Art Box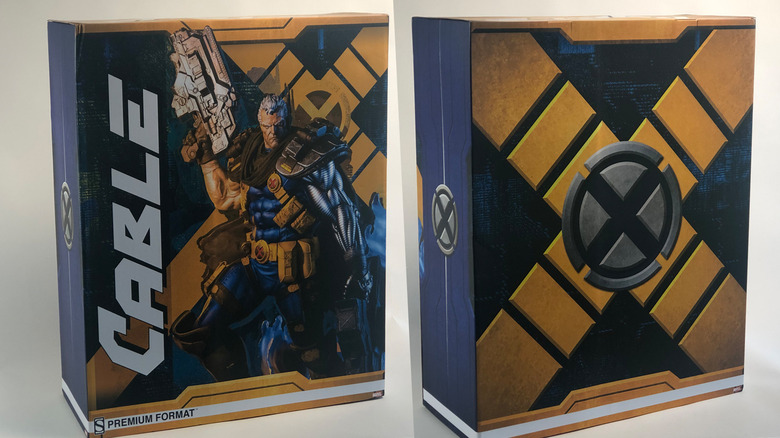 Max Evry
In the world of luxury collectibles Sideshow is the Lexus of the market, i.e. great quality but still in the realm of affordability. That quality extends to their art boxes, of which this one is no exception. It gives you a well-photographed view of the figure without fully revealing the base or the portal aspect, and brands it as part of their line of other equally-detailed X-Men figures. 
Packaging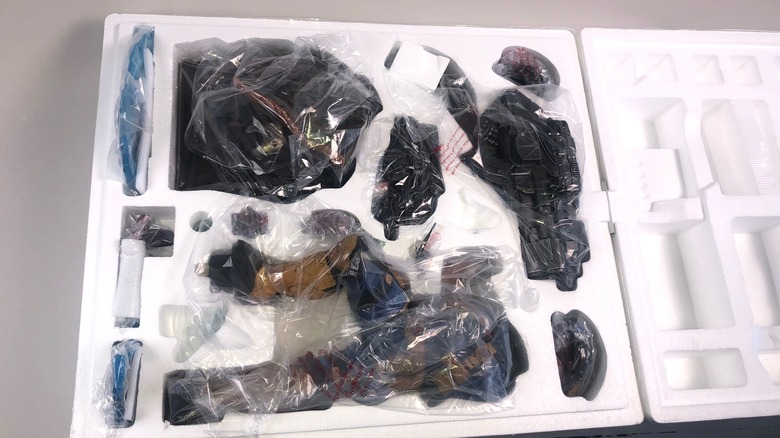 Max Evry
The styrofoam packaging is well laid out, especially for a piece that has so many different detachable components. Everything is individually wrapped in plastic and packed in carefully so as not to break in transit, with the portals and base getting special foam inserts to keep the more delicate parts from snapping. Definitely snap a photo like this one when you unpack your statue, as it can sometimes be a pain figuring out where everything goes if you're trying to repack it for moving or storage later. 
Separate Cape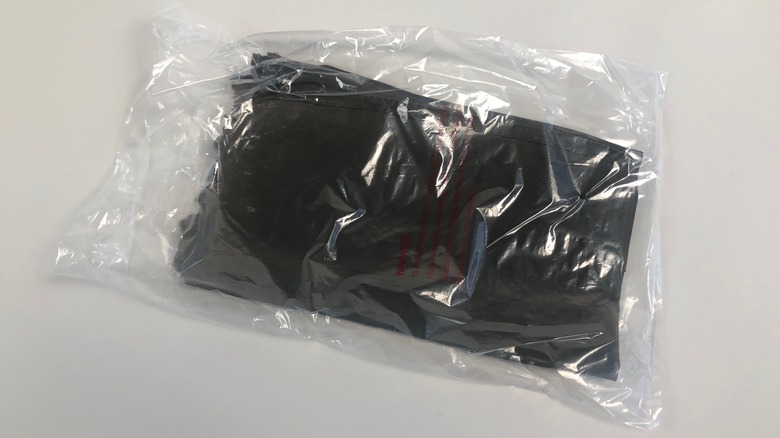 Max Evry
Even before you get to the big styrofoam case there's the cape, folded nicely and set right on top as soon as you open the box. This makes it very easy to set aside before pulling everything else out. 
Base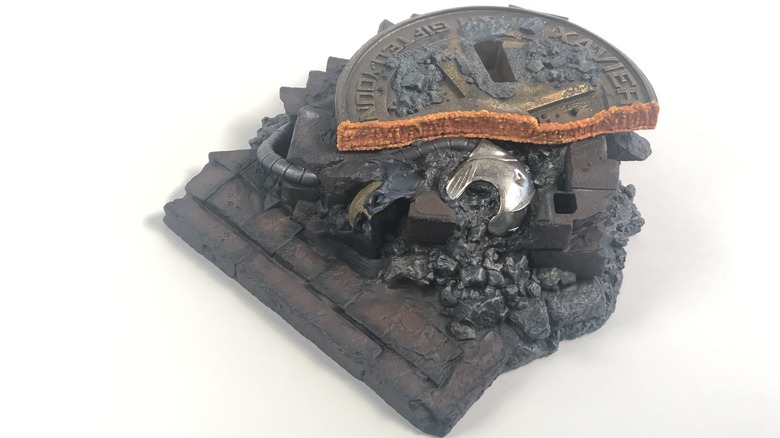 Max Evry
It's all about that base, 'bout that base. There's a lot of Marvel comics storytelling embedded in this base, which places Cable square in the middle of yet another destruction of Xavier's School for Gifted Youngsters. 
Base Details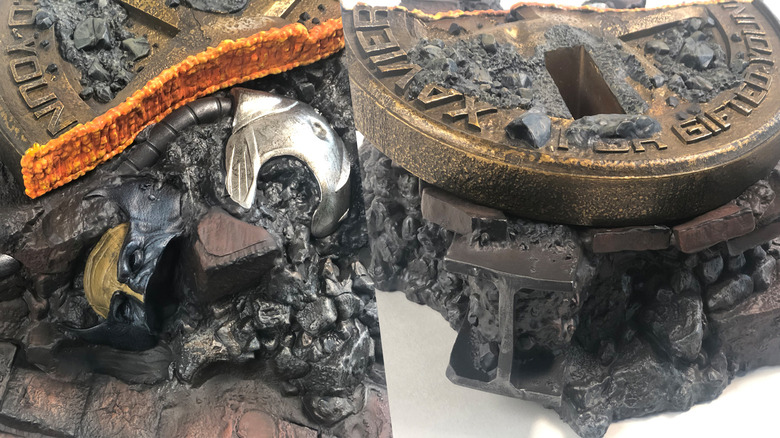 Max Evry
You can see among the detritus Wolverine's mask and Professor X's Cerebro helmet, along with the school signage that's been blasted away, possibly by a Sentinel. Steel girders and brickwork are mixed in with the rubble, taking this piece to the next level from the standard "chunk of rubble" base you see in a lot of statues. This is definitely for the fans. 
The Figure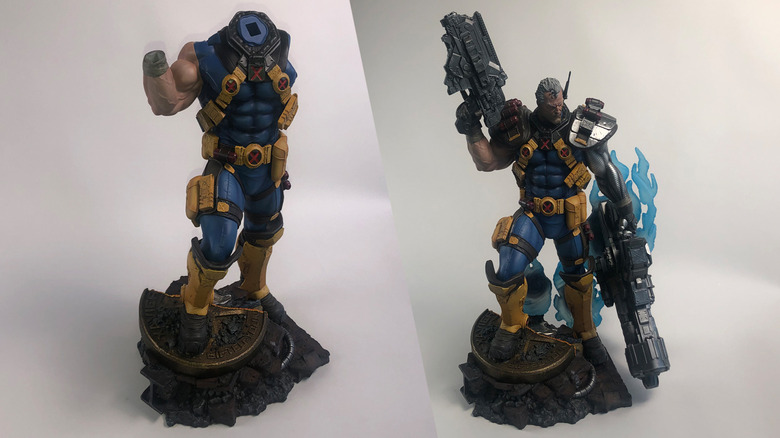 Max Evry
Once you place the figure on the base there are still many pieces to add on, including a whole arm holding a gun, another hand holding a gun, two should pads, a head with a detachable earpiece transmitter, and three time portals. 
Shoulder Pads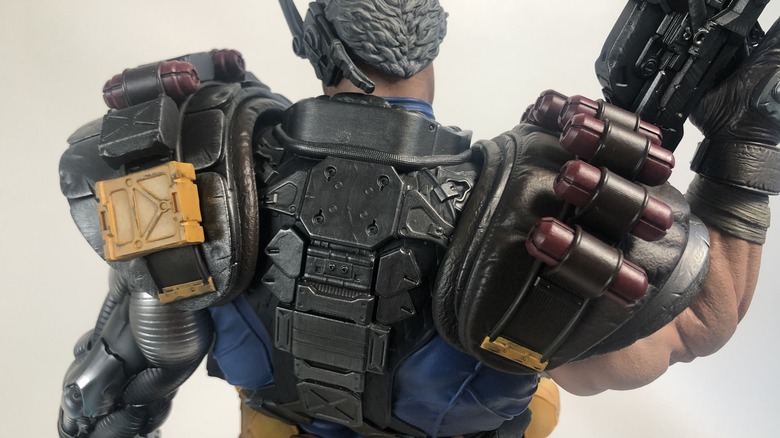 Max Evry
Those distinctive shoulder pads are so true to that '90s Rob Liefeld aesthetic, and really help sell the character in silhouette, which is the true test of a great design. The plating on the back is also very realistic with terrific sci-fi flavor. 
Full Reveal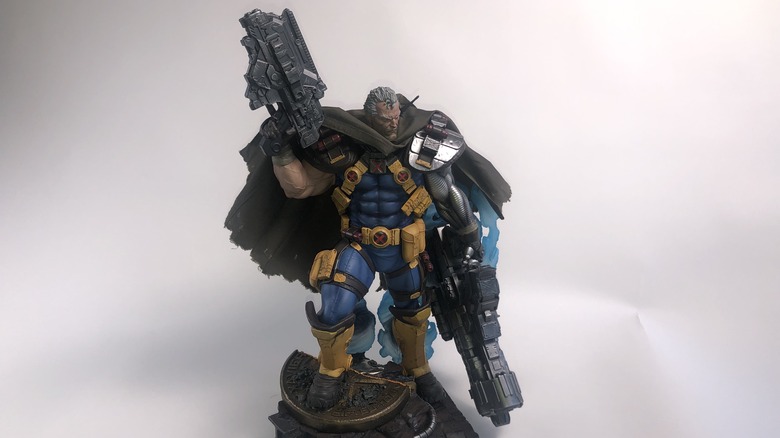 Max Evry
Adding the cape truly brings the whole piece together, giving Cable that lone post-apocalyptic warrior feel as well as dramatic flair.
Reverse Cape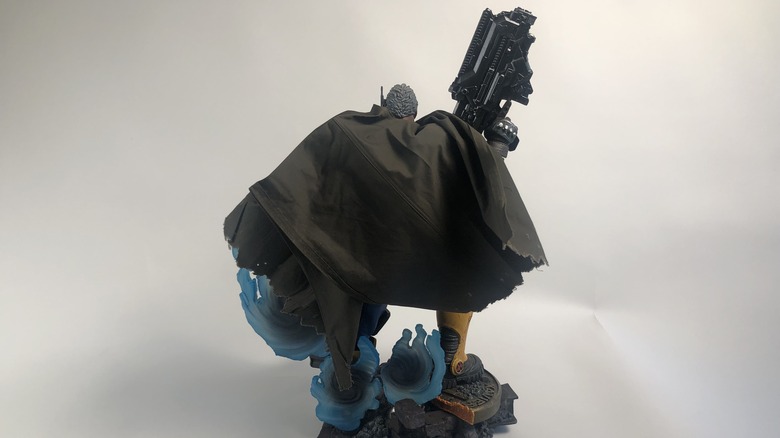 Max Evry
The removable fabric cape comes with distressed detailing as well as internal wiring that lets you pose it in any way you see fit, though here we pretty much just let it naturally fall over the statue and it still cuts an impressive look.
Cape Detail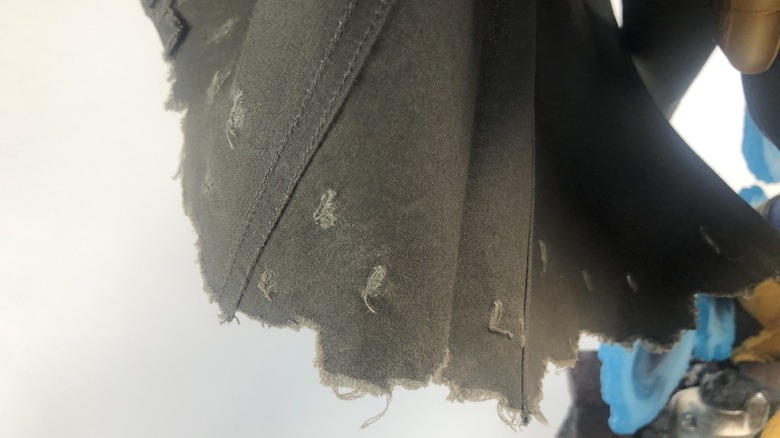 Max Evry
As you can see, the distressing is done carefully so that the cape has that ragged, wasteland feel. You can see that it is hand-stitched.
Face Detail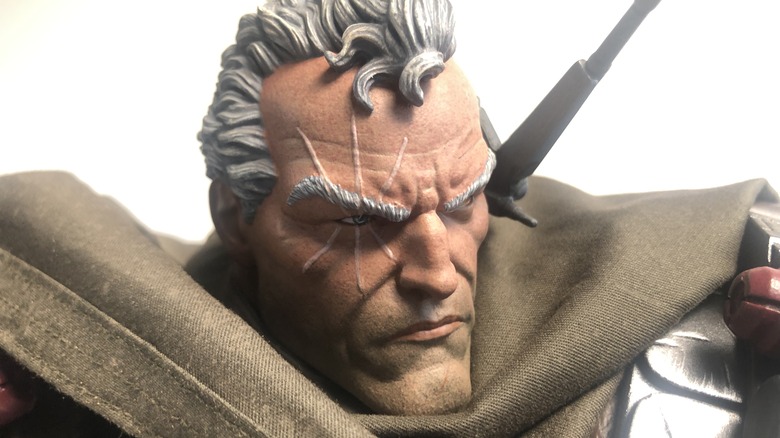 Max Evry
Getting up close and personal, you can see Nathan has a pretty mean profile, with great details like the signature scarring on both his eye and mouth, along with some stippling to give him a five o'clock shadow. Even the detailing on the eyebrows is intense. He may not look like Josh Brolin, but damn if he doesn't look like he stepped right out of the comic book pages. 
The Guns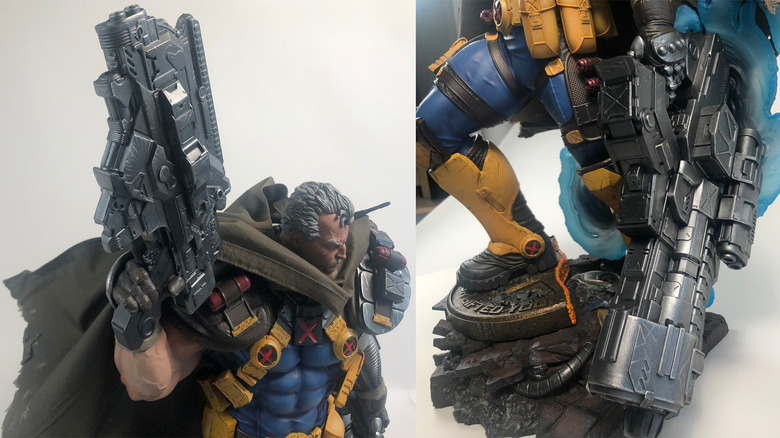 Max Evry
Then there are those guns. To be honest, there are some whole statues out there that are not as big as these guns, which have intricate detailing and plating. There's also scratches and weathering that come from a fair amount of use. 
Pouches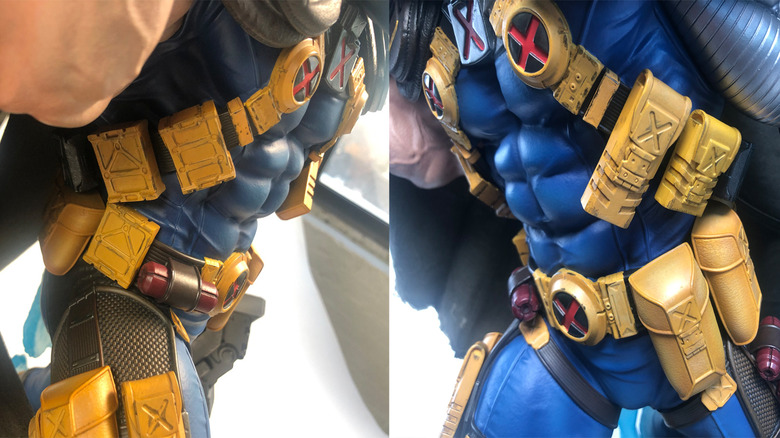 Max Evry
Those patented Liefeld pouches and grenade holsters are all present and accounted for, with plenty of insignias to let you know that Cable is part of the X-family. The guy is also CUT in a major way. 
Portals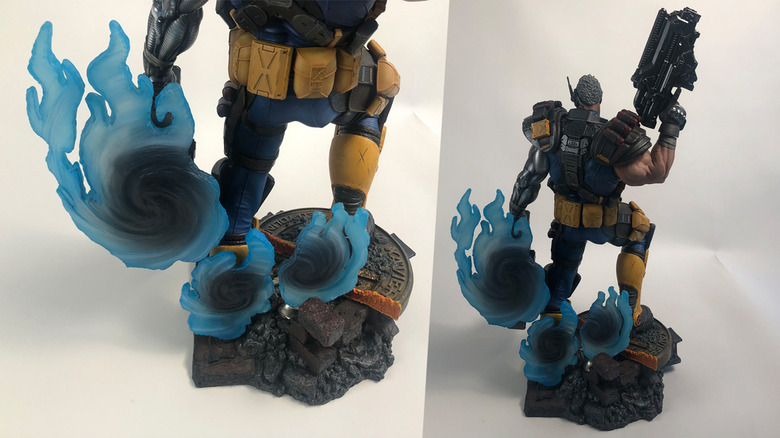 Max Evry
Cable is often a man out of time thanks to the time portals he travels through to get to our current timeframe where mutants still have a fighting chance. All three attach at optimum points built into the figure.
Portal Detail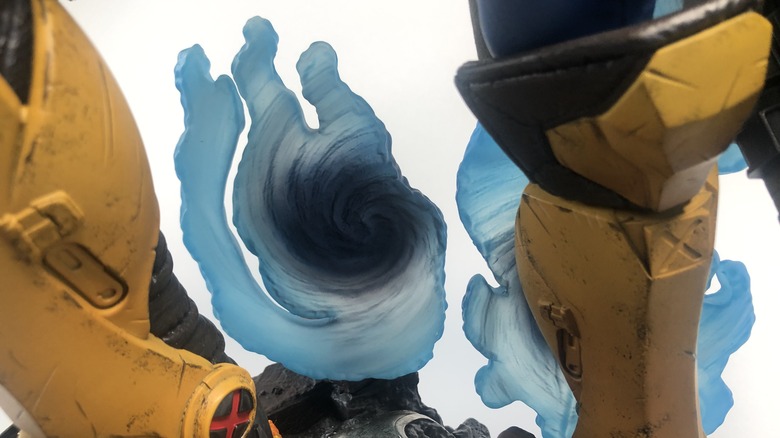 Max Evry
All three portals attach at optimum points built into the figure, and as you can see they have a blue, slightly translucent quality along with great paint detail to give them the vortex look. 
No Portals Look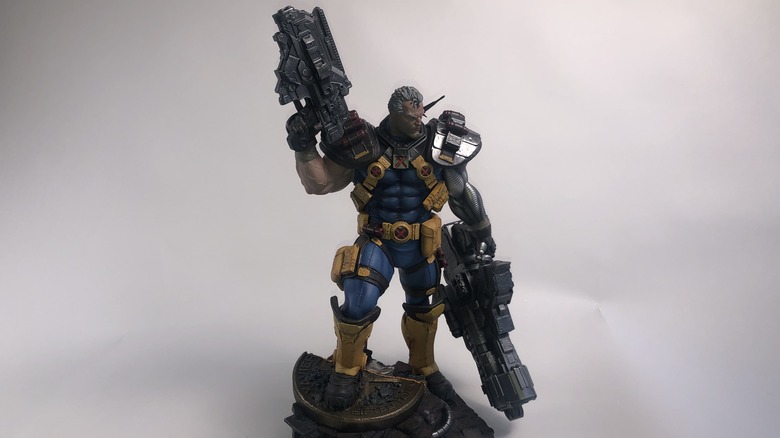 Max Evry
However, if you prefer a cleaner look to the statue, the portals are easily removable, as is the cape. There's still plenty to look at without all the added baroque detail!
Alternate Brick Placement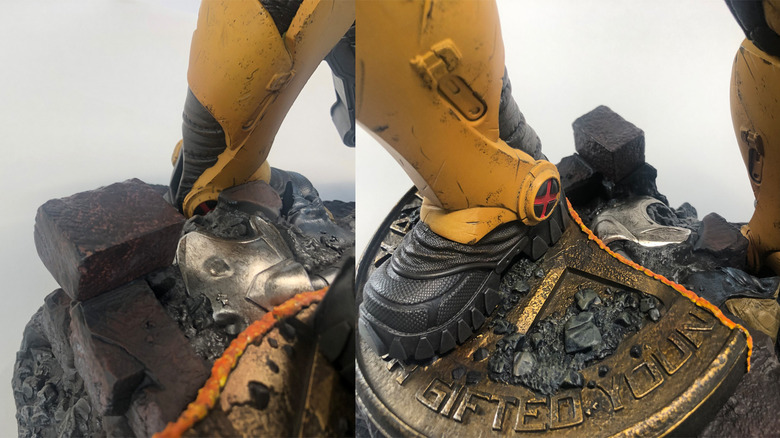 Max Evry
To make sure the statue still looks presentable without the portals, Sideshow includes a detailed brick that fits right into the base and feels like it naturally belongs there, even though it's a placeholder. 
Big Guns, Big Statue, Big Value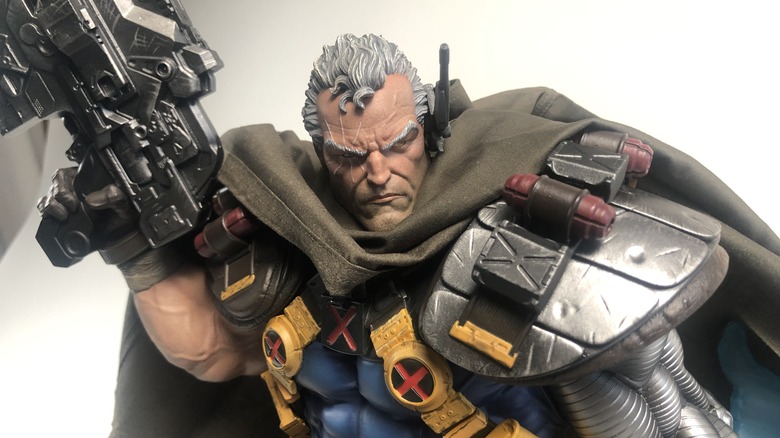 Max Evry
Overall the Cable Premium Format Figure is a polyresin masterpiece, and though we're big fans of the character — especially the run by artist Ariel Olivetti — you don't have to be in order to appreciate the level of artistry on display. This would be a perfect centerpiece to any collection, and pairs great with other pieces in the line including Deadpool, Gambit, Colossus, X-23,  Wolverine, and Jean Grey. If you have the shelf space, we definitely recommend taking the plunge on this one!