Will Forte Keeps It Weird While Hosting Saturday Night Live, And Kristen Wiig Came Along Too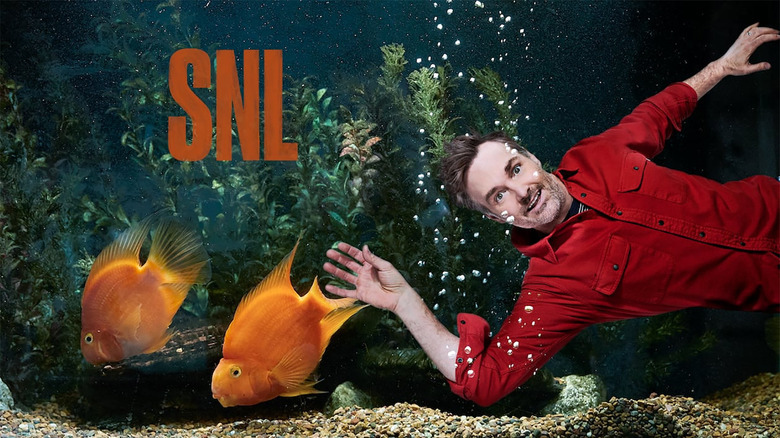 NBC
Will Forte finally returned to Studio 8H in 30 Rockefeller Plaza to host "Saturday Night Live" for the first time since leaving the series as a cast member back in 2010, the same year "MacGruber" leapt from the sketch stage to the big screen. So it's only appropriate that he returns to "SNL" just one month after "MacGruber" returned in the form of a streaming series on Peacock (available now). 
Thankfully, Forte brought the bomb-disarming, morally questionable government operative with him, along with fellow "MacGruber" cast members Kristen Wiig and Ryan Phillippe. Those weren't the only special guest stars of the night, which was filled with more than one sketch that would have fit in the oddball 10-to-1 slot. Basically, it was a perfectly Will Forte episode, and that's all we wanted.
Let's dig into all the sketches from the Will Forte hosted "Saturday Night Live."
The Best
Threesome - On any other night, this would have easily been a 10-to-1 sketch, but when Will Forte hosts "SNL," you let him get weird as much as he wants to. From the moment Forte enters the hotel room as Gannon, who could easily be Guy Fieri's gigolo brother, this sketch never stopped with the laughs. I can't tell you how hard I laughed as Gannon shook the bed vigorously, and his nonchalant attitude about being a third in this arranged threesome only made it that much funnier. Forte's physical comedy here, using a pillow in place of the wife he's about to have sex with, is excellent. We haven't even gotten to the profuse sweating and the 11 towels that were part of the agreement. I'll never be mad that Forte moved on from "SNL," but I can still wish that he would have just stayed on this show forever.
Kid Klash – First up, kudos to the set-building crew and production designer for perfectly recreating a set that looks exactly like it came from Nickelodeon's "Double Dare," which this sketch is obviously lampooning. Again, this is a bit of a weird sketch, with much of the comedy coming from Aidy Bryant having a ongoing problem with finding a flag in a giant cream pie. It's Forte's not-so-encouraging commentary and insulting "fun facts" that enhance the oddball comedy. Bryant's desperation to find the flag in all that cream only makes the game funnier. But I think my favorite part of the sketch is Forte affirming that the nacho cheese in the second obstacle is really hot.
MacGuber: Coronavirus – You just can't go wrong with MacGruber. With the character returning to Peacock last month in his own streaming series, it was a no-brainer to bring him back for Will Forte's hosting stint. Since MacGruber is the kind of dimwit who would easily be fooled by the internet conspiracy theorists, it's no surprise that he hates masks, is anti-vax, and totally buys into Qanon. Oh, MacGruber, you delightful idiot. It was a nice touch to have both Kristen Wiig and Ryan Phillippe back for this one, though I can't help but be a little disappointed that this was pre-recorded rather than being live like it used to be.
The Average
Jackie & Clancy – Unlike the previous oddball sketches, I think this one was the actual 10-to-1 sketch of the evening, even though it came a little earlier than you might have expected due to the second musical performance of the evening arriving later in the evening, followed by the final installment of the three-part "MacGruber" sketch that aired throughout the episode. 
With a series of country songs about spaceships, toddlers, Model-T cars, and jars of beer, Jackie & Clancy certainly know how to boogie. I'll be honest, I wasn't in love with this recurring sketch, even if the run through that last song of the sketch was impressive, but it was still thoroughly amusing, mostly because of the energy that Forte and Wiig brought to the table. But I will happily admit to guffawing like an idiot when Kenan Thompson said "Pickletits" as the Delaware city where you can send your order form for this amazing album offer. Plus, the album art alone was worth a laugh, because it's called, "Clancy T. Bachleratt and Jackie Snad Sing Songs about Spaceships, Toddlers, Model-T Cars & Jars of Beer AGAIN."
Cinema Classics: Gaslight – Cinema Classics can be hit or miss, and this entry wasn't one of the better variations, even if the premise was rather ludicrous. Even so, you can always count on Kenan Thompson to deliver as host Reese De'What. Forte and McKinnon are certainly giving their all, but this sketch is mostly one-note joke that's merely mildly amusing throughout.
The Worst
Ingraham Angle (Cold Open) – Why is this sketch eight and a half minutes long? Cecily Strong still appears to be absent from the series, so instead of getting Judge Jeanine Pirro doing her Fox News nonsense, we've got Kate McKinnon as Laura Ingraham. First off, though McKinnon's impersonation is great, her punditry isn't quite as entertaining as Strong's Pirro. Beyond that, this sketch does not need to be so damn long. The Novak Djokovic bit could have been cut completely, and Candace Owens could have been given a little more time instead. And even though the mention of Wordle is topical, using it for Donald Trump's laundry list of nonsense wasn't really the best way to do it. "SNL" writers, please stop making cold opens so long when they don't need to be, and don't feel obligated to do political satire at the top of the show if you don't have to. We're over it.
Weekend Update
The jokes in this edition of Weekend Update weren't the strongest. Michael Che probably had the best joke about Jeffrey Epstein and Ghislaine Maxwell being referred to as Batman and Robin, but he also had the worst joke of the night, with the age-old punchline about women not knowing how to drive. I'm sure Che was going for a classic groaner, and he certainly succeeded there, but it also just feels lazy at this point. Colin Jost also had a solid joke about the age of "Wheel of Fortune" viewers bemoaning the death of the show's 92-year old series director as being "so young." Otherwise, this was a mild edition of Weekend Update.
You can watch the second part of Weekend Update right here.
Chen Biao on the Beijing 2022 Olympics – Chen Biao can be downright hilarious, but this wasn't one of those times. I'm sure NBC has pushed "SNL" to make some kind of allusion to the forthcoming arrival of the 2022 Beijing Olympics coming to the network in February, and this is probably the best way to do it. Bowen Yang isn't unfunny in this bit, but it just doesn't feel like it stacks up against some of the character's better appearances.
Sarah Sherman Roasts Colin Jost Again – If you enjoyed this bit the first time, and it was certainly a great one, then you'll still get laughs this time. Sarah Sherman's energy is infectious, and the increasingly embarrassing headlines for Colin Jost are certainly funny. But at the same time, this has the issue of the second appearance of a successful bit not being quite as good as the debut. Again, still some great laughs to be had, especially with Jost and Che's interaction at the end, but its hard to capture lightning in a bottle twice.
Three Guys Who Just Bought a Boat – Even though Alex Moffat typically kills as The Guy Who Just Bought a Boat, with his fast-talking double entendres. But Moffat seemed to psyched himself out as he started stumbling over his fast-paced punchlines, and it kinda derailed the segment until Pete Davidson was brought in to talk about the fact that he and Colin Jost recently bought one of the Staten Island ferry boats. It never fully recovered, but Davidson absolutely lost it during this bit, and he couldn't quite get back in the groove either. There was some funny stuff here, but it all got thrown off for too long, which kept it from being much better.
The Host
What more can we say about Will Forte? The comedian went a little underappreciated during his time at "Saturday Night Live," largely because his weirdest sketch ideas were often just enough outside of mainstream to strike the right chord with general audiences. But Forte is a comedic genius, and I miss the wild, strange energy that he used to bring. Even I didn't appreciate how good Forte was on the sketch series until he was gone, and his return to host reminded me that there's no one quite like him on "SNL." Though Kyle Mooney comes close, it's not exactly the same kind of weird that Forte used to deliver. Now that he's finally returned to host, I hope he gets to do it multiple times like the rest of his "SNL" castmates.
The MVP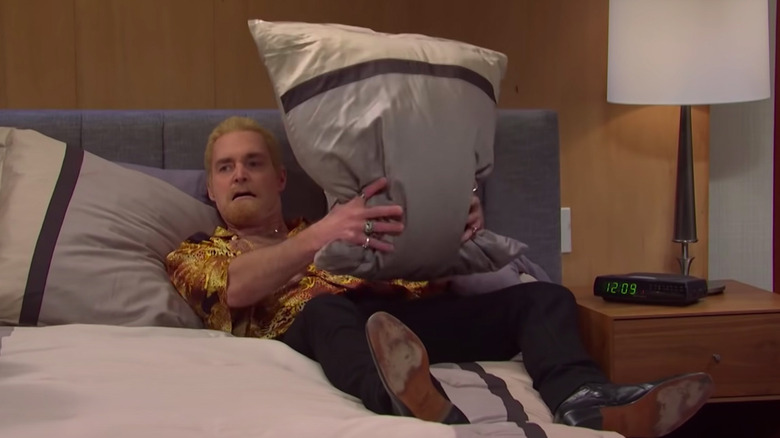 NBC
Will Forte – That's right, the MVP is Will Forte. Though we expected Forte to be hilarious in his return to "SNL," he exceeded all my expectations, and it's no coincidence that the worst sketch of the night didn't have Forte in it. Furthermore, I appreciate that, with the exception of MacGruber's return, every other sketch was live. Forte was always better in live sketches. He was great in pre-recorded bits too, but it's live comedy where his energy shines. Even the monologue had Forte's signature comedic style, complete with a little cameo from Willem Dafoe before the "Spider-Man" franchise star hosts next weekend. We don't deserve Will Forte, and I'm glad he keeps giving us gold.
The Final Word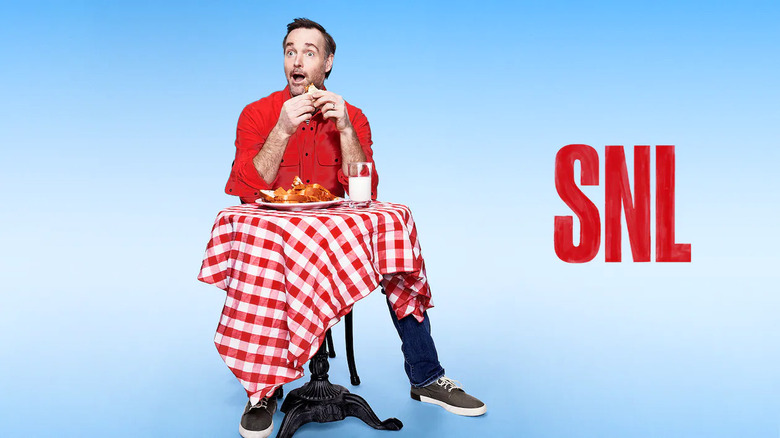 NBC
Will Forte injected "Saturday Night Live" with a healthy dose of silly, and I couldn't be happier about that. I was hoping that his hosting stint would basically fill the episode with a bunch of 10-to-1 sketches, and I got my wish. The only thing that could have made it better was Jason Sudeikis coming back to deliver a new iteration of Pete Twinkle and Greg Stink on ESPN Classic, but since Sudeikis is across the pond shooting the third season of "Ted Lasso," it just wasn't in the cards. Hopefully Forte or Sudeikis will host again and we'll get a chance a little Twinkle/Stink reunion. 
In the meantime, we're looking forward to Willem Dafoe hosting on January 29 next weekend.