MacGruber Trailer: Will Forte Is Back To Rip More Throats, This Time On Peacock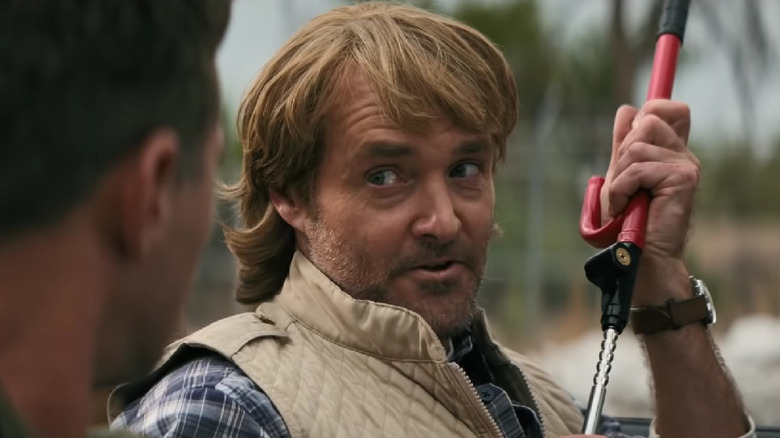 Universal Television
Those who were weaned on the likes of resourceful MacGuyvers, spine-ripping "Predators," and men who "Die Hard" on their TV screens know that these "Over the Top" action films were rarely winking at their audience or trying to be funny, which is part of their lasting appeal. "Saturday Night Live" crafted a love letter to these "Action Jacksons" in the form of uber-patriot and action "Commando" (a former Green Beret, Navy SEAL, and Army Ranger, if anyone's keeping track) MacGruber. Throat rips, dick shots, and balls-to-the-wall action are routine for the walking "Lethal Weapon." A 2010 feature film adaptation shot to "Number One With A Bullet" and gained a cult following. A decade later, the steely-eyed man with the "Blue Steel" by his side is getting a television continuation of his "Uncommon Valor." MacGyver fans rejoice!
The "MacGruber" series is set to premiere in mid-December on NBC Universal's Peacock streaming service. It stars Will Forte, reprising his role as the titular hero alongside returning players Kristen Wiig and Ryan Phillippe fighting in a "Dead Heat" against Billy Zane's unhinged military commander. The synopsis:
After rotting in prison for over a decade, America's ultimate hero and uber patriot MacGruber (Will Forte) is finally released. His mission: to take down a mysterious villain from his past—Brigadier Commander Enos Queeth (Zane). With the entire world in the crosshairs, MacGruber must reassemble his old team, Vicki St. Elmo (Wiig) and Dixon Piper (Phillippe) in order to defeat the forces of evil.
Check out the trailer for the "MacGruber" series below.
"Who let the dog out?"
Well, well, well. Another military commander who thinks he's "Above The Law." Zane's Queeth is MacGruber's nemesis long thought dead until his resurfacing, and now there's only one man who can stop him. If any man is up to the challenge, though, it's the mulleted menace: "My country has invited me to die for it," the world's savior quips, "and I RSVPed 'Yas, queen.'" If the series is anything like the film and sketches that preceded it, these baddies are going to show us "Eight Million Ways To Die" on the "Savage Streets."
Rounding out the rest of the cast are some surprising names: Sam Elliott and Laurence Fishburne, for starters. Less surprising is Timothy V. Murphy (he of "Sons of Anarchy," "Hawaii Five-O," and "Appaloosa") who can always be counted on to bring that speak-softly-but-carry-a-big-stick energy to the big-and-small screen. Joseph Lee Anderson, who recently played Canadian wrestler Rocky Johnson on Dwayne Johnson's show "Young Rock," also plays a recurring role in the series. Forte serves as writer, executive producer, and de facto showrunner on the "MacGruber" series, alongside directors John Solomon and Jorma Taccone. Lorne Michaels, John Goldwyn, Andrew Singer, and Erin David serve as executive producers.
The "MacGruber" series arrives on Peacock on December 16, 2021.