Fans Of Squid Game Have Even More Korean Originals To Look Forward To On Netflix In 2022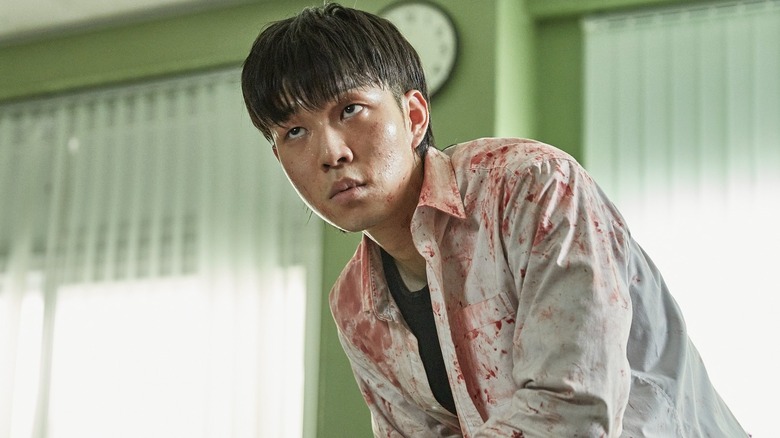 Netflix
Fans of Netflix's "Squid Game" series have plenty to celebrate, because the streaming giant just told them that there's plenty more where that came from. Netflix's half-billion dollar investment in Korean streaming content last year is paying dividends; "Squid Game" was a smash hit according to the stream service's (somewhat shady) viewership statistics, hooking the households of 142 million viewers and making it the most popular Netflix series of all time. 
In the wake of its success, more Korean series followed as subscribers let the algorithm determine their next watch. Yeon Sang-ho's ("Train to Busan") supernatural series "Hellbound" and Choi Hang-yong's moon-based thriller series "The Silent Sea" (from a script by Park Eun-kyo, the screenwriter behind Bong Joon-ho's "Mother") have both gathered purchase in Netflix's viewership and on socials. 
As any savvy streaming company would, Netflix is leaning further into the hot-ticket content with an announcement today that it would release over twenty Korean films and series this year. To date, it's the biggest slate move from the country and is projected to justify that half-billion dollar purse with impressive numbers (though no specific projections have been released as of yet). Citing an exponential growth in viewing hours for its Korean shows since 2019, Netflix's VP of Content for Korea, Don Kang, states that, "We are excited to continue collaborating with Korean storytellers to bring the K-wave to new heights."
Notable entries in the streaming service's Korean slate include "All of Us Are Dead," which positions Ground Zero of a zombie epidemic at a high school, and "Money Heist: Korea – Joint Economic Area," which adapts the hit Spanish heist series (and the second most popular non-English show after "Squid Game").
Here's Netflix's full 2022 Korean slate.
All of Us Are Dead
We've seen zombies in malls, on trains, and even in the 16th century. Now, they're shoving schoolkids into lockers — and eating them! Directed by Lee JQ and Kim Nam-su and written by Chun Sung-il, "All of Us Are Dead" stars Yoon Chan-yeong and concerns students trapped in a high school right at the nexus of a zombie outbreak.
The synopsis:
"All of Us Are Dead" is based on a popular webtoon by Webtoon creator Joo Dong-geun, touted as a 'Korean-style zombie graphic novel' with its wild imagination, gripping storyline, and meticulous details. The horrific visuals of students infected by the mysterious zombie virus and stunning action set in different parts of the school are a must-watch. The series highlights a number of rising stars including Yoon Chan-yeong, Park Ji-hu, Cho Yi-hyun, Lomon, Yoo In-soo, Lee You-mi and Lim Jae-hyeok.
"All of Us Are Dead" drops on Netflix January 28th, 2022.
Money Heist: Korea – Joint Economic Area
Helmed by Kim Hong-sun from a script penned by Ryu Yong-jae, Kim Hwan-chae, and Choe Sung-jun, "Money Heist: Korea – Joint Economic Area" spins off from the highly popular Spanish "Money Heist" series. The cast includes Yoo Ji-tae, Kim Yunjin, Park Hae-soo, Jun Jong-seo, Lee Won-jong, Park Myung-hoon, Kim Seung-o, Kim Ji-hun, Jang Yoon-ju, Lee Joobeen, Lee Hyun-woo, Kim Ji-hoon, and Lee Kyu-ho. The synopsis:
"Money Heist: Korea – Joint Economic Area" narrates a genius strategist and his talented crew — composed of top-class thieves — attempting to pull off an unprecedented heist in the Korean Peninsula. The story portrays unexpected twists and turns as the crew stage a hostage while facing inexplicable challenges.
Korean Shows Coming To Netflix in 2022, Vol. 1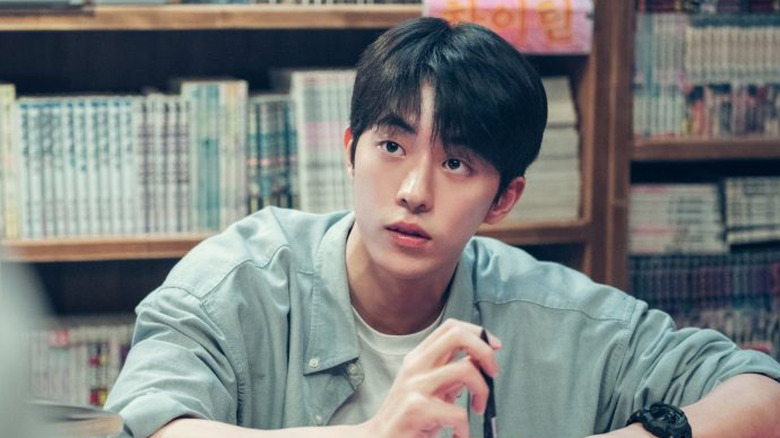 Netflix
Juvenile Justice
Kim Hye-soo (Hyena, Signal) plays Sim Eun-seok, a tough judge newly appointed to a district with the highest juvenile delinquency rate. Directed by Hong Jong-chan and written by screenwriter Kim Min Sook.
Twenty Five, Twenty One
"Twenty Five, Twenty One" is a drama of youths who lost their dream to the zeitgeist of 1998. Directed by Jung Ji-hyun and starring Kim Tae-ri, Nam Joo-hyuk, Bona, and Lee Joo-myung, the series documents the romantic lives of five characters from 1998 to 2021
Forecasting Love and Weather
"Forecasting Love and Weather" is narrated by Jin Ha-kyung, who decides never again to have an office fling after a brutal break-up. She doesn't last long before a newcomer arrives in the form of Lee Si-woo, who is different but attractive in his own way. The series stars Park Min-young and Song Kang.
Thirty Nine
Cha Mi-jo (played by Son Ye-jin), Jeong Chan-young (played by Jeon Mi-do), and Jang Joo-hee (played by Kim Ji-hyun) are close friends who have been through both the good and the worst times together since high school. One fine day when they are all 39, life takes a turn for the worse and they have to get ready to say goodbye.
Tomorrow
The grim reapers who used to escort the dead now save those who want to die. An afterlife fantasy drama, "Tomorrow" depicts how a long-time unemployed Choi Jun-woong accidentally bumps into grim reapers on a special mission and becomes a contract worker for their crisis management team to help them out on their mission.
Business Proposal
Average employee Shin Ha-ri (played by Kim Se-jeong) goes on a blind date in her friend's stead, only to find that her blind date is the CEO of her company, Kang Tae-moo (played by Ahn Hyo-seop). After the two run into each other, they each struggle in their own way at the office in this workplace comedy. 
The Sound of Magic
"The Sound of Magic," based on the popular webtoon "Annarasumanara," is a touching drama about Yoon Ah-yi, a girl who had to grow up too fast. Ji Chang-wook plays Rieul, a mysterious magician who lives in an abandoned amusement park. Choi Sung-eun plays the role of Yoon Ah-yi, and Hwang In-youp will play Yoon Ah-yi's classmate Na Il-deung. "The Sound of Magic" will be directed by Kim Sung-youn.
Korean Shows Coming To Netflix in 2022, Vol. 2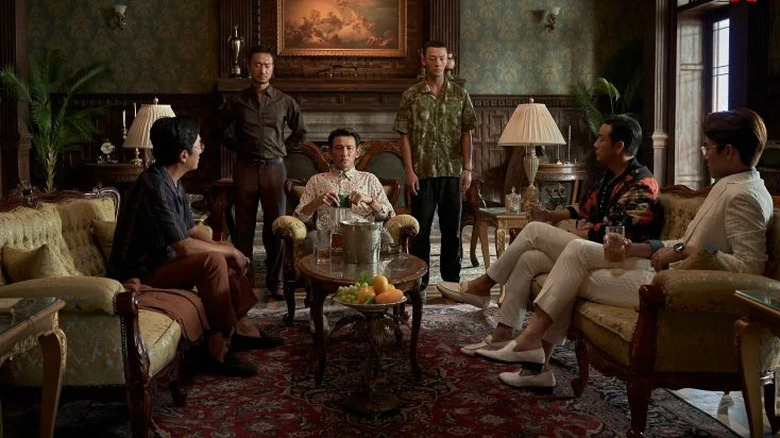 Netflix
Remarriage and Desires
"Remarriage & Desires" is a satire of Korean society governed by desire, set at the exclusive matchmaking agency Rex, which caters to the top echelons of society. Ambitious citizens hope to upgrade their status by marrying or remarrying into the elite. The star-studded cast includes Kim Hee-seon, Lee Hyun-wook, and Jung Eugene.
A Model Family
"A Model Family" is a story about a man on the brink of bankruptcy and divorce who stumbles upon a car loaded with cash, which leads to him crossing paths with the second-in-command of a drug organization. Jung Woo, Park Hee-soon, Yoon Jin-seo and Park Ji-yeon lead this show about an ordinary family getting mixed up with illegal drug money.
Glitch
"Glitch" tells the story of Hong Jihyo, who attempts to track down her missing boyfriend with the help of members of a UFO club. What will she find? Directed by Roh Deok, with Jeon Yeo-been in the lead role of Hong Jihyo.
The Accidental Narco 
Based on real-life events, the story is about an ordinary entrepreneur who has no choice but to risk his life in joining the secret mission of government agents to capture a Korean drug lord. "The Accidental Narco" marks Director Yoon Jong-bin's first foray into series and first collaboration with Netflix.
Love to Hate You
"Love to Hate You" is about the war-like relationship between a woman who hates losing to men and a man frantically suspicious of women who later discover life remedies behind their opposite characteristics. Starring Kim Ok-bin and Teo Yoo.
Somebody
A murder case revolves around the social dating app "Somebody," triggering the app's developer and her friends to entangle themselves in a mystery surrounding a mysterious figure named Yoon-oh. Prominent director Jung Ji-woo spearheads the production — marking his first foray into series and collaboration with Netflix along with writer Han Ji-wan.
Black Knight
Starring Kim Woo-bin, "Black Knight" illustrates an air-polluted world in 2071, where people depend on respirator masks to breathe. Only one percent of the human race has survived, and a strict social stratification now sits in the deserted Korean Peninsula, waiting for someone to challenge it. Directed by Cho Ui-seok.