Murderville: Release Date, Cast, And More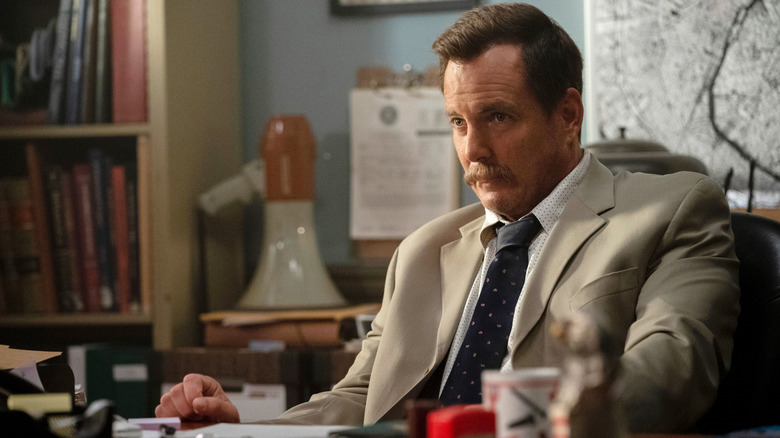 Netflix
(Welcome to ...And More, our no-frills, zero B.S. guide to when and where you can watch upcoming movies and shows, and everything else you could possibly stand to know.)
U.S. remakes of British TV shows are practically their own cottage industry, with some (like "Queer as Folk," "The Office," and "Veep") becoming hits and even eclipsing their forerunners in popularity, while others (such as "Life on Mars") simply fail to catch on in the States. Only time will tell which fate awaits "Murderville," an American take on Andy Brereton and Avril Spary's partly improvised BBC sitcom, "Murder in Successville." Spearheaded by Will Arnett, the series has the actor once again working with Netflix after their collaborations on the acclaimed animated tragicomedy show "BoJack Horseman," the live-action dramedy series "Flaked," and the two-season revival of "Arrested Development."
With the first six episodes already in the can and its launch date coming up quickly, here's everything you need to know about "Murderville" ahead of time.
Murderville Release Date and Where You Can Watch It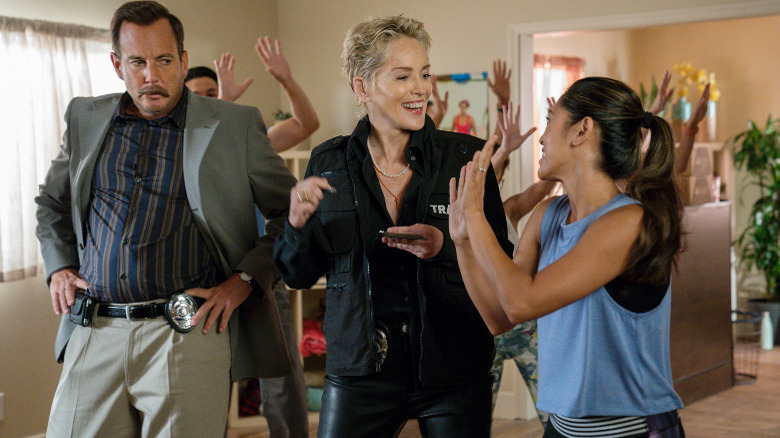 Netflix
"Murderville" will debut as a Netflix Original on February 3, 2022. That will give the crime comedy procedural a single-day head-start on the two new shows set to begin streaming on February 4: Prime Video's Jack Reacher series, "Reacher," and Apple TV+'s "Suspicion," an English-language remake of the Israeli dramatic thriller show "False Flag." HBO Max will also kick off the second season of its sci-fi drama series "Raised by Wolves" on February 3, what with Thursdays being when the service customarily drops its exclusive movies and TV shows. 
There's not a lot of overlap between these shows as far as their subject matter goes, although "Murderville" will have some direct competition for viewers seeking laughs from that week's episode of "Peacemaker" (which will still be rolling out its first season by that point). All the same, with so many options to choose from, it's hard to say how many people will make the time to check out Arnett's latest Netflix venture.
What Is Murderville?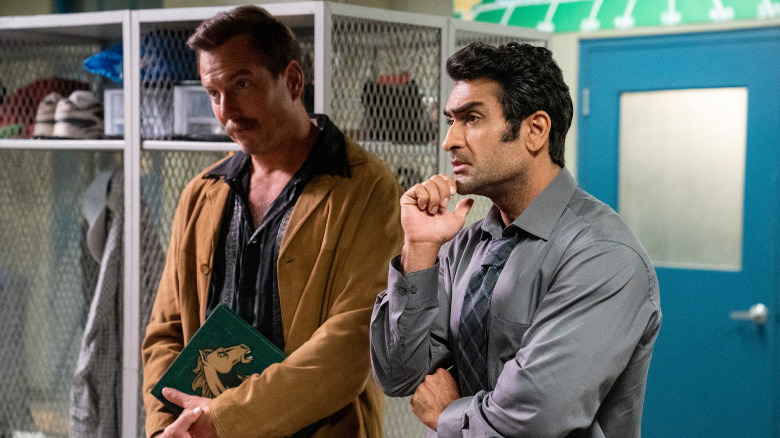 Netflix
For the most part, "Murderville" is a scripted show that follows senior homicide detective Terry Seattle as he investigates a series of ghastly crimes with the aid of a partner-in-training. The twist is that each episode will pair Seattle with a different celebrity guest star as his partner, albeit one who isn't granted access to the script and has to improvise their way through the investigation. "I do think people liked the idea that they could come in, they didn't have to learn any dialogue and they could be themselves and just go for a ride," Arnett told THR, before adding, "And I have to give these people credit because it's freakin' scary as s**t."
Indeed, as /Film's Anya Stanley has noted, the real appeal of "Murder in Successville" came from "watching everyone involved try to both keep a straight face and to get the rest of the cast to crack with wilder and wilder off-the-cuff dialogue," and not the show's pre-planned murder-mystery plots. In the same way, it's Arnett's free-wheeling co-stars on "Murderville" who will bear the brunt of the responsibility for the show's success or lack thereof.
Murderville Director, Crew, and More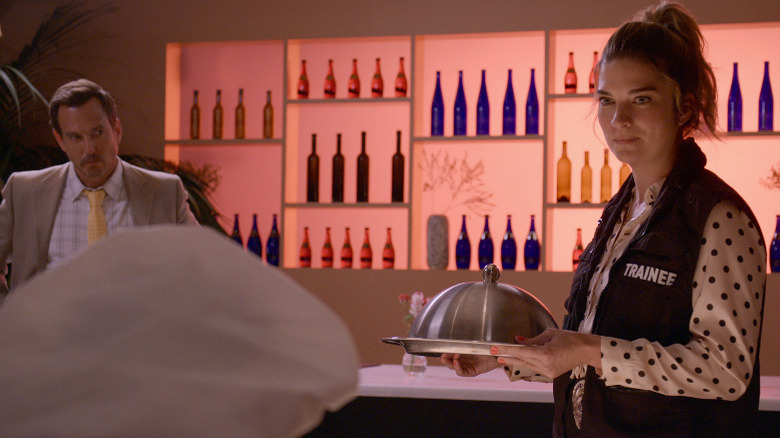 Netflix
Krister Johnson acted as showrunner on "Murderville," having previously honed his chops as a comedy writer on Netflix's "Wet Hot American Summer" series "First Day of Camp" and "Ten Years Later." He was joined behind the camera by Iain K. Morris ("The Inbetweeners") and Brennan Shroff ("Southern Belles"), who co-directed the first season, with Arnett, Marc Forman, Jonathan Stern, Peter Principato, and Brian Steinberg producing. Tom Davis, who starred in "Murder in Successville" as DI Desmond Sleet, also served as an executive producer along with Brereton and James De Frond (who directed all three seasons of the original UK show).
Arnett, for his part, isn't sweating the idea of Netflix axing "Murderville" after a single season, should it fail to catch on. "I'd love to do more if it works and people respond to it," he told THR. "And if people kind of shrug and go, 'Yeah, fine,' then great, we had a lot of fun."
Murderville Cast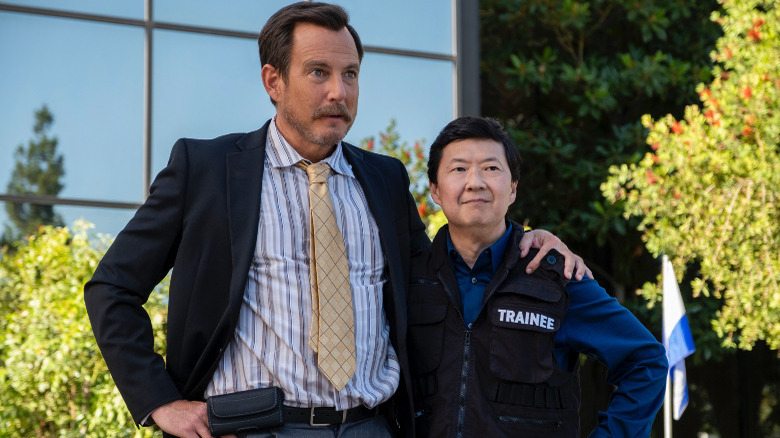 Netflix
Joining Arnett (who's playing Terry Seattle) as recurring, non-improvising cast members on "Murderville" are Haneefah Wood ("One Day at a Time") as Chief Rhonda Jenkins-Seattle, Lilan Bowden ("Andi Mack") as medical examiner Amber Kang, and Philip Smithey ("Johnson") as detective Darren "Daz" Phillips. As for Terry Seattle's ever-changing rosters of partners, they will be played by "Conan" host Conan O'Brien, Annie Murphy ("Schitt's Creek"), Ken Jeong ("Community"), Kumail Nanjiani ("Eternals"), ex-NFL player Marshawn Lynch, and Sharon Stone ("Mosaic").
According to Arnett, O'Brien was the first person he asked to guest-star on "Murderville," as a way of testing whether anyone would even be interested in a show of this nature. After Arnett showed him a sizzle reel of clips from "Murder in Successville," O'Brien agreed to join the series, with Arnett telling THR, "Conan really understood the game of it." For his particular episode, O'Brien plays a semi-fictionalized version of himself who tags along with Terry Seattle as he looks into a murder case involving an "absurd" magic show. As for the series' other special guests? You will just have to watch "Murderville" to see what they get up to.