Suspicion Trailer: Uma Thurman Trusts No One In This Apple TV+ Miniseries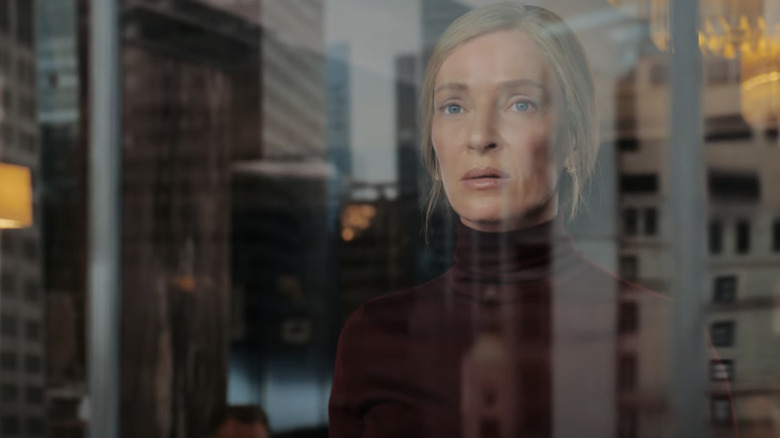 Apple TV+
We've all had our fun teasing Apple TV+ for sometimes looking like the runt of the streaming service litter, but the little one is now on track for a serious glow-up period. In 2021, even with a limited library, Apple-produced originals managed to stand out and even win a few new subscribers. I'm mostly talking about our favorite mustache dad, "Ted Lasso," but similar praise has been afforded to the likes of "Dickinson," "Foundation," and "Servant." As the year chugged along, the streamer even put in the work to acquire some heavy-hitting award contenders, like "The Tragedy of Macbeth" and "CODA." But it seems like this was just the beginning, because AppleTV+ has even more coming — especially when it comes to shows.
More than a few intriguing titles are set to arrive later this year, including the Ben Stiller-produced sci-fi tale "Severance," the murder mystery from Christopher Miller ("21 Jump Street," "Spider-Man: Into the Spider-Verse") "The Afterparty," and "Disclaimer," a Cate Blanchett-led thriller series written and directed by acclaimed filmmaker, Alfonso Cuarón ("Roma," "Children of Men"). Now we're getting our first glimpse at yet another exciting title, "Suspicion." The scandalous new drama stars Uma Thurman, an accompanying ensemble cast, and an intense abduction case. A whodunit tale that's brimming with secrets, the series comes from BAFTA nominee Rob Williams ("Man in the High Castle") and Emmy-nominee Chris Long ("The Americans"), with producer Darin McLeod ("Watchmen").
Suspicion Trailer
Though we open on a flowery wedding, the trailer for "Suspicion" wastes no time on tricks; this series is neither lighthearted nor sweet, it's all intensity and soapy drama. Uma Thurman stars as a prominent businesswoman at the center of a national scandal: her son has been mysteriously kidnapped. Suspicion quickly turns to four British citizens who happened to be in the New York hotel at the time of the crime. Bound together by the police and media attention, the four strangers attempt to prove their innocence while Thurman's character grapples with the gravity of her situation.
Maybe it's because the series is British and teeming with political melodrama, but the trailer reminded me of the Richard Madden-starring "Bodyguard." Also concerned with political conspiracy, that show turned out to be a delightful surprise with big swerves and explosive reveals around every corner. And based on this synopsis, the same could be true of "Suspicion":
"When the son of a prominent American businesswoman (Thurman) is kidnapped from a New York hotel, the eye of suspicion quickly falls on four seemingly ordinary British citizens who were at the hotel on the night in question. As they find themselves in a trans-Atlantic cat and mouse race to evade the combined forces of the National Crime Agency and the FBI to prove their innocence, it becomes apparent that not everyone can be trusted. Who is really behind the mysterious abduction, and who is only guilty of being in the wrong place at the wrong time?"
If this ensemble cast looks familiar, that's because they've certainly appeared on your screen in the past. In addition to Thurman, "Suspicion" stars Kunal Nayyar ("The Big Bang Theory," "Sanjay and Craig") as Aadesh Chopra, Noah Emmerich ("The Americans") as Scott Anderson, Georgina Campbell ("Black Mirror") as Natalie Thompson, Elizabeth Henstridge ("Agents of S.H.I.E.L.D.") as Tara McAllister, Tom Rhys-Harries ("White Lines") as Eddie Walker, Elyes Gabel ("Scorpion") as Sean Tilson, and Angel Coulby ("Dancing on the Edge") as Vanessa Okoye.
"Suspicion" comes to Apple TV+ on February 4, 2022.