King Richard Is Now Available On Premium VOD And Comes To Blu-Ray In February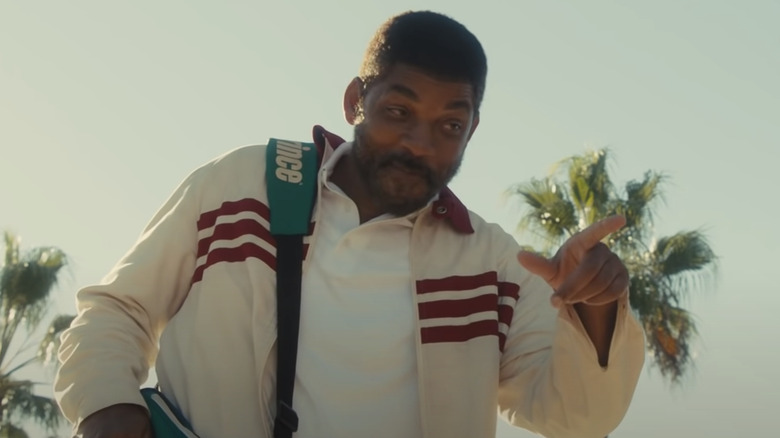 Warner Bros.
"King Richard" has been garnering Oscar buzz for Will Smith and is one of the 10 films that made the American Film Institute's Movies of the Year list for 2021. It's already up for numerous festival and critic awards and has won several, but until now, the movie has been exclusive to theaters after a limited day-and-date launch on HBO Max. If you're behind on your 2021 films, "still collating" picks for your own top 10 list, as an "Alien" science officer would say, don't feel bad. As of January 4, 2021, "King Richard" is available to rent and own digitally.
"King Richard" tells the true story of two sports legends, Venus and Serena Williams, and the man that raised them. Smith plays their father, Richard Williams, who prides himself on having written a 78-page plan for their tennis career before they were even born. It's a plan that paid off in spades as both sisters have won the Grand Slam title numerous times.
Warner Bros. has now issued a press release with full details of the "King Richard" home media release. The 48-hour premium VOD rental carries a price tag of $19.99 on participating digital platforms. If you want to blind-buy the film or have already seen it and just want to own it, you can purchase it for five dollars more at $24.99.
On February 8, 2021, "King Richard" will be available on 4K, Blu-ray, and DVD. The Blu-ray will contain the following special features:
Following the Plan – The Making of King Richard
Becoming Richard
Champions on Screen
Deleted Scenes
The Last Movie Star
10 years ago, Grantland wrote of the increasingly nebulous concept of the "movie star," noting that screenwriting legend William Goldman believed Will Smith to be the only true star we had left. That was before "After Earth," a film that put a chink in Smith's domestic box-office armor and was a critical misfire. He later it called "the most painful failure" of his career.
Smith has had his ups and downs since then, but "King Richard" is a return to "serious" acting for him in the vein of his Oscar-nominated roles in "Ali" and "The Pursuit of Happyness." His commitment to the role of Richard Williams was such that he was even ready to spend three hours in the make-up chair every day before director Reinaldo Marcus Green vetoed that idea.
"King Richard" is written by Zach Baylin and co-stars Aunjanue Ellis, Saniyya Sidney, Demi Singleton, Tony Goldwyn, and Jon Bernthal. Here's the official synopsis via Warner Bros:
Armed with a clear vision and a brazen 78-page plan, Richard Williams (Will Smith) is determined to write his daughters, Venus (Saniyya Sidney) and Serena (Demi Singleton), into history. Training on Compton, California's abandoned tennis courts – rain or shine – the girls are shaped by their father's unyielding commitment and their mother's (Aunjanue Ellis) balanced perspective and keen intuition, defying the seemingly insurmountable odds and prevailing expectations laid before them.

Based on the true story that will inspire the world, "King Richard" follows the uplifting journey of a family whose unwavering resolve and unconditional belief ultimately delivers two of the world's greatest sports legends.
"King Richard" is available via premium VOD as of Tuesday, January 4, 2021, and will come to Blu-ray five weeks later, on Tuesday, February 8, 2021.