Will Smith Wanted Three Hours Of Make-Up To Play His King Richard Character, But The Director Said No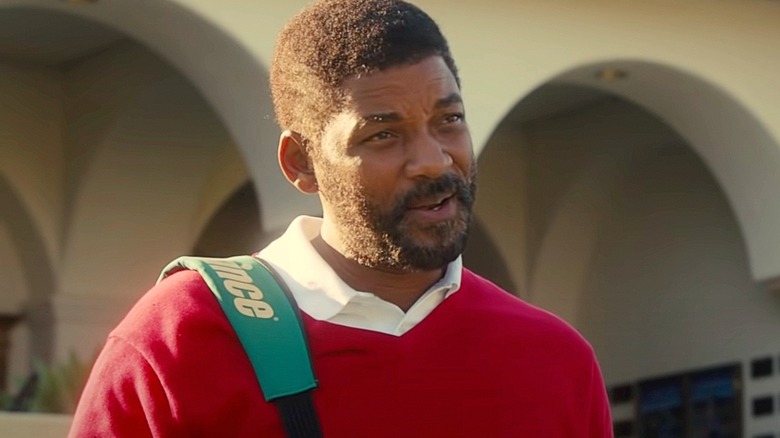 Warner Bros.
In "King Richard," Will Smith plays the father of tennis superstars Venus and Serena Williams — a man so determined to have his daughters succeed that he wrote a 78-page plan for their whole career before they were even born. 
Smith has transformed himself physically for previous roles, gaining forty pounds of muscle to portray the title boxing champion in "Ali." He's also donned accents before, including the slippery one he utilized in "After Earth" (a film that he later called "the most painful failure" of his career). For "King Richard," Smith was prepared to sit in the makeup chair for three hours to achieve the right look, but the film's director, Reinaldo Marcus Green, drew a line in the sand.
In an interview with Insider (by way of Indiewire), Green revealed that Smith and Warner Bros. originally had a makeup team applying prosthetics to his face in order to mold it into the likeness of Richard Williams. He said:
"They made him look like Richard Williams, it was straight-up shocking. I was like, 'Look, you guys did an incredible job, but I don't want that.' Will has his acting coach who has been with him for 30 movies, he had a dialect coach so he could speak similar to Richard, we have so much. And it would have been three hours of Will being in the makeup chair every day. Who wants to do that?"
Saying No to Will Smith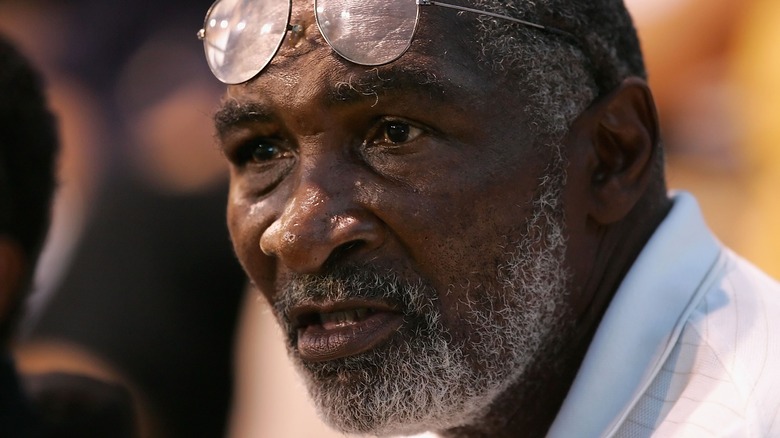 Lisa Blumenfeld/Getty Images
Above, you can see what the real Richard Williams looked like in 2007, the year that Smith appeared in "I Am Legend." Besides the beard, there's not much resemblance, really ... which is maybe why Smith and the studio were initially so keen on transforming the actor with prosthetics. However, Green was having none of it. He explained:
"I looked at Will straight in the eye and said, 'Look, we don't need that.' We don't need him to look like [Richard Williams]. We need him to sink in and disappear, but that doesn't mean making him look like Richard."
Who says you can't say no to an actor like Will Smith? If Hollywood makeup artists can make Colin Farrell look like Richard Kind in "The Batman," I'm sure they could have made Smith look more like Richard Williams. But there are plenty of movies, biopics and otherwise, where an actor has disappeared in a role based on a real person without necessarily bearing a close resemblance to that person.
I'm just glad they were trying to do practical makeup effects and that they're using a flesh-and-blood actor to play Williams. Right now, digitally de-aging or recreating people is mainly limited to blockbusters, but it feels like we're not so many years removed from the day when even sports dramas like this will be utilizing mo-cap performers as stand-ins (or deepfake technology, or whatever else) to embody real-life figures.
"King Richard" has been garnering Oscar buzz for Smith, and it arrives in theaters and on HBO Max on Friday, November 19, 2021.