How A Chance Meeting With Betty White Helped Jumpstart David Letterman's Career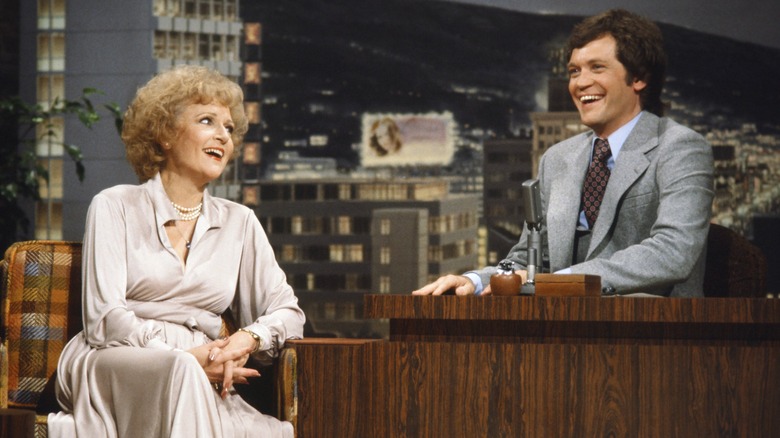 CBS
Since her passing on New Year's Eve, droves of tributes filled with stories about Betty White have been pouring out from fans around the world. Social media is flooded with plenty of career retrospectives, unforgettable red carpet moments, and fond memories both on and off screen. And rightfully so. The legendary actress and cultural icon has had an unparalleled career that spanned decades.
However, did you know that White was also instrumental in launching the career of another beloved pop culture figure? While fans of sitcoms, game shows, and overall comedy in general have been expressing their gratitude for living in a world where she existed, late night talk show fans have an excellent reason to pay homage to the late, great actress as well. Without her and her husband Allen Ludden, there's a chance that we may have never added David Letterman to the pantheon of late night stars.
Game On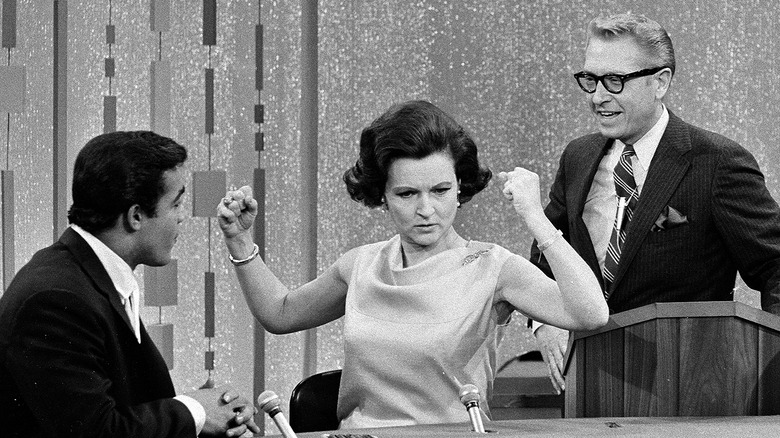 CBS
Long before her career-defining stints on "The Mary Tyler Moore Show" and "The Golden Girls," Betty White was known for being a regular on many game shows. That's how she met Ludden, who was a game show host creator and host of "The Match Game," "Password," and "Password Plus." After a few appearances on "Password" together, Ludden would playfully propose to White during the show instead of saying hello. Writer Otis Adams notes in his Medium feature about White and Letterman that the actress regretted wasting a whole year before agreeing to marry Ludden.
Small Town News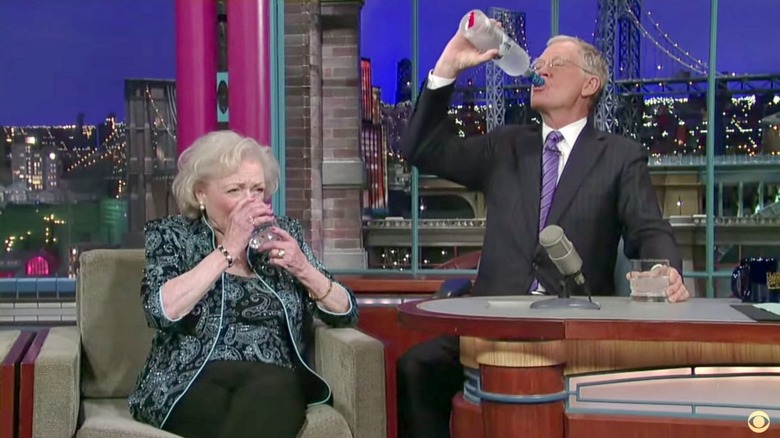 CBS
During their time together, White and Ludden would often make appearances together on talk shows and various events. Whenever they passed through Indiana, the celebrity couple would stop by a local call-in show hosted by a very young David Letterman. Though the show was meant to be serious, it was hard to stifle Letterman's humor. And while his employers at the radio station may not have been fans of his style, Ludden and White certainly were. That's why they offered to help him if he ever decided to move to Hollywood and needed work.
In a classic case of "It's not what you know, it's who you know," Letterman reached out to Ludden in 1975 after he arrived in Los Angeles. This correspondence resulted in appearances on "The Gong Show," "The Liar's Club," and "The $10,000 Pyramid." For the latter two game shows, he even appeared alongside White. Gigs like this likely held him over as he crafted his stand-up act at The Comedy Store and auditioned for hosting gigs of his own.
Finally, after getting noticed by executives in 1977 on a pilot for a game show that didn't get picked up, Letterman made his first of 22 appearances on "The Tonight Show" in 1978. Eventually, he would become Johnny Carson's preferred guest host whenever they needed one. And the rest, as they say, is history.
If that young broadcaster from Indiana never crossed paths with that nice celebrity couple that encouraged him to move west, who knows what the landscape of late night television would look like today. Surely, David Letterman's career wouldn't have Explod-o-popped the way that it did without Allen Ludden and Betty White's help. Just another reason for the entertainment world to thank Betty for being a friend.