A Reminder That Betty White And Ryan Reynolds' Flirty Relationship Was Beyond Charming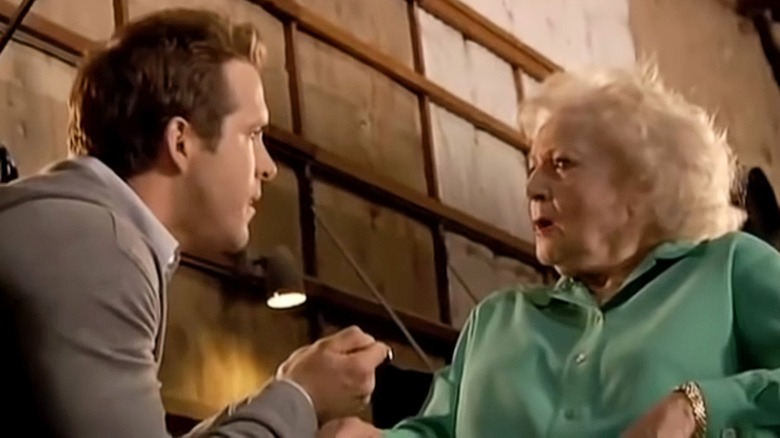 Touchstone Pictures
Losing Betty White, a true national treasure, right as 2021 ended was a real bummer. White gave us so much, including brilliant performances, a willingness to get down and dirty, and some lovely interviews, but one thing I will always treasure is her flirtatious relationship with actor Ryan Reynolds. 
White was 55 years Reynolds senior, but she always had the upper hand in their banter. Hollywood has a history of glamorizing relationships between older men and young women, so White and Reynold's subversion of the expected was a delight. The idea that Reynolds, frequent "Sexiest Man Alive" winner, would lust after a woman more than twice his age was played for laughs, but never at White's expense. Instead, the joke was that she was too good for Reynolds, despite his being a world-famous heartthrob. 
After starring together in "The Proposal" alongside Sandra Bullock in 2009, White and Reynolds started a back-and-forth teasing relationship with plenty of flirtation. Reynolds has been vocal about his love for her ever since, even though she often said the only man for her was Robert Redford. Let's take a look at the tempestuous pretend(?) love affair between two of the world's biggest stars. 
A Hilarious Faux Feud on The Proposal Set
Reynolds and White first displayed their hilarious chemistry in a behind-the-scenes video from "The Proposal," which Reynolds posted to his Instagram story on White's 99th birthday. Reynolds has made sure to wish White a happy birthday every year since they worked together. In 2018, he gave White a "Deadpool"-themed birthday surprise, while a year later he cheekily captioned a photo of the two of them with: "I don't usually wish ex-girlfriends Happy Birthday. But Betty's special. Happy Birthday to the one and only, @bettymwhite." 
The video, above, shows White and Reynolds exchanging banter on the set of "The Proposal." White keeps getting Reynolds' name wrong, and she tells him he's a terrible assistant. When he tells her he's another actor in the movie, she retorts "When Betty White says she wants a cup of coffee, you f***ing get her a cup of coffee. You ab-crunching jackass." Ouch.
Thankfully, their actual relationship wasn't nearly as combative. In an interview with People magazine just a few days before White's death, the actor joked about her brilliance: 
"I heard that scripts for Golden Girls were only 35 pages, which makes sense because so many of the laughs come from Betty simply looking at her castmates ... [She's] a typical Capricorn. Sleeps all day. Out all night boozing and snacking on men."
Celebrity rumors and romances can often be toxic, but what Reynolds and White shared was magical. Here's to friendly flirtation between greats, and rest in peace, Betty. You will be missed.