How The 1999 Film Lake Placid Revitalized Betty White's Film Career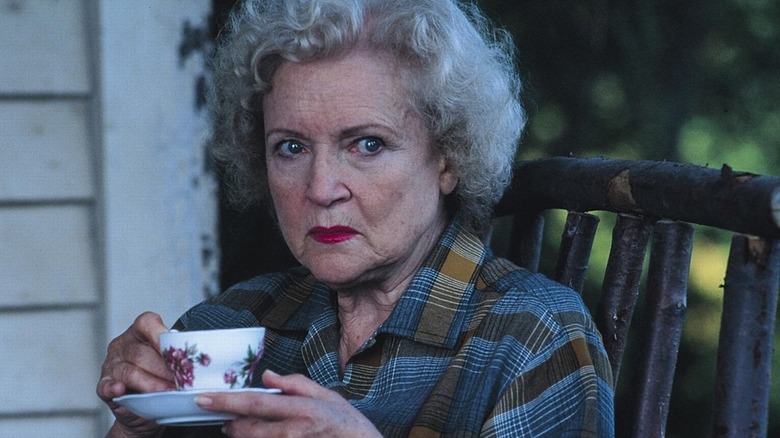 20th Century Fox
The legendary Betty White never had to go through a "re-invention," nor did her career ever have an "Act II." White, a showbiz mainstay since the 1950s, was constantly working in TV and in films, never leaving the popular consciousness. Her career was such that it took audiences a long while to realize that she was as prolific as she was, and that we had been taking her reliable presence for granted. This author was already writing about films in 1999, and he recalls a great recognition of Betty White's brilliance coming into the pop conversation sometime around then. "The Golden Girls" had moved from a mere popular television show to a praised mainstay in American households, and Betty White, then only 77, was recognized as still contributing her comedic genius to whatever she was involved in. Audiences were going to recognize her, and no longer take her for granted.
White, however, was known more for television, and didn't get much involved in film for a large portion of her career. Although White's career began in film, she would appear in no films from 1962 (wherein she played a Senator in Otto Preminger's "Advise & Consent") up until CBS' 1996 animated special "The Story of Santa Claus," in which she played Gretchen Claus. Two years later, White would appear in the disaster/heist mashup film "Hard Rain," a perhaps less-than-auspicious return to the medium. 1998 also saw the release of two other White-involved projects: The Eddie Murphy vehicle "Holy Man," and a straight-to-video sequel to "Dennis the Menace" called "Dennis the Menace Strikes Again." 
But it was Steve Miner's 1999 horror/comedy "Lake Placid" that brought Betty White into the cinematic eye, and essentially launched her film career.
Lake Placid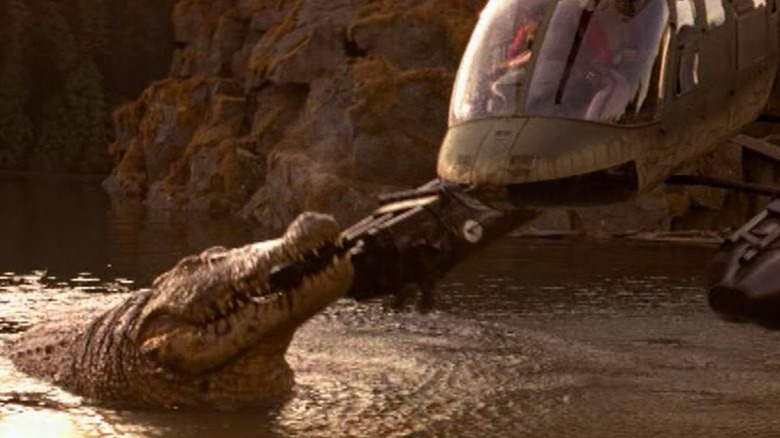 20th Century Fox
"Lake Placid" — a delightful little horror oddity that combines big-city neurosis with a gore-filled creature feature — was David E. Kelley's fourth feature film as a screenwriter, having previously written "From the Hip," "To Gillian on Her 37th Birthday," and "Mystery, Alaska." Kelley was better known for TV, having been involved with a huge number of hit programs, including "L.A. Law," "Picket Fences," "Chicago Hope," "The Practice," and "Ally McBeal." 
The film follows a neurotic paleontologist played by Bridget Fonda as she investigates sightings of a crocodile in a freshwater lake in Maine. And this is no ordinary crocodile, but one about 30 feet in length. In true monster movie fashion, the crocodile begins attacking and eating supporting members of the cast, as well as live cows and the occasional helicopter. Partway through "Lake Placid," we learn that a kindly old widow who lives on the lake — Delores Bickerman, played by Betty White — has actually been feeding the crocodile for years. She keeps the croc like a pet, and leads blindfolded cows down to the waterline where they become meals. Her sweet, lackadaisical attitude is infectious, and we instantly love Delores Bickerman, even if she is harboring a dangerous man-eating monster. 
Later still, we learn that Delores has even more secrets — she once committed a very violent act with a cast iron skillet — as well as access to a few words usually held in the mouths of drunken sailors. Hearing a 77-year-old Betty White cussing up a blue streak is a truly astonishing sound. "Lake Placid" wasn't an enormous part of the film conversation in 1999, but the discussions that did take place were largely centered on White, her character's innocent love of a giant water monster, and her hurling obscenities at Brendan Gleeson. 
Let's Go Betty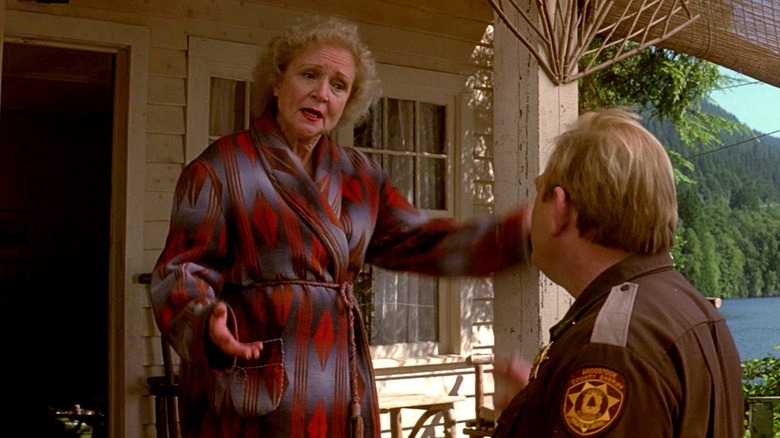 20th Century Fox
"Lake Placid" opened to generally lukewarm reviews (it currently holds a 47% approval rating on Rotten Tomatoes), and opened to a mere $10 million (about $16 million in 2021 dollars), behind "Eyes Wide Shut" and "American Pie." This was on a $35 million budget. There are many defenders of "Lake Placid," but White is most certainly the most notable thing about it. In a weird way, appearing as the best thing in an otherwise dismissed, mid-budget monster comedy was a career boon for White, allowing her to rise above the material, and remind audiences that the septuagenarian was ready to work more. And more. And more.
Shortly after "Lake Placid," White's career experienced a surge. She started doing a good deal of voice work for feature films, and appeared in several supporting roles in notable studio fare. From 2000 to 2013, White garnered twenty additional film credits from "The Lorax" to "The Proposal" to Hallmark movies. Ever the professional, White threw herself into every single one of these roles. 
White's success in "Lake Placid" also caught the attention of TV producers, and her already-prolific TV output only increased, leading to guest spots on just about any popular show that was on the air. The timeline is difficult to suss out, but "Lake Placid" may have led to White's guest spot on David E. Kelley's "Ally McBeal." Or perhaps it was the other way around. But in 2010, White (now 88) snagged a regular role on "Hot in Cleveland." Her "sassy, knowing, and totally lovable" character was cemented for eternity. 
White passed away on December 31, 2021 and will always live close to our hearts. "Lake Placid" would go on to honor White's appearance by involving Delores Bickerman's extended family in the oft-ignored "Lake Placid" sequels. Cloris Leachman played the Bickerman character in "Lake Placid 2" (2007), there were a trio of Bickermans in "Lake Placid 3" (2010), and Robert Englund would play a Bickerman in both "Lake Placid: The Final Chapter" (2012) and "Lake Placid vs. Anaconda" (2015). There are no Bickermans in the reboot, "Lake Placid: Legacy" (2018).