The Book Of Boba Fett Promo Promises To Fill In The Blanks After Return Of The Jedi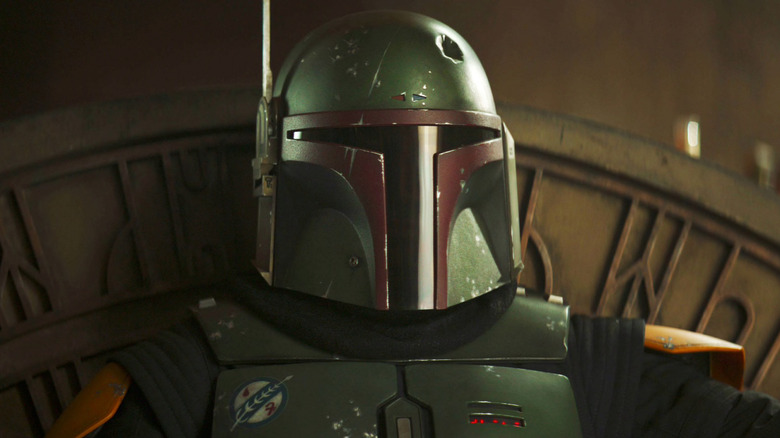 Disney+
When Boba Fett made his long-awaited return in "The Mandalorian" season 2, it was an exciting if confusing development, given that he was last seen being munched down on by the Sarlacc in "Return of the Jedi." The old "Star Wars" Expanded Universe, aka Star Wars Legends, provided an explanation for Boba's miraculous escape from the Great Pit of Carkoon and explored what he got up in the years that came after, but those stories were erased from the official canon after Disney finalized its purchase of Lucasfilm in 2012. Thankfully, the fast-approaching "Mandalorian" spinoff, "The Book of Boba Fett," will fill in those blanks in the franchise's new continuity.
Temuera Morrison, who is reprising his "Mandalorian" role as Boba, previously confirmed that "The Book of Boba Fett" will include multiple flashbacks, revealing more about what Boba got up to after "The Empire Strikes Back" (besides dropping off a carbonite-frozen Han Solo at Jabba the Hutt's palace on Tatooine). The latest promo for the series similarly affirms that the show will explore Boba's adventures in the wake of his near-fatal encounter with the Sarlacc, as you can see below.
The Book of Boba Fett Promo
Along with some behind the scenes footage and previously-released clips, this video features brief interviews with Morrison and his co-star Ming-Na Wen (who's reprising her role as Fennec Shand, the mercenary who owes Boba a life debt), as well as "The Mandalorian" creator Jon Favreau and executive producer Dave Filoni, both of whom are producing "The Book of Boba Fett" with Robert Rodriguez (who directed the Boba-centric "Mandalorian"season 2 episode "The Tragedy"). As you would expect, none of them are especially forthcoming when it comes to specific details about the series — but nobody really wants those at this stage in the game anyway, right?
Still, it will be interesting to see if "The Book of Boba Fett" has any major tricks up its sleeves. Lest we forget: going into the first episode of "The Mandalorian," most people thought it was going to be an episodic adventure series about some mysterious bounty hunter taking on a new job every week, only for Grogu (or Baby Yoda, whichever you prefer) to show up and flip everyone's ideas about the show on their head. Can its spin-off manage a similar feat with equal finesse? I, for one, would love to see it try.
"The Book of Boba Fett" will premiere on Disney+ on December 29, 2021.