Everything We Know About The Mandalorian Season 3 So Far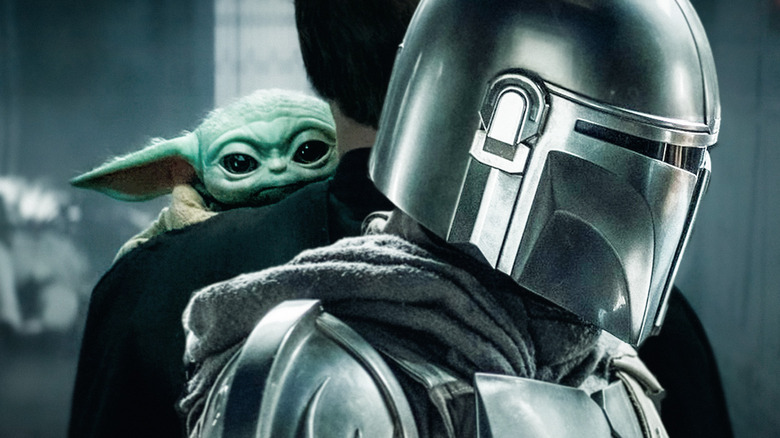 Disney+
Disney+'s "The Mandalorian," the live action Star Wars series that brought Baby Yoda (AKA Grogu) into our lives, has been greenlit for a third season. A lot happened in the season 2 finale of the show — Grogu headed off with a young Luke Skywalker (Mark Hamill) and Din Djarin (AKA The Mandalorian, AKA Pedro Pascal, AKA The Best Dad) said goodbye to his de facto son and became the owner of the Darksaber.
With things teed up as they are, "Mandalorian" fans were delighted to find out there'd be a third season that will (hopefully) reunite Grogu and Mando. Read on to find out what we know so far about when "The Mandalorian" season 3 will release, and what could happen next.
What Is The Mandalorian?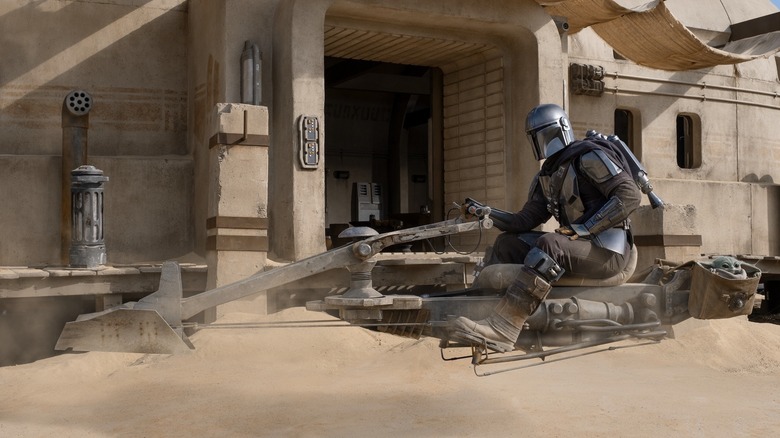 Disney+
"The Mandalorian" was Disney's first foray into making a live-action series based in the Star Wars universe. Jon Favreau created the show, which revolves around a lone Mandalorian, a warrior whose code includes never showing his face to others. The story takes place nine years after the events of "A New Hope," and this Mandalorian bounty hunter finds himself developing an inconvenient soft spot for one of his assignments — an extremely cute Baby Yoda, who is very strong in the Force.
The first two seasons focused on the Mandalorian trying to get Baby Yoda to the Jedi who can protect and train him. The end of "The Mandalorian" season 2 accomplished this, and also saw the Mandalorian indelibly changed by his connection to Grogu.
When and Where Will The Mandalorian Season 3 Premiere?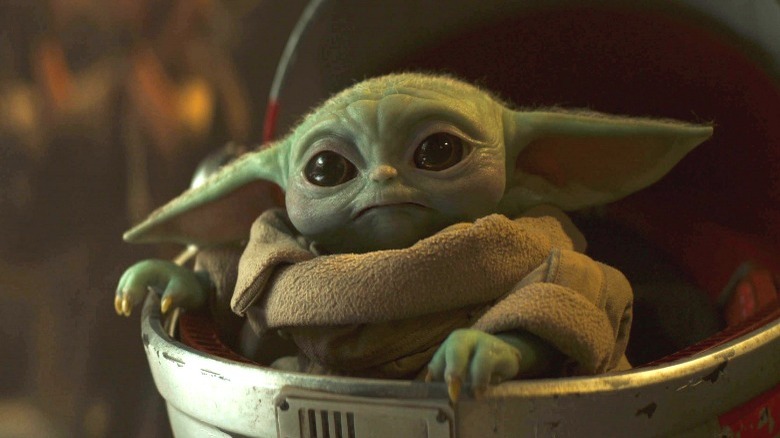 Disney+
Disney+ hasn't announced when "The Mandalorian" season 3 will air on the streaming platform, but some sources (like the Bespin Bulletin) report that it will begin filming in late September 2021 and wrap up in March 2022. "The Mandalorian" season 2 wrapped filming in March 2020 and premiered in October 2020, so if season 3 follows a similar production timeline then it can be expected to premiere on Disney+ in late 2022.
We also know that "The Mandalorian" season 3 will release after "The Book of Boba Fett," a spinoff starring Temuera Morrison and Ming-Na Wen, which is set to premiere in December 2021.
The Mandalorian Season 3 Cast and Crew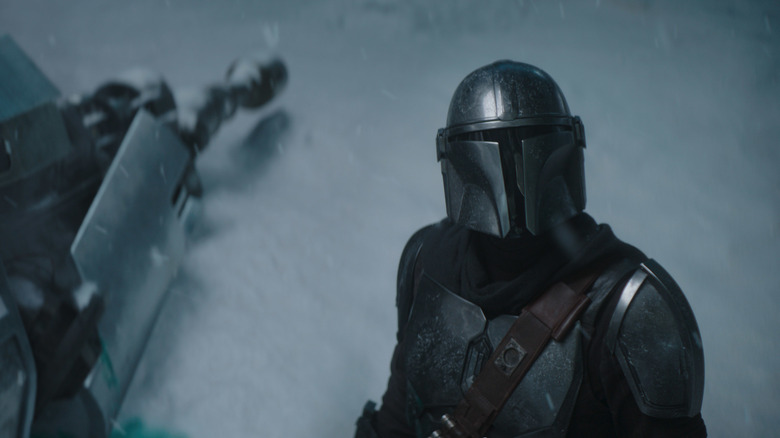 Disney+
Jon Favreau will return to oversee "The Mandalorian" season 3, and we'll definitely see the return of some of the major characters from previous seasons. This includes Pascal as Din Djarin/Mando as well as Giancarlo Esposito as Moff Gideon and Carl Weathers as Greef Karga.
Other cast members likely to return include Katee Sackhoff as Bo-Katan — she's the one who desperately wanted the Darksaber in order to claim the throne on Mandalore, so I doubt she'll be leaving Mando's side anytime soon. 
One cast member that very likely won't return is Cara Dune, played by Gina Carano. Disney issued a statement in February 2021 saying that Carano won't be returning to the Star Wars universe after she posted transphobic and anti-Semitic statements on social media.
The big question, however, is whether Grogu will be part of season 3. The Grogu storyline seemed to play itself out at the end of season 2, when the very cute creature went off with young Luke to learn the ways of the Force. I've no doubt there will be many a disappointed fan if he doesn't come back in season 3. However, though there are plenty of other compelling stories "The Mandalorian" can tell.