Why The King's Man Director Matthew Vaughn Is Worried About Seeing 1917 [Exclusive]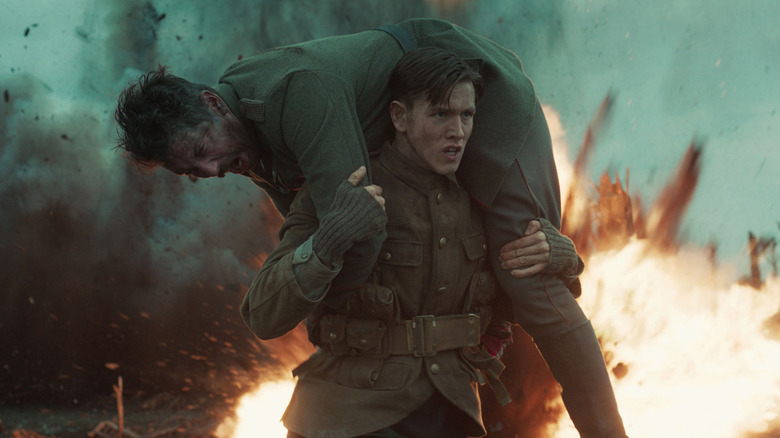 20th Century Studios
You might think of the "Kingsman" movies as nothing more than an incredibly British, balls-to-the-wall spy franchise, but producer/director Matthew Vaughn is looking to shake that up in his prequel film, "The King's Man." Besides the usual well-tailored suits and clever quips, Vaughn has injected a little more historical seriousness into the series, including some stark depictions of World War I trench warfare. Yup, this franchise is about more than being the British "John Wick," it's also about historically accurate trenches!
Of course, if there's one movie that's become synonymous with WWI trench scenes, it's Sam Mendes's "1917," which won three Academy Awards and was critically acclaimed when it came out in 2019. In an interview with /Film's Jeff Ewing, Vaughn explained he had been working on the prequel to "Kingsman: The Secret Service" and "Kingsman: The Golden Circle" before "1917" began shooting, and that the comparisons between his No Man's Land scenes and the trench warfare scenes in "1917" make him nervous. When Ewing asked if he'd ever seen "1917," and if there was any connection between the two movies, Vaughn candidly responded with, "Oh f*** no, we shot this before '1917,' so ask them! I haven't even seen '1917.' I'm worried about seeing '1917.'"
"Well, they took some of my stunt people ..."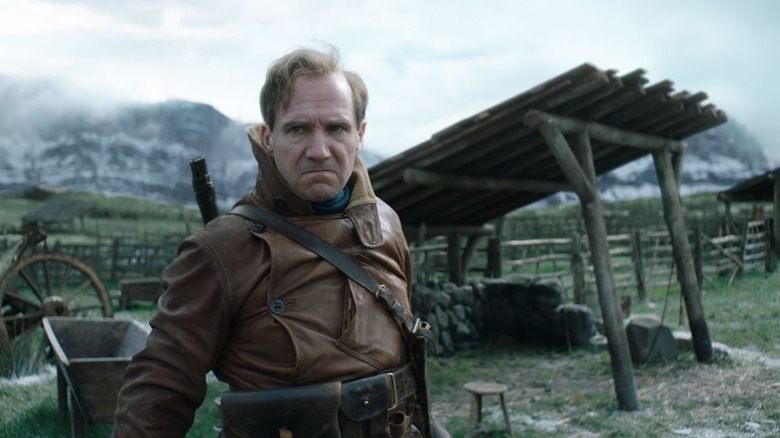 20th Century Studios
In fact, according to Vaughn, the two movies even shared the same stunt people, which is a delightful reminder that the film industry really is a small world. As Vaughn said in our interview:
"Well, they took some of my stunt people ... so I don't know, there you go. They were with me in the trenches and I said, 'Where are you going next?' 'Oh, we're going to do another World War I movie.' I was like, 'Ah, really?' So we shot that before them."
Despite the nailing down the timeline of who shot what first, Vaughn seems to be a good sport about the two film's similarities. He even commiserated over how both films had a difficult time building trenches, even with access to all of that luxurious modern equipment:
I know their production designer was trying to figure out how we built the trenches because it was a lot harder to build trenches ... I'm like, I don't know how these soldiers were doing it with a little spade when we had everything and we were finding it hard.
Being Respectful to the Truth
At the end of the day, it seems like Vaughn isn't too worried about people comparing "The King's Man" to "1917," even if "1917" isn't at the top of his watchlist. As Vaughn said in our interview, more than anything, both movies just wanted to capture this brutal time in world history correctly and with the gravitas it deserves. The "Kingsman" franchise might be well known for its jokes, but Vaughn was serious about shifting the tone and paying respects to the soldiers of WWI. As Vaughn explained it:
But probably a similarity between us and "1917" [was] we were both probably trying to be respectful to the truth. That was the birth of Kingsman, the trenches, if you think about it, the trenches gave birth to the Kingsman. So that is an area where I didn't want to make jokes. I'm one for pushing boundaries, and I will try and make a joke about anything but not at the expense of truly brave soldiers sacrificing themselves for the greater good.
If anything, it's clear that "The King's Man" and "1917" might be a dream double feature for the History Channel nerd in your life. "The King's Man" is strolls into theaters on December 22, 2021, so start making those plans now.