The King's Man Final Trailer Teases The Birth Of The Spy Business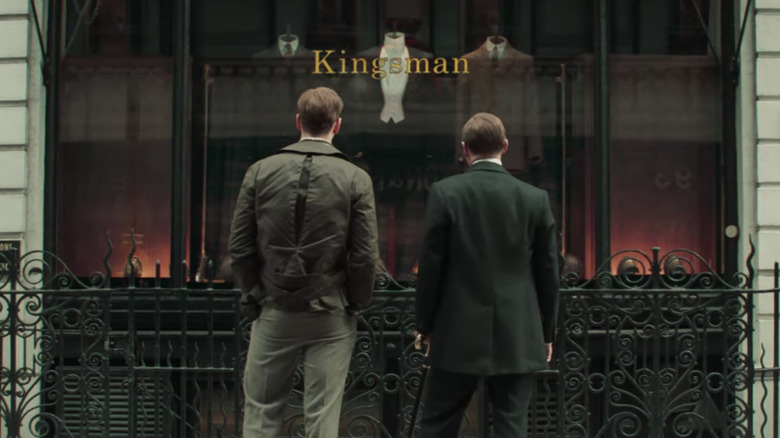 20th Century Studios
For those who've found it safe enough to venture back into movie theaters in recent weeks and months, chances are your visits have been inundated with trailer after trailer for "The King's Man," the World War I-set prequel film that marks the latest entry in director Matthew Vaughn's irreverent and uber-violent "Kingsman" franchise. That's the nature of our new pandemic moviegoing world, as "The King's Man" has undergone several delays after it was originally scheduled to open on November 15, 2019. 
More than two years later, the film is finally about to be set free and unleashed on audiences who probably don't know what they're in for, at least judging by the somewhat divisive early reactions. The first two films starring Taron Egerton marched to the beat of their own drum, however, wholly unconcerned with how controversial or off-putting they may be. All indications are that this next film follows the same tune, which the newest (and final) trailer also makes clear. Check out the footage below.
The King's Man Final Trailer
Are you curious to see the origin behind the origin of the secretive spy organization, as depicted in 2014's "Kingsman: The Secret Service"? Well, that's exactly what we're getting with "The King's Man," which puts its own riff on the onset of World War I. From the director who previously brought you "Mutants both caused and narrowly avoided nuclear Armageddon during the Cuban Missile Crisis in the Cold War" and "Actually, Magneto tried (and failed) to prevent JFK's killing," comes the movie that brashly posits that, "The assassination of Archduke Ferdinand that plunged the entire world into the first World War? Yep, the Kingsman were involved." Much like the initial teaser, this final trailer runs down the list of the film's colorful cast of antagonists and provides a dossier of sorts on their individual (and hilarious) strengths and weaknesses.
Of course, the "Kingsman" franchise shows no signs of stopping with this prequel. As we recently reported, "Kingsman 3" is set to begin filming in 2022, well over four years removed from the second film, "The Golden Circle." The trajectory of the franchise has been interesting so far, with the well-received first film immediately undoing its boldest character death by bringing back Eggsy's mentor, Colin Firth's Harry Hart, in an incredibly convoluted and not altogether convincing way. Now, we're leaping over a hundred years into the past for an origin story that I'm not sure anyone was ever really interested in, but certainly seems like a gleeful excuse for Vaughn to play around in a war movie sandbox. Honestly, I have to respect the hustle. In any case, "The King's Man" finally comes to theaters on December 22, 2021.