'Kingsman: The Golden Circle' Review Round-Up: An Overlong But Entertaining Sequel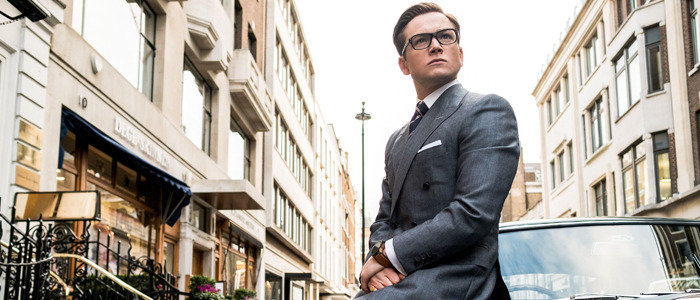 Kingsman: The Secret Service was a nice surprise back in 2015, and the new sequel, Kingsman: The Golden Circle, looks to expand director Matthew Vaughn's cinematic spy-verse in a big way by adding a ton of A-list stars to the cast and taking the action overseas. So do those decisions make this an entertaining, worthwhile addition to the franchise, or has Vaughn bitten off more than he can chew here?
Find out what the critics are saying in excerpts from a handful of Kingsman The Golden Circle reviews culled from around the web.
Todd McCarthy at The Hollywood Reporter disses the movie's opening scene as nothing more than nonsensical action (but it should be noted that he finally came around to the film's charms by its ending):
Using the James Bond-established opening teaser template, the action-for-action's-sake curtain raiser re-emphasizes the series' firm commitment to ignoring the laws of time and physics as it presents a nocturnal London car chase of beyond-the-pale preposterousness between two enemies with unknown motives. The pyrotechnics may be impressive as the sequence tops itself over and over again but, without rooting interest or stakes firmly established, it feels pointless, showy and silly; presumed viewer identification with the "good guy" is perhaps insufficiently firm to justify this sort of very cold open.
Variety's Peter Debruge says that because of the way the film resurrects Colin Firth's Harry Hart character, who was killed off in the first film, The Golden Circle loses its sense of danger:
Are they really dead? Well, the geo-targeted missiles certainly look accurate, but if Harry Hart can walk away from a fatal head wound...don't be surprised to see any or all of them resurface in a sequel. Later, when a major character blows himself up in their honor, not only does that gesture seem like a waste (you want to tell him to wait, since Vaughn and co-writer Jane Goldman will surely find a way to bring them back, especially right-hand woman Roxy), but it also raises the question of whether he's really gone.
Over at Forbes, Scott Mendelson implies that excessive concentration on Firth's character undercuts the rest of what this movie is trying to do:
I could have lived with a sequel that resurrected said major character merely as a bit of unfortunate fan service. But Kingsman: The Golden Circle brings Firth back in a way that monopolizes the narrative thrust, to the detriment of everything else of value in this sequel. There is plenty of splashy and colorful action, a villainous scheme that feels in-tune very much with a President Donald Trump world, and some interesting continuity nuggets from the first movie. But everything, including a murderer's row of new actors, is wasted or underused so we can focus on poor old Harry.
Kate Erbland at Indiewire seems to raise her eyebrows at the film's lengthy runtime, but her "B-" rating and praise for Vaughn's action sequences seem to indicate it might have been worth it:
At a hefty two hours and 21 minutes, Vaughn has more than enough time to tighten up the basic elements of the film's storyline, but instead choses to lavish his attention on high-energy fight scenes that ably blend humor and eye-popping action. It's hard to blame him though, because "The Golden Circle" boasts some of Vaughn's most ambitious action-centric filmmaking yet, from the lasso-snapping joys of a bar fight to a mountain-centric set piece that will shred nerves and engender tremendous cheers. The story? Secondary.
Erbland also had nice things to say about Julianne Moore's new villain:
As the film's primary baddie, nefarious drug kingpin Poppy, Moore gleefully zips her way through every wacky scene, bolstered by an inventive setting that speaks to Vaughn's intense imagination and the scope of his off-kilter super-spy vision.
And Mendelson says her character's plot is the film's brightest aspect, though nearly all of the reviews I've read agree that the rest of the new cast – Channing Tatum, Jeff Bridges, Halle Berry, and Pedro Pascal – are sadly underutilized:
[Poppy's] plan, which involves the War on Drugs, and the government's reaction to it, which feels all-too-plausible, is the best part of the movie. It offers a bit of angry political theater that feels sadly topical and absolutely in tune with the times. It's the kind of populist anger that wouldn't be out of place in the District B-13 movies. It's the only time when the film feels unique unto itself and offers anything resembling real-world satire or commentary on the fantastic spy adventure genre.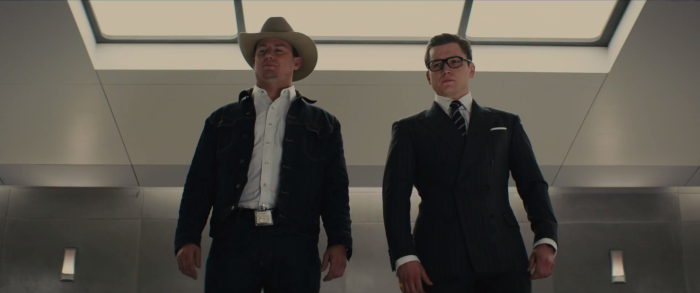 At The Guardian, Gwilym Mumford says the movie is "an exhausting, exhilarating watch."
It's a film so cartoonishly outsized that it almost renders the first film restrained by comparison. Whether that's a good thing depends on the viewer's tolerance for death-defying feats of illogicality, or action scenes that stretch to gargantuan lengths. Indeed, Kingsman's two-hour 20-minute running time could have been shaved by around a fifth, without losing a great deal. But, crucially, the visual wit that made the original feel so bracingly fresh is maintained, not to mention its fondness for turning the Savile Row air blue – if you've ever hoped to witness Elton John spitting out four-letter words like a Gatling gun, all while wearing a remarkable feathered suit, then this might be the gonzo spy caper for you.
Our old pal Germain Lussier at io9 says that though the movie can be excessive at times, it's all in service of a stylish and entertaining final product:
Thankfully, Vaughn's excess is rarely wasted. The constant barrage of information, action, and characters keep the film moving and entertaining. As things are happening on screen, you'll pretty regularly find yourself with a huge smile on your face. Few filmmakers know how to make a film a stylish and cool as Vaughn, and Kingsman: The Golden Circle might be his most stylish and cool film yet. Just to a fault.
Ultimately, it's this bit from Adi Robertson's review at The Verge that sells me on this sequel:
Like The Secret Service, The Golden Circle specializes in extended sequences of acrobatic chaos that are hyper-gory, yet bloodless. Kingsman's shock-heavy aesthetic is polarizing, and there's not much reason to see the film if you don't like it. But within those moments — especially in the action-heavy first and third acts — it's pure fun. The Golden Circle is a more loosely plotted movie, but it's also more carefully and elaborately choreographed. It's so willing to kill characters that there's a real sense of danger, although since it's also cavalier about bringing them back, everything remains within the bounds of very dark comedy. It goes even further than The Secret Service in mixing impossible martial arts with Bondian gadgets and gimmicks, subverting or exaggerating conventional action-movie scenes (including one memorable bit from the first film) just enough to stay familiar, but not entirely predictable.
Kingsman: The Golden Circle blasts into theaters on September 22, 2017.